x
Pine Brook, NJ – October 13, 2020 – 3E Public Relations (3E PR), a Pine Brook-based firm specializing in pubic relations, social media, and content, has earned a prestigious Pyramid Award from the New Jersey chapter of the Public Relations Society of America (PRSA NJ). 3E PR was recognized for a consumer media relations campaign it implemented on behalf of its client Better Collective that secured placements in more than 200 outlets nationwide.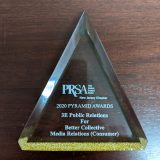 3E PR launched the media relations campaign for Better Collective with the goal of securing editorial coverage with backlinks in online media outlets with high Domain Authority (DA). Taking a fresh approach that emphasized entertainment, such as awards shows and popular movies and programs, as well as politics, 3E PR was able to exceed stated goals by over 25%. A complete case history on the campaign is on the 3E PR website.
"The public relations landscape is evolving to emphasize more online coverage that can complement search engine optimization (SEO) initiatives and help drive more qualified traffic to websites. Earning a Pyramid Award – the highest recognition in our field – for a campaign that tackles this new approach is something everyone at 3E PR is proud of," said Patrick Brightman, president of 3E PR.
PRSA NJ established the Pyramid Awards in 1989 to recognize excellence in public relations and communications in New Jersey. The awards are judged by a panel of public relations peers. Entries are evaluated on research, planning, execution, and demonstrated results, as well as the effective use of budgets and resources.
PRSA NJ is the local affiliate of PRSA, the world's leading organization for public relations professionals. Its nearly 300 members live and work in all corners of the Garden State, representing business and industry, counseling firms, government, associations, hospitals, schools, professional services firms, and nonprofit organizations.