Patrick Brightman - 08/03/2022
Summary: To distinguish a new gambling website from others and increase the domain authority in a non-traditional approach. 3E PR implemented strategies including SEO, integrated media relations, and public relations. 
Challenge: Raise the domain authority (DA) of a new website – Us-bookies.com – being launched by a major European gambling corporation while differentiating it from the slew of online gambling websites launched due to states' legalizing sports betting. Success was judged by how many backlinks would be secured on properties with a DA of 80+. 
Action: 3E PR recognized that the best approach was to take non-traditional "prop" betting odds to separate itself from other gambling websites. By placing a focus on trending topics, including Game of Thrones and Avengers: End Game, as well as upcoming state and national elections, we also appealed to media properties with higher DAs than traditional betting and gambling websites.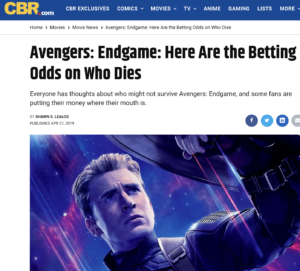 Results: We helped raise DA (a key SEO criterion) of Us-bookies.com from 28 to 40 – a 45% increase – in 10 months. All told, 203 editorial placements were garnered, 107 of which were on media sites with a DA over 80 and with the requisite backlink to Us-bookies.com.
Includes recognition & coverage from:
People 

Chicago Tribune 

New York Post

ComicBook 

Newsweek

TV Guide 

NJ.com

TMZ