Emily Maupai Zinberg - 12/07/2020
Training employees on social media best practices provides an effective method to optimize digital marketing and improve brand perception.
As this tumultuous year comes to a close, small businesses and large corporations alike are looking back on the challenges faced and those ahead in 2021. With COVID-19 on the rise again, brands are re-thinking their marketing strategies. One important element that can't be forgotten is optimizing your digital approach. When doing so, consider the value of social media training.
Throughout the pandemic, social media remained a constant in consumers' lives. It continues to be an effective tool for businesses to reach audiences on a national and local level. Companies often overlook a very powerful and effective social media tool – employees. Here are some best practices and associated benefits of empowering employees via social media.
Best Brand Ambassadors
The strongest brand advocates for most businesses are its employees. They are the people who live and breathe your brand and operations daily. When talking to others, employees explain your company and its benefits to customers, communities, the environment, and other areas. Guess what? They can do that on social media, too.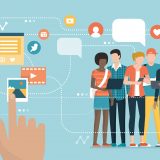 Social media depends on awareness and reach achieved through engagement from users, i.e., sharing, commenting, and liking content. Companies allocate marketing dollars to create engaging social media content to be shared on their brand pages. This content is seen by the brand page followers or target audiences through social media advertising.
Why don't you take it a step further? Have employees effectively share valuable content with their online networks. This achieves the long sought-after social media ripple effect of bringing brand content to more connections.
Benefits of Employee Training
From a company perspective, teaching employees to leverage and optimize social media on a professional level can:
Help grow the company's brand awareness.
Establish the company as a thought leader.
Support the company's marketing and sales objectives.
Improve employees' industry knowledge, credibility, and participation online.
Grow employees' professional networks to generate new sales opportunities.
Create new and strengthen existing business relationships.
When you hire a new employee, do you just drop them at their desk (or work from home space) and let them figure everything out on their own? No. You educate them about your company and their responsibilities and offer them the resources they need to do their job well.
In a digital pandemic world, a working knowledge of social media is key for employees, regardless of industry. It needs to be included in the support your company provides them.
Pro Tip: Before implementing employee social media training, conduct a social media audit of your company/brand. This will arm you with the data you need to create an effective social media strategy first. Then, share the findings with your employees.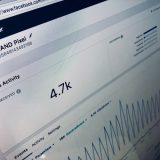 Professional Growth
Encouraging your employees to promote your company on social media may come across as overly promotional. Guess again. You are actually expending your resources to help them grow professionally, which is valuable to them in our very digital, pandemic world.
Social media training is particularly beneficial to a brand's sales force. It helps create a competitive digital advantage to attract leads and gain conversions to meet sales goals.
Below are some direct benefits to employees who actively share and engage with company social media initiatives.
Sharing informative company content with their own network and potential leads can be one of their most valuable sales tools. It reinforces personal thought leadership and industry expertise amongst colleagues, customers, and prospects.
It grows their own professional network and build relationships with colleagues and industry influencers.
Demonstrates company pride to create a more positive image of the employee and company.
Improves online knowledge and skills, which is particularly important for team members who may be hesitant to use digital tools.
With in-person events restricted or limited, brand spokespeople and sales teams need to shift their tactics online. How will they effectively connect with leads and industry influencers digitally if their LinkedIn profiles are not optimized?
Social media training gives guidance to:
Elevate professional social media profiles and align them with your brand.
Engage with and share your company's content on social media.
Participate in industry conversations online that can generate more leads.
Maintain Brand Consistency
Brands invest resources to create a consistent and professional digital presence. It can be diminished – and in some cases permanently damaged – with improper social posting. Some of this is out of your control, but when it comes to your employees, you have the power to prevent it.
Social media training will educate your employees about the correct voice/language, imagery and company content that should be shared to gain success for them and for your brand.
Improve Company Culture
Company culture is a key factor that influences your brand image among potential employees and customers. A recent article from Harvard Business Review reminds us that strong company cultures "help companies attract and retain great people and contribute to fantastic bottom-line performance." With the shift to a work-from-home lifestyle for many professionals, smart brands are seizing the opportunity to show their team's morale and strength, even in a virtual world.
Through social media and participation, especially on LinkedIn, employees can highlight support for your company's products/services, while also demonstrating a level of company pride. Employees can do this by:
Serving as brand ambassadors who share company news, achievements, initiatives, and general content with their social network.
Interacting with colleagues and showcasing team comradery on social media to communicate happiness and success in their job.
Our current environment is bringing a whole new perspective on our personal and professional lives. Companies and employees who show strength, knowledge, and support for each other during this difficult time will reap positive brand image benefits.
Interested in social media training for your employees? Reach out to us so we can create an effective program for your team.