Megan Redzia - 06/26/2023
3E Public Relations implemented a social media program on behalf of Huntington Learning Center, a national tutoring and test prep franchise, with a focus on driving engagement through their corporate social media pages to ultimately increase leads in the form of phone inquiries. Having over 300 tutoring centers across the country, Huntington Learning Center's call center (1-800 CAN LEARN) served as the primary source of leads which were then distributed to the appropriate franchise locations.
Objectives:
The social media program utilized various tactics to achieve the following objectives:
Provide parents with helpful resources to build trust and credibility.
Maximize engagement with top-performing content to drive reach and interactions.
Generate leads with downloadable content.
Drive website traffic to pages promoting key services.
Before execution, 3E PR carefully evaluated two years of website and social media data and to inform the program and allow us to track success.
Strategy:
3E PR created a social media program designed to drive engagement that would boost inquiries from a more qualified audience. To achieve this goal, the strategy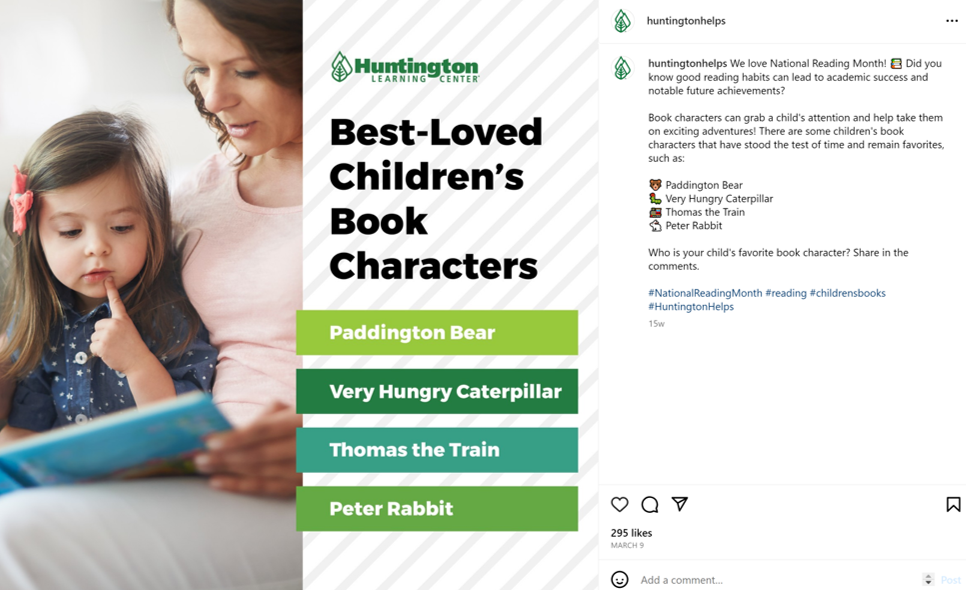 focused on the following elements:
Providing helpful tips and resources to build trust and credibility – In the current social landscape, brands that exude transparency, authenticity and understanding are more successful in forming connections with their target audience. This is especially true for the parent and caregiver demographic who is looking for more than a service; they are looking for a community and support.
Developing top-performing content pillars – Offering a mix of content is important for any brand on social media but homing in on what your audience engages with most is crucial for social media success.
Driving content to website pages for key services – With every opportunity available, 3E PR directed social media traffic to the website to better convert them and gather visitor data through Google and Meta website tags.
Creating lead gen magnets – Beyond offering general resources in the form of brand service messaging and blog content, 3E PR worked with Huntington Learning Center to develop downloadable assets that would engage and satisfy the target audience in an immediate format.
Incorporating a paid strategy – To combat the ever-growing challenges of organic social media, 3E PR implemented a paid strategy to grow awareness and engagement among target audiences on social media, as well as drive more website traffic to capture visitor data.
Mothly content calendars were created based on audience and page insights and featured the following top-performing content that offered parents and caregivers a mix of brand messaging and educational resources, as well as more fun and relatable "snackables."
Posts communicating Huntington Learning Center's services and their impact on student growth.
Blog posts and webinars featuring industry experts offering updated education guidance, from ADHD management to college admissions and exam prep.
#MathMonday problems and #FunFactFriday factoids for parents to engage with and share on their own pages.
All social media posts drove users to the Huntington Learning Center website home page, a key service page, or a blog/webinar asset. This increased the likelihood of conversion to a phone inquiry and allowed the website tags to capture the visitor data to through Google and Meta tags.
3E PR created a paid social media strategy that included consistent and frequent boosted posts and lead-gen campaigns.
The boosted posts would allow Huntington Learning Center to better reach their target audience while also growing engagement on page content and driving traffic to the website. Almost all sponsored posts also encouraged calling the corporate number.
The lead-gen campaigns featured lead magnets, such as a tutoring service sweepstakes or resources like this Kindergarten Preparedness Checklist for parents to download. These helped to grow brand awareness and audience engagement, while driving leads.
All these initiatives drove visitors to the website where their data was captured through Meta's Pixel and used for retargeting and building more qualified custom audiences to drive down Huntington Learning Center's cost-per-results. Custom audiences comprised of all the users who had engaged with the brand's social media page posts were also created, increasing conversions and reducing costs.
Results:
3E PR increased Huntington Learning Center's engagement (including video views) on the corporate Facebook page by over 200% and by over 300% on the Instagram page. This engagement translated into 17% more customer inquiries directly caused by social media content in 2022 as reported by the call center's tracking system. Social media was also the greatest driver of tutoring and test prep inquiries out of all digital and print marketing tactics throughout the year.