Patrick Brightman - 08/28/2022
Summary: As a newcomer to the ice cream category, Frutero Ice Cream was seeking to grow brand awareness, both to incentivize purchase, and enhance brand credibility in an ongoing effort to expand its distribution with grocery retailers. 3E Public Relations initiated a PR campaign to do just that.
Challenge: The ice cream category is uber-competitive with countless brands and concepts already competing for consumers in-store.  To be "heard," Frutero needed an agency partner that could clearly communicate its point of difference to both consumer and trade audiences.
Strategy: 3E Public Relation's first task was to clearly articulate the product's key points of difference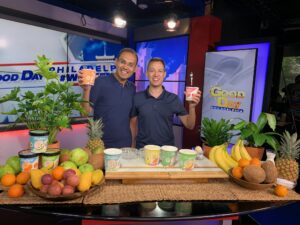 Made with 100% real tropical fruit picked at the peak of ripeness and sourced from around the globe.
Exhibiting a creamy, swoon-worthy texture that truly sets it apart
Tasting Frutero is like experiencing a trip to the tropics, no passport required
With passion fruit, guava and guanabana from Columbia, coconut from Thailand, banana from Ecuador, pineapple from Hawaii and more, Frutero has attracted not only the interest of ice cream lovers, but fruit lovers who associate these tropical flavors with their Latin American or Asian heritage.
Our second initiative was to identify key media targets based on a variety of assets and/or affinity groups we could leverage:
Philadelphia angle: The company founders met as classmates on the very first day of their MBA program at the University of Pennsylvania's Wharton School.
Indian heritage: The brand was inspired by co-founder Mike Weber's trip to fellow co-founder Vedant Saboo's native India where he experienced first-hand the tropical fruit flavored ice cream which is a huge phenomenon there. 3E PR leveraged this angle with Indian media and will be promoting the brand during the Indian holiday of Diwali.
Florida angle: With the founders based in Florida, we also targeted Florida-based media, a market where there is significant distribution at retail, but where the brand is hoping to expand, as well.
New Product launch: As a new brand with a distinct concept, we pursued "new product" placements in consumer food outlets and grocery trade publications.
Results:  With client activation starting just four days prior to National Ice Cream Day, we leveraged Frutero's recipe contest whose winner would receive free ice cream for a year. That promotion, in conjunction with 3E PR's l long-standing media relationships, led to placements in two national media outlets, MarketWatch.com and Today.com.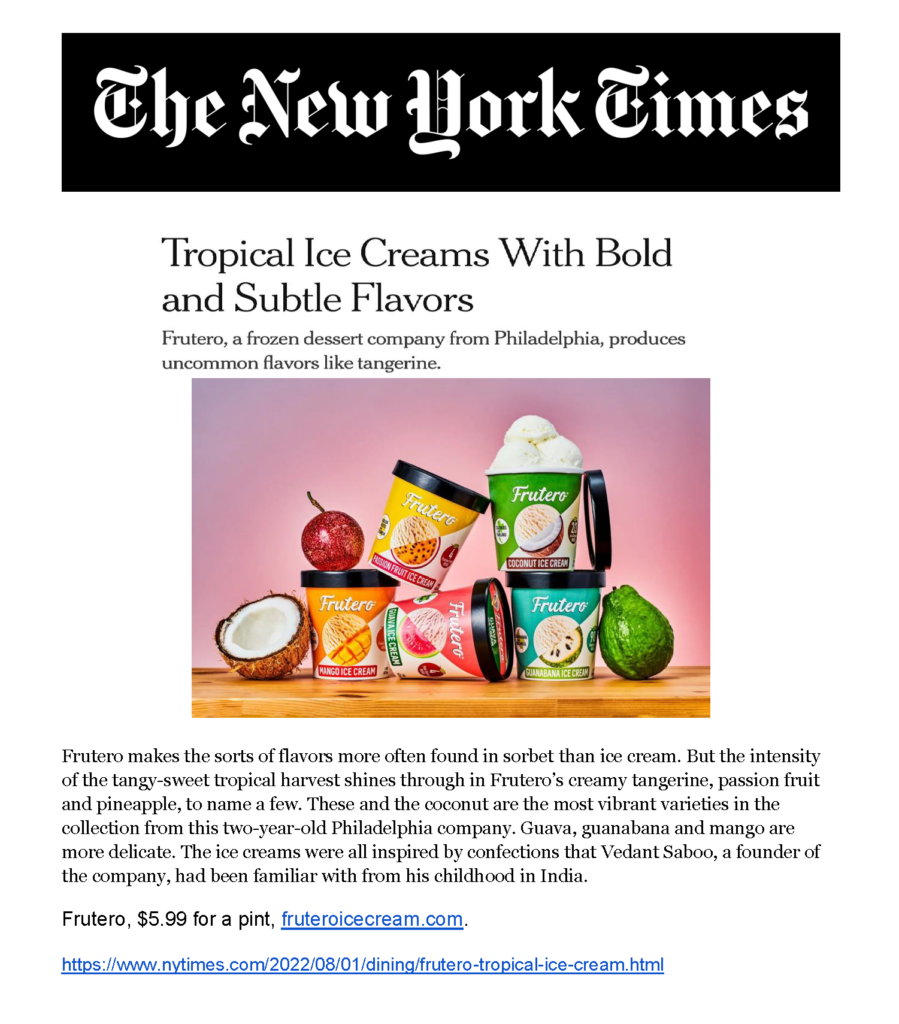 The Philadelphia connection was key, as we secured a prominent feature on the popular morning show, Good Day Philadelphia and a business story in the Philadelphia Business Journal.
Perhaps the most exciting placement was in The New York Times which featured Frutero in its new product section, "Front Burner." The placement reached 366,783 readers in print and 43,264,806 online. As a direct result of coverage in The New York Times and The Philadelphia Business Journal, Frutero reported that their "phones were ringing off the hook," with both retailers/distributors and consumers looking to buy the product.
Establishing the founders as key thought leaders with insights that could be beneficial to other entrepreneurs led to a feature article in Authority Magazine. In the coming weeks, additional features in several key grocery trades, plus additional broadcast placements in key markets, are expected.