Megan Redzia - 08/11/2020

Lifebridge Health needed to merge multiple hospital Facebook pages while conveying system-wide marketing campaigns and messages. After a successful implementation by 3E PR, the healthcare system has seen significant growth in engagement, interactions, and followers.
Challenge:
LifeBridge Health (LBH), a healthcare system based in Baltimore, Maryland, hired 3E PR to compose and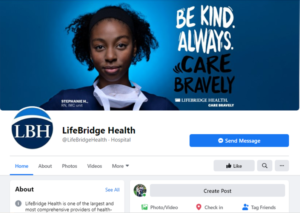 implement a re-branding social media campaign. LBH is comprised of four hospitals, a medical center, and a health and fitness center. Initially, branded LBH healthcare system pages existed on Twitter, Instagram, YouTube, and LinkedIn. However, each of the hospitals had its own separate pages on Facebook. The challenge and goal presented to 3E PR was to bring all these entities under one virtual roof and create a system-wide LBH presence and communication stream across all social media platforms. This objective was a key element in LBH's comprehensive brand marketing campaign to unite the healthcare system under one brand presence to demonstrate its comprehensive care services.
Strategy:
Facebook Page Merge
3E PR's first step was to work with Facebook to merge all the hospital pages into one healthcare system page. Because certain page data (check ins, reviews, etc.) would be lost in a page merge, 3E PR evaluated each page to identify which should be transformed into a healthcare system page. The pages with smaller followings and reviews were merged into the one with the largest following and most activity.
When requesting a page merge from Facebook, you need to establish the right to do so through official documentation. If the petition is approved, all the followers from each page will automatically be transferred into one page. However, if the request is denied, you are unable to collect/keep all of those followers.
To act as a safety net if the merge request was denied, 3E PR crafted and implemented a migration strategy. This strategy would verbally encourage users to visit and like the new LBH healthcare system Facebook page for future news/updates/information about the hospitals and other facilities. While this migration would not allow LBH to keep every single follower, it would help to guide a significant amount of them to the new Facebook page.
After gathering proper documentation and several conversations with Facebook, 3E PR's merge request was approved. The migration strategy acted as the perfect opening for the actual page merge. It helped to prepare users for the fact that the current page they were following would eventually cease to exist and transitioned them into communicating with the new Facebook page.
Content Development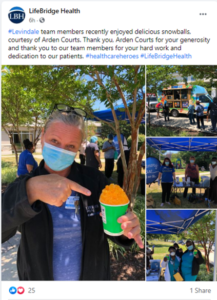 3E PR's second step was to create engaging content that aligned with the LBH brand marketing campaign and focused on core service areas. A stream of frequent and consistent content tailored for each platform and communicating key brand messaging points was shared across each social media page. No matter which LBH social media platform a user visited, the same key brand messaging points resonated through each post, graphic, or video. This content strategy has continued over the last five years, evolving with LBH's goals and initiatives and the industry landscape.
Result:
Due to 3E PR's efforts over the last five years, LBH has experienced significant follower growth across all social platforms:
Facebook – 62%
Twitter – 22%
Instagram – 1600%
LinkedIn – 112%
Despite changes in the Facebook and Instagram algorithms making organic reach more challenging, LBH continues to see consistent growth in engagement and reach month-over-month. The LBH social media pages have high interactions from employees, users who are patients (or family members of patients), those in need of customer service issues, and by local media outlets and partners. As LBH rolls out new services, initiatives, and marketing campaigns, 3E PR ensures alignment across all of its social media pages.