Lee Groeger - 06/18/2020
Fujifilm Optical Devices is a division within Fujifilm North America that is a world leader in the production and marketing of optical lenses for the broadcast, cinematography, closed circuit television, videography and industrial markets, and also markets binoculars. The products manufactured by this division are marketed and best-known by the brand name, "Fujinon." Like many B2B brands, Fujinon recognizes the importance of capturing the attention of social media users with distinguishing content that engages users in a significant way.
Challenge:
Create an initiative that encourages customers—including but not limited to followers—to share original content via social media that Fujinon can leverage to populate its own pages while building and nurturing relationships with users.
Action:
As Fujinon's target audience consists of cinema and broadcast professionals, many of whom share photos of themselves and their rigs (equipment set-up) while filming, 3E PR developed a branded social media hashtag campaign that plays right into that trend:  #FujinOnTheRoad.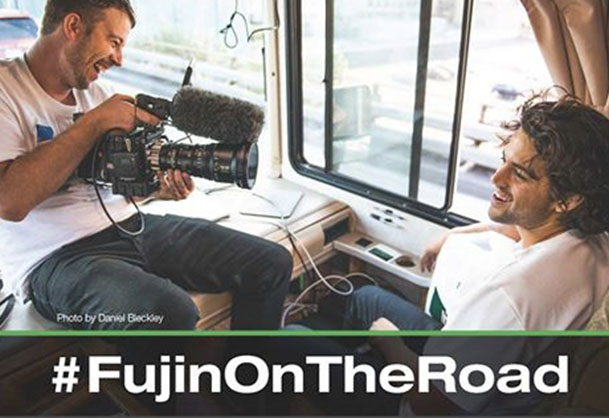 This campaign was designed to appeal to those who are often working on location or "on the road," and inspire them to share photos of their Fujinon lenses—alone or paired with cameras and other accessories. The call to action is to show off where in the world you take your Fujinon lenses by sharing a photo of it on location using the hashtag, #FujinOnTheRoad. The intent is to give users a platform to share original content, spurring them to tout their work while allowing Fujinon to publicize it.
Support includes frequent social media posts promoting the campaign; monitoring of the branded hashtag; engagement with participants including sharing entries across Fujinon social media pages; and printed collateral for distribution at trade shows and other events.
Results:  
The #FujinOnTheRoad campaign, still underway, has directly connected the Fujinon brand with its customers, highlighting photos of the products in use, including and beyond Fujinon's own following. As visibility of the hashtag rose—organically from posted photos and through cross-promotion among social media platforms—more users began submitting entries, seeing it as an opportunity to gain exposure for themselves. This type of engagement has sparked an evolution into higher quality and more beneficial communication with end users—in and off line; insight into product usage; and a wealth of meaningful, shareable content.