Megan Redzia - 03/22/2022
Summary: To build credibility for a managed IT company following a significant shift in their business operations, 3E PR executed a public relations strategy that integrated media relations, speaking engagements and award submissions. Find out how this approach is helping the company achieve its 5-year growth goals. 
Challenge: TechWerxe provides small-midsize businesses in NJ with enterprise level IT services they can afford. The CEO of TechWerxe, Sejal Lakhani-Bhatt, turned to 3E PR for a PR campaign following the loss of her husband and business partner. TechWerxe's objectives were to:
Increase awareness about the stability of the company under Sejal's sole leadership to maintain TechWerxe's current client roster and position the company for growth.
Establish recognition for Sejal as a leading woman in business within NJ.
Stay on track to achieve 5-year growth plans of becoming a 7

-million-dollar

business by 2025.
Strategy: 3EPR developed a campaign that blended speaking engagements with media relations and award submissions.
Media Relations – 3EPR leveraged its long-term media contacts to pitch TechWerxe and Sejal's story. Media outreach focused on TechWerxe's unique, customized approach to IT and Sejal's story of adversity and hardship.
Speaking Engagements – 3EPR identified and vetted speaking engagements that would help achieve TechWerxe's goals. Comprehensive research was conducted to ensure each opportunity reached TechWerxe's target audience.
Award Submissions – To enhance Sejal's credibility as a female business owner, we entered her for regional as well as national highly-regarded awards.
Results: 3E PR secured media coverage in top NJ business press, including a two-page profile piece about Sejal's journey and how TechWerxe is thriving under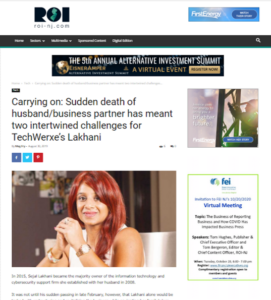 her leadership in ROI-NJ that has directly driven business leads. We were also able to garner coverage in women in business publications/podcasts and IT trade outlets. Sejal spoke at multiple NJ events that drove awareness among her target audience, including:
Women's Entrepreneurship Week at Montclair State University
The Women in Business Symposium hosted by NJBIZ
EO Nerve 2021
2021 Propelify Innovation Festival
EO Women EmpowerHER Series
Since the launch of the PR campaign, Sejal has received the following awards and recognitions:
Leadership Excellence Award from Citrin Cooperman
Women Empowerment Felicitation from the Corporate Diwali
EY Entrepreneurial Winning Women™ nomination
Gold Stevie® Award in the Female Executive of the Year category
NJBIZ Digi-Tech Innovators Award
ROI Influencer Power List 2021
NJBIZ Top 50 Women in Business
The media coverage and speaking engagements 3E PR secured for TechWerxe has helped the company achieve all its objectives in less than one year. As a result of the third-party credibility established through the PR campaign, TechWerxe showed stability during a time of significant change and was able to retain all its clients. Sejal has become recognized as a leading woman in business and is now being sought after for speaking opportunities. TechWerxe was able to begin on-boarding new clients who became aware of the company through the various components of the PR campaign. This growth has positioned TechWerxe to achieve its 5-year growth plans.