Megan Redzia - 04/28/2023
Summary: 3E PR's client Westfield Garden State Plaza expanded its restaurant offerings, adding a new and upcoming "farm to table" restaurant, Seasons 52. The restaurant offers a seasonal menu, with fresh, local ingredients year-round to cater to everyone's preferences and taste buds. The target market for Seasons 52 included a wide range of guests in the northern New Jersey area. The shopping center was looking to expand awareness of the new restaurant to attract new dining customers.
Objectives: The objectives of the influencer program were to:
Drive awareness of Westfield Garden State Plaza's latest dining option, Seasons 52.
Increase dinner reservations and walk-in lunch guests.
Leverage the credibility of local influencers to reach new potential restaurant guests.
Strategy: Every year, Westfield Garden State Plaza hosts a Restaurant Week in early June during which customers can enjoy exclusive menu items, promotions and delicious meals at the shopping center's restaurants. Given the timing of Season 52's grand opening and Restaurant Week aligned, 3E Public Relations recommending implementing an influencer campaign. Our team used a combination of manual research and a social media management dashboard to identify Nano-Influencers (1,000-10,000 followers) in Northern New Jersey whose content:
Had a focus on food, dining and lifestyle options.
Demonstrated a clear connection to the New Jersey area.
Was high-quality with great visuals.
Garnered strong audience engagement.
After careful vetting and identification, we reached out to four influencers to share information about Seasons 52, Restaurant Week, and the opportunity to collaborate on content. Each influencer was offered a $200 gift card to cover their meal at Seasons 52, plus compensation for their content production. 3E PR established influencer agreements outlining not only what was expected of both parties, but also key message points for the influencers to consider weaving into their content. Influencers were given creative freedom to produce the type of authentic content that their audience resonates with, including Instagram Reels, stories, and in-feed posts.
Results: All four influencers posted high-quality videos and photos during Restaurant Week that spotlighted the food and drinks they enjoyed with friends/family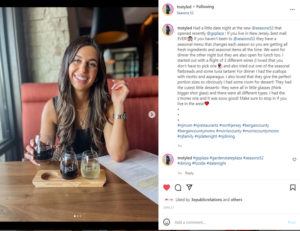 members at Seasons 52. The campaign reached 24,495 accounts and received 2,078 engagements. Seasons 52 experienced increases in monthly dinner reservations and lunch guests following the campaign. All influencers also loved collaborating with Westfield Garden State Plaza and have become regular content collaborators to promote new dining options, promotions, events and retailers.