Lee Groeger - 11/21/2016
American Cancer Society Announces 'Real Men Wear Pink' Winner: It's a Tie!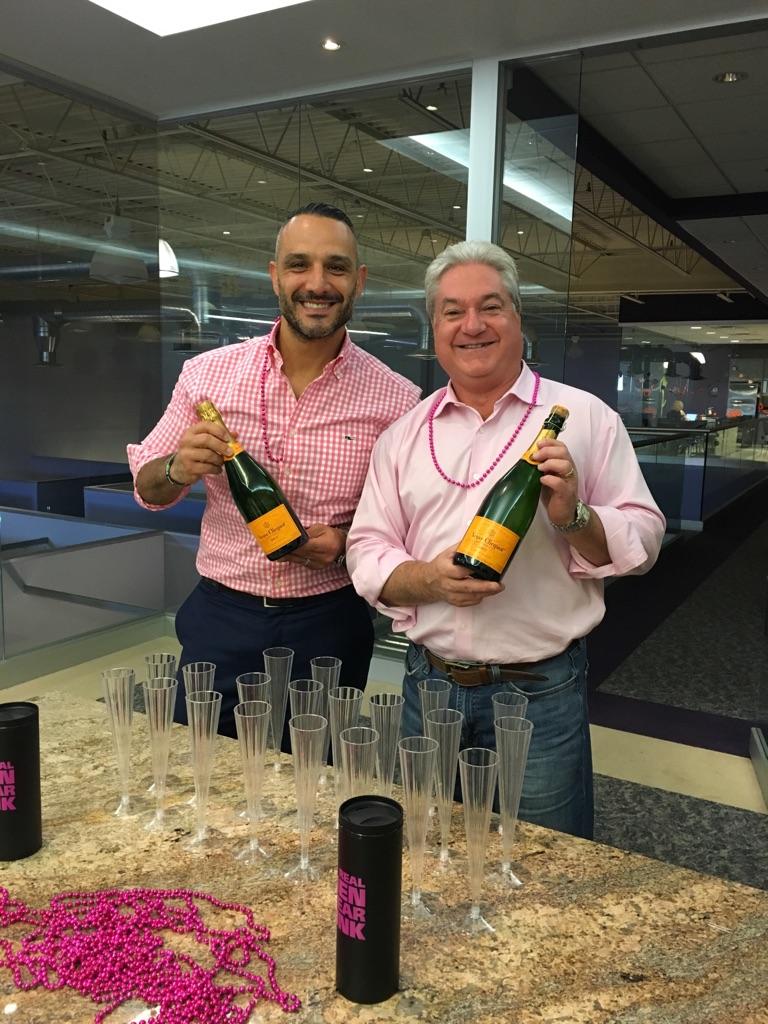 MONTVILLE, N.J. – November 15, 2016—The American Cancer Society's "Real Men Wear Pink" campaign has ended in a deliberate tie. In a last minute twist in the friendly fundraising competition, Darren Magarro, CEO of Franklin Lakes-based agency The DSM Group, agreed to match donations raised by Dave Scelba, CEO of Montville-based affiliated companies 3E Public Relations, SGW Integrated Marketing Communications and Changebridge Productions, in an effort to raise as much money as possible to fight cancer. The two marketing agency leaders, who raised a combined total of $25,021.12, now share the title of 2016's "Real Man of New Jersey."
"With one day left in the campaign, Darren contacted me with a proposal to work together rather than compete," said Scelba. "I embraced Darren's idea because it's exactly what the American Cancer Society does—it brings people from all walks of life together to fight this horrible, debilitating disease."
"I am a man of my word, and am so proud that our teams were able to come together to raise such a substantial amount of money for the American Cancer Society," added Magarro. "This is a tribute to both teams and, frankly, to a message that we should all embrace: we can do more together than we can in competition."
Real Men Wear Pink is a new initiative from the American Cancer Society designed to get men more involved in the fight against breast cancer. The organization hand-selected a small group of men in each state to participate, each of whom agreed to raise a minimum of $2,500 during September and October and to wear something pink every day in October. The man in New Jersey who raised the most money would be named "Real Man" and win a long weekend use of a sports car. However, these two men passed on the prize and in turn gave it back to the ACS and requested that a patient be able to enjoy it.
According to the ACS, Magarro and Scelba each individually raised more than any other fundraiser in the state, contributing to the Parsippany chapter being the fifth highest fundraising site in the Eastern Division, which encompasses New Jersey and New York.
"These two men and their teams have truly exceeded my wildest expectations," said Sandra Schler, Senior Market Manager, Community Engagement, American Cancer Society. "It has been heartwarming and inspiring to see all the energy and talent that went into raising funds to support the fight against cancer. This melded team has truly gone above and beyond, and their donation will go far!"
The two CEOs and their teams met to celebrate this achievement and discuss how to extend fundraising and awareness momentum beyond October in a meaningful and sustainable way. They are working with the American Cancer Society to evaluate a number of paths through which they can accomplish this, and while the details are yet to be determined, both parties agree that their work has only just begun.
Interviews, photos, and fundraising campaign materials are available upon request.
About 3E Public Relations
3E Public Relations is an award-winning public relations and social media agency based in Montville, New Jersey. Established in 1989, 3E PR is an associated company of SGW Integrated Marketing Communications, 3E PR was established as an independent LLC in 2007 to service clients and agencies in the ever-changing world of traditional, digital and social communications. As its tagline suggests, 3E PR integrates communications tactics to educate and engage its clients' target audiences by entertaining them at multiple touchpoints. For more information, visit https://www.3epr.com/.
About The DSM Group:
Founded by Darren Magarro in 2007, The DSM Group is a full-service, Franklin Lakes-based advertising, public relations and marketing agency. The firm works closely with clients in the education, health, hospitality, retail, service, financial and legal sectors, offering media placement and purchasing, web marketing, branding, promotion and public relations services. For more information, please visit http://www.TheDSMGroup.com.
# # #