Megan Redzia - 04/25/2019
The internet and social media platforms are overflowing with content – on every industry and every topic. This saturation of pictures, trends, memes and other rich media make it difficult for an organization to stand out among the crowd. The creation and distribution of video isn't new, however, strategically utilizing quality video content on your company's social media platforms can draw the attention of the audience you want to reach. In fact, marketers who use video grow revenue 49% faster than non-video users. Find out how you can use this powerful tool for your brand.
Improving Social Media ROI with Video
Video content has become a pivotal tool for marketers to engage a brand's current base of followers,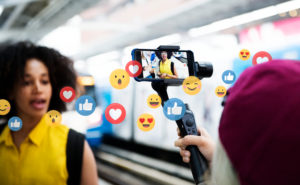 bring in new audiences and achieve business goals. Facebook has the highest percent of watched and engaged videos, however the other platforms have impressive viewing and engagement ratios as well.
With consumers not only digesting so much video content daily, but also taking action as a result of it, brands have an opportunity to leverage video to improve their social media ROI. In fact, marketers who use video grow revenue 49% faster than non-video users. So, what types of videos can drive social media engagement? Let's look at some examples.
Types of Videos for Social Media Platforms
1.)    Live Streams
The video live-streaming market is growing quickly! In 2016, it was already a more than $30 billion industry and it's projected to more than double in growth by 2021 to become a more than $70 billion industry. Live videos streams are the best way to engage social media users in real-time – from wherever they are in the world. Organizations can do live Q&As, tutorials and giveaways. Going live adds the element of anticipation on top of the feeling of inclusion.
Although live videos aren't edited or produced, they do require a team of people to ensure broadcasts go smoothly and are high quality. Make sure you have people to operate the phone or camera, monitor sound quality and manage the comments. At 3E PR, we typically have a team of three onsite for live broadcasts to handle these various activities. In some cases, our community managers addressing comments are on the phone with a client's internal marketing or legal team to ensure prompt approvals should sensitive topics arise.
2.)    Interview/Q&As
Interview or question and answer videos are a way to create a personal connection with viewers. These videos can be done with members of the organization or the consumers of your product or service. Answering frequently asked questions or unique questions sent in for the purpose of the video are options. Having someone in the video who represents or advocates for the organization can be a good way to deliver key brand messages in a more engaging format than a text post.
3.)    Promo and Deal Announcements
Promo videos might be short, but when done well will get more attention than a regular advertisement. Using video to highlight promotions or deals allows you to have fun and be creative. Leverage popular music or a current meme/GIF trend to grab the attention of the viewer.
4.)    Tutorials/How-To Instructions
Instructional videos are among the most popular on YouTube. Nothing helps a customer or potential customer better understand your product or how to use it than a video. You can use these types of videos to showcase your product's applications, ease of use, tips and tricks, and more. This video type is also great if you're an expert in a field and want to showcase your expertise. For example, chefs can use how-to videos for recipe demonstrations and personal trainers can record workout routines.
5.)    Company Announcements
Announcement videos are like a video press release; however, they can be fun and creative. They inform and excite viewers about what is new or coming soon to hopefully create a buzz. These videos can be longer or shorter, depending on the details included about the new product or service being offered.
6.)    Contests and Giveaways
Want to ramp up your social media engagement? Try a contest or giveaway. Have a clear purpose of what your goals are with the promotion. Do you want to drive lead generation? Get people to buy a new product? Then, develop a contest that clearly states what you are looking for entrants to do. You can give away a product or service, or something connected to your business's mission or culture. Just make sure to follow the contest policies and guidelines for the platform on which you'll be posting the contest or giveaway video.
7.)    Trending/ Round-Ups
It is not uncommon for people to use social media as their main source of world, local and industry news. Making videos about trending or popular topics related to your organization's service areas is a great way to encourage loyal viewers. Releasing trending/round-up styles videos will encourage those who want to stay up-to-date to subscribe to your channel.
8.)    Meet the Company/Culture Videos
People love to support companies that are as transparent as possible. Meet the company videos show the behind-the-scenes of the company. Allowing viewers to peak behind the "employees only" door establishes intimacy between them and the company. Knowing who works there gives the viewer an understanding of the organizations culture, mission and values.
The Best Social Media Videos for Each Platform
The video types can be combined, fused and bent into the best version for the organization. However, it is important that the video content is posted to the platform where it can perform the best. Each of the major social media platforms have attributes that make some videos better than others, so it's important to create video content tailored to the platform on which you intend to post it. Here's some pointers for each platform:
Facebook
Emotionally-charged videos perform the best on this platform. This could be videos jam-packed with comedy or heart-warming stories.
YouTube
Long-form videos that share more information perform better on YouTube than other social platforms. YouTube also works best for interview, meet the company or tutorial videos that require details to be highlighted. In order to gain a following on YouTube, it is important to have a regular post schedule that subscribers will be notified about, so if you're going to invest time in this platform make sure you're prepared to update it frequently.
Instagram
Fast-paced, shorter and simple videos do best on this popular platform. Contest/giveaway, announcement and promo videos are ideal for Instagram. This platform allows users to easily tag and send to others, which is good for increasing awareness.
Snapchat
Similar to Instagram, videos on Snapchat should be fast and fun. Snapchat is not hugely interactive, but it can be used to share information and create brand personality.
Twitter
Quick tutorial/how-to videos can perform well on this platform. The videos should be easily digestible and sharable. Videos on Twitter on average are watched for three seconds before the viewer decides if they will exit out. It important to be attention grabbing right out the gate.
If you' like to discuss how social media videos can drive engagement and improve ROI for your brand, send me an email.