Amy Stern - 03/06/2018
Are you a food brand manager launching a new product and wondering how to get it on national TV? Perhaps you're a chef with a successful restaurant group about to introduce your secret sauce at grocery retail or an artisanal producer looking to become a household name? Getting your food product on daytime TV, syndicated shows and similar broadcast programming has always been challenging. Over the past few years, however, it's become even more so.
That is why, with much anticipation and enthusiasm, I attended a recent panel discussion hosted by producers of ABC's The Chew, as part of the International Association of Culinary Professionals (IACP) annual conference in NYC. From "pay to play" to audience giveaways, I'm happy to share the insights I gleaned, coupled with recommendations from previous experience. So with your sights set on tuning into the Today show or even a regional outlet, like Good Day New York, and seeing your consumer packaged goods (CPG) on-air, here are some tips and tricks from the pros on our food team.
Product Placement
If the goal is seeing your food brand on TV, one sure way is with sponsored product placement, also known as "pay to play." This means in addition to hiring a publicist with turnkey relationships at key networks who knows the producers in charge, you'll have to pay a monetary fee to ensure your product is seen by the viewers at home. At least that's what's required if you want your brand name to be clearly visible rather than out of focus.
Is product placement expensive? Yes, and in fact, it can be very expense. A national program like Today or The Bachelor will require hefty fees to allow you to leverage the millions of audience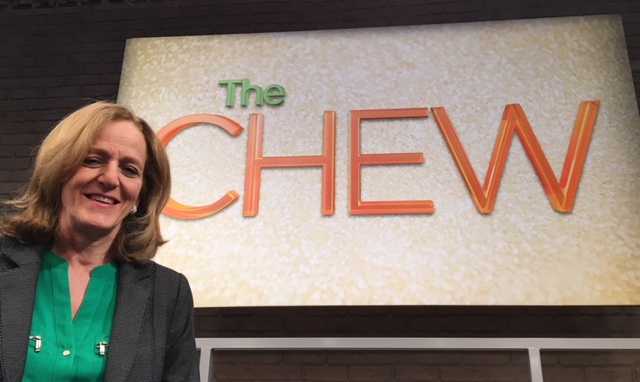 viewers they've spent years cultivating. There is also the price for accessing all of those eyeballs that allow you to align your brand with one that is already a household name. Among the alternatives is starting in smaller, more regional markets that often have lower sponsorship fees, as well as more flexible requirements for brands and other vendors looking to promote their wares.
For those who would like to consider product placement on national or local broadcast outlets, it's best to hire a professional who can help you navigate the powers that be. One piece of advice – don't try to book a spokesperson or chef on air and think that while they're conducting a demo of their favorite recipe, they'll just slip in the name of your brand. That's one sure way to get blacklisted from ever appearing on the program and I mean, ever!
Audience Give-Aways
Another option to get your food product on TV may only require an in-kind donation. Typically, it is in the form of an audience give-away. We aren't talking about presenting everyone in the studio audience a brand-new car like Oprah did, but be aware that your product may be required to meet a minimum dollar value.
There are, of course, exceptions, especially when your product has a direct connection to the host or talent on air. This is where a seasoned media relations professional can help. They either have existing expertise or can do the necessary homework, so your brand is not known as the one who offered a peanut butter confection to the audience of a celebrity host with a well-documented peanut allergy. You also don't want to be the one associated with offering your organic dog food to someone who has just lost their four-legged soulmate. That said, programs are always looking for ways to engage the audience, both in-studio and at home. So, let your creative juices flow and don't be afraid to offer up something that's never been done before.
Book of Lists
If you're searching for cost-conscious ways to get your brand on television programs without engaging in pay-to-play, submitting your food product to any of the many best-of lists that magazines and digital media outlets promote, could be your ticket to success. Publications like Good Housekeeping, Self and Prevention often publish best-of-the-best lists that cover certain food categories such as Best New Organic Cookie or Best Snacks Under 100 Calories.
Often, shows will have contracts with particular media outlets that include the opportunity for their designated spokespeople to appear on-air to reveal the names of the top picks. Again, this is where an experienced media relations pro can make a difference—a seasoned expert will often know the spokespeople on a first-name basis. Plus, there is tremendous value in the expert endorsement that resonates with these high-profile media outlets.
Who's That Lad/Lassie?
If you watch the programs that you are wishing your product might appear on (and you should), you might wonder, "Who are those specialty shopping gurus who magically appear with insider tips on how to spot the next food trend or secrets to bargain hunting at the grocery store?" These are "contributors."
Regularly scheduled guests, contributors have a specific area of expertise and it is their job to get the insider info on hot new food trends and flavors or what restaurant dishes are trickling down to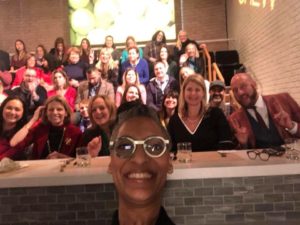 everyday dinner tables. These in-the-know folks are who your publicist needs to have relationships with. They curate products for ongoing special segments and while your product will most certainly appear with a group of others, they will all be tied to a particular theme. It's usually common courtesy that your closest competitor will not be included, but of course, you want to be sure to ask.
Product Sends
What about delivering samples unsolicited? Product sends can and often do end up on various TV programs. Before sending them, it's best to reach out to the show's producer and get permission. At the large national outlets, if you don't, your package will likely never make it past shipping & receiving. That said, most outlets are looking for the latest find; think what's new and unusual. An exclusive opportunity or first-look is always attractive, especially as producers are always seeking to improve those Nielsen ratings. This has worked well for me on the Today show, not once, but several times. In all instances, we received clearance before shipping.
Another important note, if your product is perishable, be sure to share that information with the producer, in addition to marking the external package. The last thing you'd want is someone opening a spoiled food container. That would certainly be memorable, but not for the reasons you're hoping.
First-hand Advice
It's not just experience with CPG brands that taught me these lessons. I recently had the opportunity to attend a panel on product placement hosted by the producers at ABC's Emmy-Award winning culinary program, The Chew. Since it is produced in New York City, it was an easy commute from our New Jersey offices. Here are some tips they provided to those looking to get their food brands on TV:
Keep it real – authenticity is critically important. Today's consumers are savvier than ever and the hosts of The Chew are committed to delivering practical content to the real people that tune in every day to spend time with them.
Products must have home cooking applications – The hosts are celebrities, but their audience is not. Food products and culinary tools must be able to translate to a home kitchen setting.
Focus on the human connection, not the brand and the food products will sell themselves.
While the producers will always do their best to make product integration work, it must be logical for the hosts and home audience.
Executive Producer Gordon Elliott said it best, "Tell, Don't Sell!"
To see how we have effectively helped CPG brands appear on television, watch our highlight reel on our food page.