Amy Stern - 02/06/2017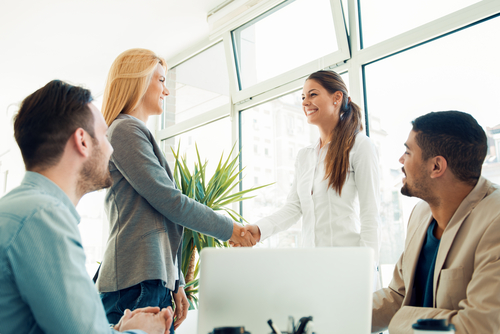 With today's business environment so incredibly competitive, how can you amplify your food or culinary brand to compete against the voracious competition? It's easy to feel lost in a sea of options, but one marketing strategy that is cost-effective and has shown long-standing results is the value of partnerships.
Whether you're a cookbook author looking for work as a brand spokesperson, a start-up with a great product hoping to break through at retail, or a nationally recognized brand seeking to increase market share, partnerships are an invaluable tool. The key is to choose your strategic partner wisely. Regardless of your goals and objectives or current role in the food industry, a well-crafted partnership will ultimately benefit both parties. Building valuable relationships that can elevate emerging brands as well as household names, is not as elusive as it appears, if you know where to look.
Discover Likely Partners
Like many challenges, sometimes the answers are right under our noses. For those involved in the food industry, there are a significant number of opportunities to meet potential partners who can help you achieve your sales and marketing goals and objectives. Here are just a few.
Food Marketing Conferences
A great opportunity to meet people that might have complementary assets is to attend food conferences. If budgets are tight, consider choosing one conference per year based on geography and the demographic of its attendees. Even if you can't spare the time to attend for the duration, many offer one-day passes at a pro-rated fee. Another option is to join the organization. Membership often entitles you to download information (including the presentations) or watch videos, which is the next best thing to being at the conference. Here are a few examples.
International Association of Culinary Professionals – This organization counts Julia Child and Jacques Pepin among its founders. It brings together influencers from across the culinary world, including food media, cookbook authors, chefs, restaurateurs, consumer food brands, food marketers, academics, bloggers and nutritionists. Events include regional opportunities, as well as an annual conference whose location changes to accommodate its national membership.
Culinary Institute of America (CIA) Industry Leadership Programs – offered for food service operators seeking inspiration, networking, skill development, culinary insights and continuing education credits. These conferences, summits and professional retreats focus on topics and trends crucial to the industry, such as flavor development, health and wellness, nutrition science, volume foodservice, sustainability and technology.
Food Marketing Trade Shows
Every industry has dedicated trade shows. If you're not already attending a select few, you should be. The culinary market has so many options that it's not possible to list them all, but here are a few examples:
Fancy Food Show – This event features new product introductions by small-batch producers as well as industry stalwarts who are expanding their product lines with new offerings. Held twice a year, the Summer Fancy Food Show takes place in New York City and the Winter Fancy Food Show is held in San Francisco.
International Housewares Show – Sponsored by the International Housewares Association (IHA), this annual event in Chicago features the leading home appliance manufacturers like Cuisinart, KitchenAid, Breville and more, as well as a host of kitchen tools and gadgets. Exhibitors reflect a collection of cross-functioning products, including food preparation, home organization and storage, dining and décor, and personal care.
Natural Products Expo (West & East)   – The must-attend trade show for those interested in natural, organic and healthy lifestyle products. It is held twice a year on opposite coasts to accommodate the growing interest in products that meet these criteria.
Trade shows offer a host of opportunities for both the exhibitor and attendee and while some exhibitor fees can be expensive, you can maximize the opportunity to connect even if you just come and "walk the show." Beyond exposure to new product introductions, most trade shows offer a variety of other opportunities for creating connections such as:
Media Relations
Executive Networking
Educational Sessions/Workshops
Keynotes by Industry Thought Leaders
Food & Beverage Tours
Don't live near a big city where many of these trade shows occur? Well, there are still regional or local industry events that can prove fruitful. If you can't find any, consider starting your own professional networking group.
Professional Organizations for the Food Industry
It's always rewarding to connect with others that share your passion and in the process, you're likely to learn something new and become inspired. On the flip side, your valuable experience can benefit others, as well. Here are a couple of professional organizations where you might meet others in food-related fields that could potentially become a new customer, client, business partner or friend.
New York Women's Culinary Alliance – This women-only networking group was started specifically to build alliances between women working in the male-dominated restaurant industry. While much has changed, the Alliance still fosters friendship and professional collaboration, drawing members from across the culinary spectrum: food writers, chefs, food marketing professionals and event planners. Many collaborative projects have begun as the result of a casual dinner hosted through the group's dine-around program which offers exposure to some of New York's most distinctive eating venues. From expert talks by award-winning cookbook authors and Food Network celebrities to a field trip to one of America's oldest coffee roasteries, the organization offers networking opportunities that could lead to professional alliances.
Food Marketing Institute – An advocacy group for the food retail industry, FMI members include nearly 40,000 retail food stores, plus pharmacies. Through programs in public affairs, food safety, research and industry relations, FMI offers valuable resources and benefits. The organization prides itself on continuing education with offerings that include conferences, webinars, and industry certification programs.
Mentoring
Do you remember your first job? Was there someone in the organization who took time out from the daily chaos to share a specific task or skill that you still rely on today? While it's important to mentor those in our field because they will become the next generation, you should also see it as a resource for partnerships. After all, we tend to think of mentoring as a situation where there's a senior person with all the knowledge and a newbie learning the ropes. Recently, I spoke with a colleague who described a stellar intern who thrived under his oversight. That same intern went on to have several prominent positions in the industry and all the while, the two stayed in touch. A few weeks ago, the mentee called my friend to offer him the opportunity to earn some serious fees working on a major project.
If you've found these tips for "Where to Look for Likely Partners" helpful, download the presentation  "Building Buzz Through Partnerships" or email astern@3epr.com to schedule a phone consultation that might lead to your next partnership.