Lee Groeger - 02/25/2022
Trade shows aren't what they once were, but they're still an important component of many sales and marketing strategies. Attending and exhibiting at key trade shows provides companies with visibility into to the latest trends and innovations, a platform to attract and engage directly with customers, an opportunity to research competitors, and a dedicated chunk of time to get face-to-face—or screen-to-screen—with valued colleagues.
Whether online, in-person or hybrid, make sure you're getting the biggest bang for your buck at the next trade show you attend by following these tips.
Search for the spotlight…then get in it.
Research speaking opportunities taking place during the trade show such and keynotes and panel discussions. This gets you more face time with a targeted audience, provides you with a level of exposure that increases your chances for media coverage, and puts you in an authoritative position that earns attention, credibility, and could lead to future speaking opportunities.
Leverage the tools at your disposal.
Familiarize yourself with your sponsorship package or contract and find out what kind of access, if any, you have to a list of attendees. You may be offered inclusion in one or more emails sent out to attendees on behalf of the show in which you might promote your company's presence, products, initiatives, offers, and other ways to get and stay connected with this audience.
It's also possible that you'll be provided access to an attendee e-mail list, which is hugely valuable. Just be sure that any e-mails sent out to a list provided to you are compliant with all opt-in and privacy laws that pertain to your company, the trade show, and any state, region or country of a potential recipient.
Work the social network.
Make sure you're aware of any official digital or print publications (e.g., show dailies) being distributed to attendees, and secure information on advertising and editorial opportunities, deadlines and guidelines. The same goes for social media; refer to your contract or get a hold of your sponsor/partner contact to find out whether there are opportunities to be included in the show's social media communication.
Get after the press.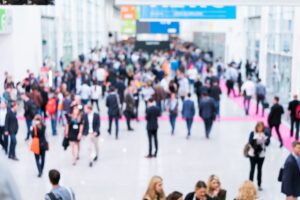 There's another category of attendee you want to get in front of, and that's the press. There are two strategies you'll want to employ to make that happen. One is to make sure whoever is handling your PR connects with the show press office to get access to the list of media who have confirmed they'll be attending. While not unheard of, it's unlikely you'll get their contact information; however, knowing which outlets plan to send representatives allows your PR team to do their own due diligence and mine for opportunities.
Just as importantly, you'll also be doing yourself a huge favor by contacting the trade show press office to make them aware that you're available for any pertinent media opportunities in advance of, during, and after the show. Offer to provide them with press material to keep on hand, too; this makes their job easier and increases the likelihood they'll include you in their outreach and when fielding incoming opportunities.
When it comes to media inquiries, it's not uncommon to receive quick turnaround requests, as deadlines are often quick and. Also be prepared to make yourself available at odd hours—I've booked many morning news segments to promote trade show activities that have come with a 5:00 a.m. call time (you can see some of them here)!
As you can see, trade shows are ripe with built-in value that you can easily miss if you don't know where to look, or as is often the case, you don't have the support or bandwidth to leverage it. Planning a trade show comes with a million details, from booth design to transportation logistics to meetings, dinners, and more. Companies in this situation often rely on 3E PR to prioritize and execute these opportunities so they can focus on all the other moving parts.
We have lots of experience with all aspects of trade show management, and we'd love to share it with you. Email me at lgroeger@3epr.com to learn more!