Amy Stern - 02/18/2021
By articulating the hospital's unique selling proposition and distinguishing it from competitors, 3E Public Relations created a PR campaign that resulted in a windfall of media including local, regional and national news coverage.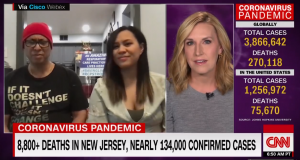 Research and Analysis: 3E Public Relations (3E PR) conducted primary and secondary perception studies to determine an effective media strategy that combined the needs of reporters with the unique selling proposition of Saint Peter's University Hospital. The studies revealed that during COVID-19, news outlets were on overdrive, with every story somehow connected to the pandemic. As a healthcare institution, Saint Peter's University Hospital in New Brunswick, New Jersey had its share of COVID-19 patients, but the challenge was how to be heard above the cacophony of media pitches, especially those from significantly larger healthcare systems with greater name recognition. Adding to the challenge was the fact that we didn't want the news to be about patient deaths or the number of patients on ventilators. Rather, we wanted to educate the public about the quality medical treatment and compassionate patient care that Saint Peter's University Hospital provides.
As a single, independent hospital, Saint Peter's is competing for media opportunities against mega healthcare systems comprised of multiple hospitals across numerous geographic locations. Here's how we crafted a PR strategy that generated positive news in a pandemic:
Planning: In developing pitches to garner media attention, we created a central theme, "Compassionate Care During Crisis," and established clear objectives to communicate these tenets. These objectives included:
Establishing brand leadership – promote Saint Peter's strengths: standout provider in the area of maternal health; staff that prioritizes compassionate care and interpersonal connections on par with medical excellence.
Conveying public trust – reinforce messaging that conveys that patient safety is a priority with specifics that include a clear explanation of sanitization procedures, temperature and distancing protocols and strict visitor policies.
Delivering optimism – deliver first-hand accounts of success stories amidst a crisis: sisters sharing in the excitement of each other's delivery, long-standing relationship between doctor and patient, and selfless devotion to the sickest of the sick in the ICU.
Execution: Using the above objectives to guide us, we researched and vetted case studies while also culling the hospital's internal newsletter for insights that would allow us to illustrate how these objectives came to life. It should be noted that we did not write a single press release to garner the results achieved. All placements were the result of brief, impactful pitches.
Our research resulted in three human interest stories that were able to garner coverage in almost every local outlet while also piquing the interest of New York City's NBC affiliate. Each of these stories was ultimately featured on WNBC-TV, Channel 4 during the regular news broadcast, allowing Saint Peter's to advance its brand recognition beyond county and state borders. Our efforts allowed a single, independent hospital to out-pitch and outplace not only New York City's top hospitals, but many of those same hospitals that rank in the top 10 nationwide.
The three case studies and resulting segments included:
Sisters Give Birth on the Same Day Amidst Pandemic – while separated from each other due to COVID, two sisters were able to communicate via FaceTime and tapping on the common hospital wall that divided them.
Father/Daughter Duo Saving Lives in the ICU – Valentine Red, a respiratory therapist who has worked at Saint Peter's for 20 years, was fighting COVID-19 alongside his daughter Xanilyn, an intensive care nurse. The two discussed the challenges of working with the hospital's sickest patients and how they keep the stressors of their job at bay, once returning home.
OB/GYN Joins Forces with the Patient She Delivered 20 Years Ago to Improve Safety for Frontline Workers – Twenty years ago, Dr. Maureen Cernadas delivered Calista Kleintop. While a junior at Virginia Tech and majoring in material science and engineering, Kleintop used recyclable material provided by Cernadas to create surgical-grade masks for the hospital where she was born and Cernadas still practices.
Those human-interest stories brought the theme of "Compassionate Care During Crisis" to life with a focus on Saint Peter's medical staff, as well as its patients. In addition, we secured two high-profile interviews for Saint Peter's CEO by pitching a story with the hook, "A Different Perspective: Smaller Hospitals and How They are Navigating COVID-19."
This pitch resulted in back-to-back placements in New Jersey's leading business publications: ROI-NJ and NJBIZ. Our pitch presented the concept that there are countless COVID-19 stories about how hospitals are coping during the pandemic, especially from the perspective of big healthcare systems, but there is also value in understanding how a smaller hospital manages a crisis. Are the challenges the same as larger healthcare systems or even more taxing? Are there advantages to less bureaucracy? What's the current status regarding available PPEs, nursing staff, beds, etc.?
Results: We achieved our objective to secure media that highlighted Saint Peter's quality medical care and its staff's compassionate care during the COVID-19 pandemic. Placements included local, regional and national coverage across print, broadcast and digital media.
Sisters Give Birth on the Same Day Amidst COVID

WPIX, New York Channel 11
News 12 NJ
Home News Tribune
Courier News

Father/Daughter Duo Saving Lives in the ICU
OB/GYN Joins Forces with the Patient She Delivered Twenty Years Ago to Improve Safety for Frontline Workers

WNBC-TV, New York Channel 4
Tapinto New Brunswick
The Catholic Spirit

A New Perspective: Smaller Hospitals and How They are Navigating the COVID-19 Crisis