Amy Stern - 04/21/2017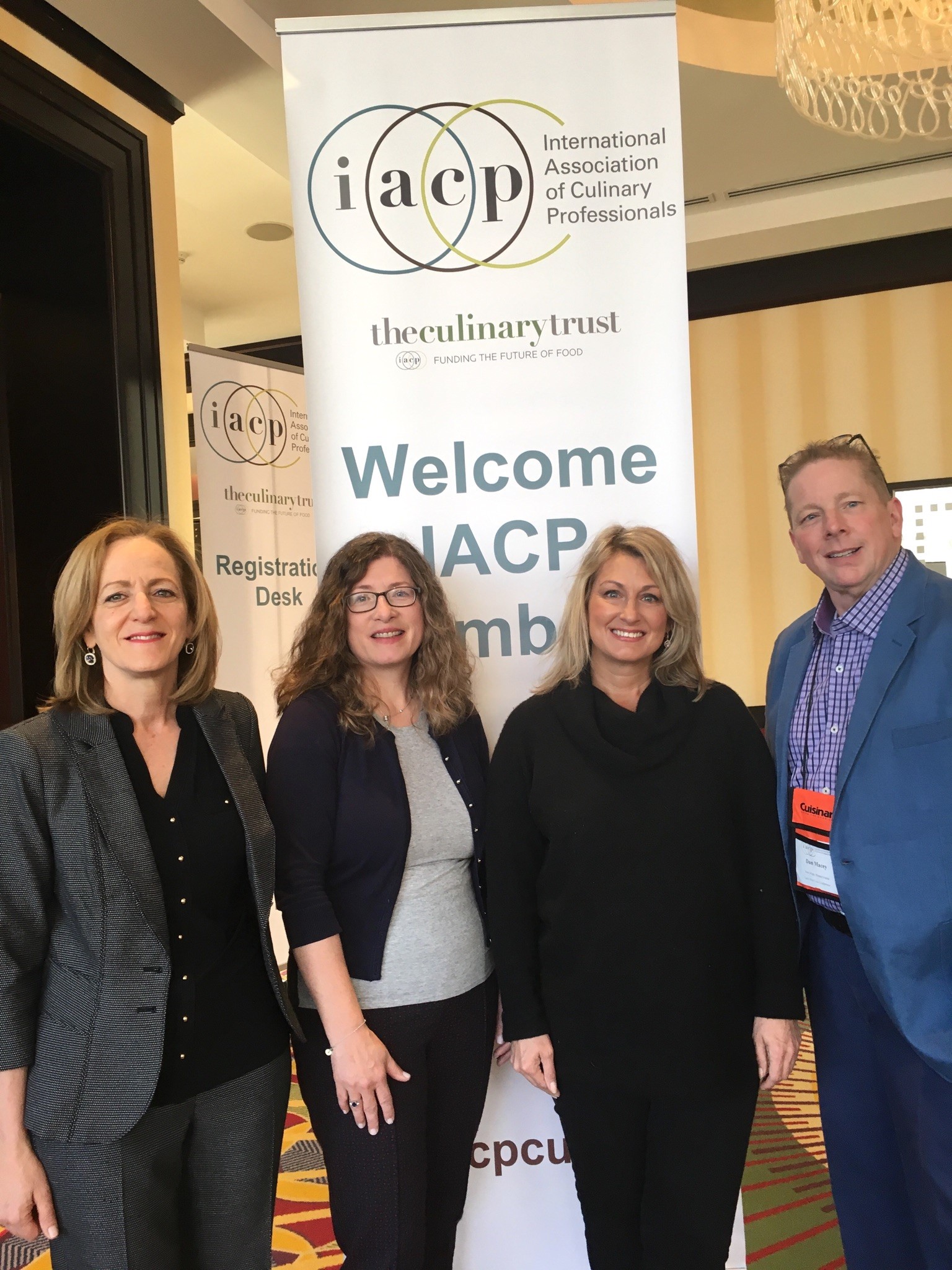 The International Association of Culinary Professionals (IACP) (http://conference.iacp.com/) annual conference is so chock-full of educational sessions and networking opportunities that registration and course selection can provoke angst at having to make the choice between one session led by a James Beard award-winning chef and another hosted by the Food Editor at The New York Times. While attending this year's conference in Louisville, KY a few weeks ago, I was reminded of the multiple benefits to veteran food industry folks and newbies alike. The three-day event brings together culinary influencers from around the country including food media, cookbook authors, chefs, restaurateurs, home appliance brands, food bloggers and more.
I left this year's conference with a host of valuable information that I could easily integrate into my everyday practice. Key topics included the value of strategic food marketing partnerships, content creation and relationship development. From service providers to customers, the take-aways were invaluable.
Benefits of Food Marketing Partnerships and Collaboration
I developed a presentation for conference attendees entitled Building Buzz Through Partnerships that looked at collaborative relationships and examined the value of strategic marketing partnerships for food companies and how these connections can benefit participants on either side of the table. I was joined on the panel by Mary Rodgers, Director of Marketing Communications for Cuisinart (www.cuisinart.com – "open in separate window"), Dan Macey, a food stylist and proprietor of Dantastic Foods, and Kristen Hess of the Artful Gourmet, a food blogger and food photographer. To download a copy of the presentation, click https://www.3epr.com/foodpartnerships/
In addition to being a presenter, I found attending other sessions offered valuable insights, as well.
Editorial vs. Advertorial Content
One of most impactful sessions I attended was entitled, By the Way, They Didn't Pay Me to Say That:  Sorting Out Editorial vs. Advertorial in the New Media Universe. The discussion focused on the ever-blurring lines between editorial and advertising or brand-endorsement. As someone who has been in the PR industry for 20-plus years, I cut my teeth on the premise that PR and advertising were akin to separation of church and state, but as the number of bloggers and the quantity of their curated content has grown, we've seen an increase in the number of bloggers demanding to be compensated for the content they create, especially if it is brand-promotional in nature. Additionally, the conversation turned to broadcast content. Product integration also used to be acceptable, assuming it wasn't excessive, but given the current state of affairs, most mainstream media outlets will only tolerate it if the segment is "sponsored" with money changing hands as it would if one were to pay for an ad. Should one misconstrue my comments for "wine-y" sour grapes from a public relations traditionalist, that would not be accurate. It's just a historical perspective on how we have come to enter the "new media universe."
Pay for Play Marketing Content
Laurie Buckle, a veteran from the consumer magazine world of Fine Cooking and now CEO and Founder of CookIt Media, has also seen the tide turn. Other contributors to the conversation included Todd Coleman, who was previously Executive Food Editor at Saveur magazine and now founder of Delicious Contents where he produces food-based content, ideation and strategy for print, digital and broadcast channels for a host of high-profile food clients.  An earlier session that also addressed the topic had Sam Sifton, the Food Editor of The New York Times, explaining how in his line of work, editorial is still sacrosanct, with no "pay for play" sullying the paper or its digital counterpart. He explained that during his tenure, there have been newly created platforms developed for such, but that they are always clearly labeled to ensure a clear distinction between the two.
Another contributor to the conversation was blogger, Irvin Lin, who is also an IACP award-winning photographer, award-winning baker, graphic designer and story teller. He is often approached by food brands to create innovative recipes and engaging editorial content for which he is rightfully compensated. We discussed a potential collaboration, just another example that speaks to the value of strategic partnerships and where you can discover likely partners. Irvin's entertaining blog is called "Eat the Love" and he's open to working with brands, but will always disclose it when he's being compensated.
Don't Forget About Email Newsletter Content and Distribution
Other valuable insights were garnered from a session called, Don't Forget About Email Newsletters! The panel included Ashley Carufel, Assistant Director for Social Media at PBS, Sam Sifton, Food Editor at The New York Times, and Jenny Zhang, Digital Newsletter Editor at Eater. Each described the benefits of using newsletters to reinforce and elevate the connection they are building with their audiences. Once again, the topic of valuable content was at the forefront of the conversation. In addition, participants spoke to the fact that email newsletters offer an alternative platform. Their editorial content is not controlled by corporate publishers and they are distinct from social media platforms, with their ever-changing algorithms that can impact subscription models. The panelists spoke about the way newsletters allowed for a certain freedom of expression, the insertion of opinions and often the ability to expound, at length, on a single subject, if warranted. Some of the specifics even addressed what day and time was best to disseminate email newsletters for optimum readership and as one might expect, "that depends" on who you are trying to reach, their work and leisure habits and much, much more.
Professional Relationship Development
One of the many reasons to attend professional conferences is to hone one's craft, to gain new skills, reinforce areas of expertise and to network, of course. You Never Know is a phrase that fits appropriately. You never know who will be standing in line with you during registration, sitting next to you at dinner or in the case of IACP, riding the shuttle to a private tour of Louisville's oldest bourbon distillery. Conferences are a great opportunity to meet those that have complementary interests and may actually offer the added benefit of opening doors to new opportunities. While I didn't plan on it, I came home from conference with a new relationship that has since converted to that of a new client and an old relationship that was rekindled with the potential to lead to a new PR project. I also had dinner with a dear friend, who only four years previously was a stranger, until we shared a New York City subway ride as part of an IACP culinary tour called Exploring the Indian Foodways of Jackson Heights, Queens. Part of the value of attending conferences and workshops is that "You never know."
For additional insights related to food marketing, consider the following sources:
If your brand could benefit from a strategic partnership and you would like to receive the Building Buzz Through Partnerships presentation, visit the 3E PR food partnership page and request a copy: https://www.3epr.com/foodpartnerships/
For additional questions, feel free to email me at astern@3epr.com