Amy Stern - 10/27/2021
A robust public relations strategy can help you to communicate the unique aspects of your corporate culture, a critical tool for building meaningful relationships with current and potential customers.
For any company with a product or service to promote, creating a strong brand identity is key to long-term success in the marketplace. At the core of brand identity is corporate culture, the distinguishing character, moral values or guiding beliefs that are the foundation of an organization.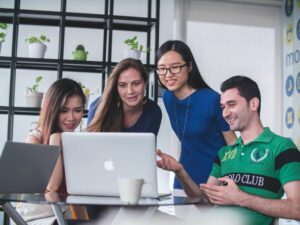 A quick study of successful brands reflects similar attributes that contribute to corporate culture:  thought leadership, passion/purpose, and a clearly defined unique selling proposition (USP) or point of difference. So how do successful companies communicate their corporate culture in a way that resonates, creating a true connection with their key target audience?
The secret lies in a strong public relations strategy. Public relations offers a platform to communicate corporate culture to attract your ideal customer via consistent messaging. In addition, the third-party endorsement provided by the media outlet in which the message appears lends credibility beyond the benefits of advertising.
Thought Leadership
Using a corporate executive such as the CEO or President as a spokesperson can advance communication of one's corporate culture. 3E Public Relations was tasked with introducing a new player in the uber-specialized pharma category of compounding outsourcing. Adding to our challenge was a host of negative press regarding safety issues plaguing this manufacturing process. We also faced an uphill battle to grab share of voice from the category leader who controlled 70% of the market share, as well as organic search dominance.
Our client's mission was to convince customers that their manufacturing process was safer, that it not only met, but exceeded FDA safety requirements, and that their customer service was superior to the existing industry standard. The team at 3E Public Relations created an aggressive media relations campaign comprised of key messaging that emphasized the brand's leadership and key point of difference: experience, safety and customer service.
Securing highly visible interviews for the CEO in leading pharmaceutical trade publications allowed us to achieve increased brand awareness while simultaneously communicating a corporate culture committed to the tenets of patient safety and customer service. The CEO's passion to upend the industry standard and make it safer and more efficient came through in his authentic delivery during each and every interview which was also enhanced by our structured media training sessions.
After one of the CEO's initial interviews in a prominent digital outlet, potential customers, as well as other media began to take notice. This led to other reporters reaching out to understand why and how this industry veteran was seeking to shake up the category. Over time, he was sought out for his thought leadership perspective on industry trends, including advances in safety standards that he had created. Interviews is key business publications helped to further advance an understanding of QuVa's culture. As a result, we catapulted QuVa Pharma from a start-up to industry contender.
Passion/Purpose
Our newest client is vibi+®, a ready-to-drink beverage rich in prebiotic fiber with the purpose of promoting good gut health. During a recent conversation with corporate leadership, we discussed the President's desire to convey the company culture as an essential way to inspire and connect with potential customers. As part of the discussion, we talked about today's consumer, one that believes it's not enough for companies to say they believe in something, but how in today's marketplace you have to "show me how."
The brand tagline, "Fueling Health for All," is something he is passionate about. According to Steve, "Everyday, we're motivated by a desire to educate consumers about the digestive benefits of prebiotics, empowering them to live healthier lives. While I'm proud of the superior product we're bringing to the ready-to-drink beverage category, I'm equally as proud of our team's diligent efforts to serve the customers' needs, as well as the greater community."
The passion for the product's benefits and purpose to serve the community at-large were visibly demonstrated when vibi+ collaborated with its retail partner, Rouses Market, to assist with Hurricane Ida relief efforts by actively contributing bottles of vibi+ to those impacted by the storm.
Sharing images with local media that captured members of vibi+'s team disseminating cases of product to those impacted by the storm amplified corporate culture while reinforcing awareness for the brand overall.
Similarly, when French's Mustard wanted to promote its role as the common denominator at celebrations from backyard barbeques to ballpark gatherings, they turned to public relations to assist with a way to communicate the product attributes of their iconic mustard as well as a corporate culture that supports the neighborhoods where their employees live and work. A collaboration between French's and the New York Yankees allowed for several Boys and Girls Clubs in the Bronx and Brooklyn to bring buses of neighborhood kids to the stadium for a day of baseball and hot dogs. It wasn't just a matter of saying they supported the community, but French's took action to bring their corporate culture to life.
The value of a strong public relations strategy was critical to amplifying the events that occurred at the stadium. A combination of a PR tactics including drafting a press release, securing onsite photos and leveraging long-standing media relationships, led to significant coverage in traditional media that was bolstered by a corresponding social media campaign promoting a Day at the Ballpark.
Unique Selling Proposition
During the height of the COVID-19 pandemic, 3E Public Relations was responsible for disseminating a steady stream of news regarding our client, Saint Peter's University Hospital. Our goal was to craft an effective media strategy that combined the needs of reporters with the unique selling proposition of Saint Peter's University Hospital. As a healthcare institution, Saint Peter's University Hospital had its share of COVID-19 patients, but the challenge was how to be heard above the cacophony of media pitches, especially those from significantly larger healthcare systems with greater name recognition.
As a single hospital, Saint Peter's was a small fish in a big pond competing for opportunities against healthcare systems comprised of multiple hospitals across numerous geographic locations. Adding to the challenge was the fact that we didn't want the news to be about patient deaths or those on ventilators. Rather, we wanted to educate the public about the quality medical treatment and compassionate patient care that Saint Peter's University Hospital provides.
In developing pitches to garner the attention of media, we established clear objectives and then set out to draft copy that would communicate these tenets while standing out from the competition. These objectives included:
Establishing brand leadership
Conveying public trust
Delivering optimism
Using the above objectives to guide us, we researched and vetted case studies while also culling the hospital's internal newsletter for insights that would allow us to illustrate how these objectives came to life. Details are below, but it should be noted that we did not write a single press release to garner the results achieved. All placements were the result of brief, impactful pitches.
The results of our efforts included three human interest stories that garnered coverage in almost every New Jersey news outlet while also piquing the interest of New York City's NBC affiliate. Each of these stories was featured on WNBC-TV, Channel 4 during the regular news broadcast, allowing Saint Peter's to advance its brand recognition beyond Middlesex County New Jersey and across state borders. Our public relations efforts allowed a single, independent hospital to out-pitch and outplace not only New York City's top hospitals, but many of those same hospitals that rank in the top 10 nationwide.
Bringing Corporate Culture to Life
Corporate culture is something often discussed behind closed doors, but public relations can bring it to life by disseminating key messaging, articulating the unique selling proposition and promoting a brand's purpose and passion to serve its constituents. Just as important as the message itself, is consistency in delivering the message. To ensure your brand stays top-of-mind and for more information about ways public relations can convey your corporate culture, visit us at www.3epr.com.