Megan Redzia - 06/17/2021
The public relations agency you choose will be responsible for crafting your company's story, communicating on your behalf with press, ghostwriting for top executives, and handling crisis situations. So how do you find a public relations agency you can trust with these critical aspects of growing your business? In this blog post, we'll share criteria you can use to evaluate public relations agencies.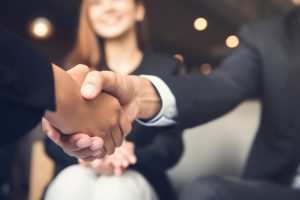 Let's talk about the elephant in the room. Committing to a public relations agency is a big decision. We get it. We're constantly hearing fears and concerns from potential clients. "We were burned by a PR agency in the past, so how can we be sure the same thing won't happen with you?" "This is an investment and our marketing budget is limited in the wake of the pandemic, so how do we know you'll get results?" Finding a public relations agency you can trust takes time and can be an overwhelming process.
We often tell prospects, and I believe our clients would agree, that working with a PR agency is like a marriage. The greatest public relations results are generated when the client and PR team have open lines of communication, are patient and considerate with one another, and are committed to a long-term relationship. Much like dating, however, it can be difficult to evaluate if the potential for a strong agency relationship exists when you are going through the process of vetting PR partners.
How to Ensure You are Hiring a Trustworthy PR Agency
We've had the pleasure of collaborating with other talented public relations agencies across the country over the years, and there are commonalities among those who have strong client relationships. We've compiled those shared traits to develop five suggested criteria you can use to find a public relations agency you can trust.
Their Clients Stick Around – The industry average for the length of a client-agency relationship is 3.2 years. If an agency is consistently losing clients after a year or two, it can be a red flag that they aren't satisfying client needs. Conversely, if the tenure of clients is beyond the industry average, that's a good sign that they are meeting goals and commit themselves to building strong relationships with organizations. When it comes to how client retention is impacted by the size of a firm, typically smaller agencies experience less turnover. Firms with less than $3 million in revenues saw the smallest amount of client churn in 2019 (17.7%). Firms with revenues between $10 million and $25 million suffered the worst client losses, at 28%. The largest firms—those with revenues of more than $25 million—saw client turnover of 23.6%. In addition to being proof of results, client longevity can mean a significant time savings for your company. If you've ever been through the agency selection process, you know how long it can take. You can also face program delays and a lag in results when you're constantly working with new agencies who need time to learn your business. Finding a public relations partner that you can work with for more than a few years is time- and cost-efficient.
They Have Proof in the Pudding – Client case studies are a terrific way to evaluate if a public relations agency is telling you the truth about their capabilities. An agency might supply these on their own, but if they don't, you should ask. Make sure the case studies they provide are connected to your company's goals, whether that's securing speaking engagements for leadership or a steady stream of press coverage. You should also be able to reach out to clients from the agency's roster for a reference. If you can speak with the client featured in one of the agency's case studies that's a win win! You can then validate the results and get more insight about what it was like working with the agency on that specific project.
They Don't Have a Revolving Door of Employee Turnover – Just like with any company, staff turnover says a lot about an agency's culture. High turnover rates can mean that an agency hires a lot of entry level team members, they aren't properly training staff, management practices are poor, and tons more. This can have a major impact on the quality of client service your organization receives. Good public relations experts also spend a great deal of time learning the ins and outs of a client's business and communication preferences. A revolving door of staff means you are inevitably going to be spending additional time educating new staff members.
They Address Your Specific Goals – Most agencies have standard decks and presentations that highlight their service areas and capabilities. Those are very helpful but should be used as phase 1 of the agency selection process. An agency you can trust will want to provide you with recommendations that address your company's goals during phase 2. These recommendations can take some time to develop, but they will allow you to see the plan they have in place to achieve your objectives.
You Have Access to Leadership and Chemistry with Them – If you're talking to an agency as a prospect and you haven't had any contact with members of the leadership team, that's a huge red flag. Having leadership involved in the selection process shows their interest in working with your organization and their commitment to ensuring goals are met. It's also important to get a feel for the chemistry you have with the agency's leaders. Their leadership styles will impact how their employees operate and therefore, the type of experience you can expect to have. Plus, like I said, an agency relationship is like a marriage so finding people you can enjoy and have a good rapport with is invaluable!
We understand the process of finding a public relations firm that is a fit for your company can be a long one. We hope these criteria helps you feel a little more confident while evaluating agency options. After you have done your research and made sure the agency you are considering checks off all the boxes, go with your gut instinct.