Julianna Lepore - 09/29/2022
Has your company considered incorporating events into your marketing or public relations strategy? Planning a well-executed event that achieves desired objectives requires excellent organizational skills, patience, and passion from a devoted team of individuals. Read on for guidance and tips on planning an event that will leave attendees and media impressed.
A successful event begins with identifying key messages and target audience, as well as setting goals. For instance, are you looking for the event to increase brand awareness via a new product launch or to raise funds for a charitable organization? Here are some important details to iron-out prior to executing any successful event.
Date and time
Budget
Location
Theme
Tickets – will there be a charge to attend?
Target audience
Potential media
Getting the Word Out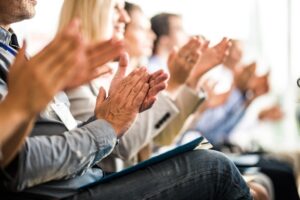 Once these elements are determined, it is time to get some "buzz" going for your event. If it is a private event for invitees only, be sure to send a save the date far in advance to allow individuals adequate time to plan.
On the other hand, if the event is open to the public, posting an event as a calendar listing on local community platforms, such as Patch, the local newspaper's digital outlet, and across social media will certainly help spread the word across the community ensuring a high turnout rate.
Run of Show
As the event gets closer, creating a run-of-show document is necessary for smooth execution. A run-of-show document is a detailed schedule that organizes the event's program minute by minute, ensuring all staff, volunteers and participants know the proper order, timing, and cues for each element of the program.
If your event will include live speakers or video presentations, make sure audio equipment has been tested and is ready to go beforehand. We recommend doing a run-through the night before or morning of the event to ensure proper set up and to avoid technical difficulties.
Prepare the individuals you've scheduled to speak by organizing a media training session before the live event. Media training will not only help the speaker identify and clearly communicate key messages but can also manage other important elements including body language and dress code. To learn more about why media training is a valuable for your brand, read our blog post "5 Reasons Your Spokespeople Need Media Training." 
Getting Media to Attend
A week before the event, send a media alert to relevant local media to attract onsite coverage. It is important to identify a targeted and qualified list of local media contacts who would share interest in the cause or messaging behind the event. These key details must be included in a media alert:
A few days before the event, make sure you follow up with those media contacts, as your email may have been overlooked or forgotten.
On the morning of the event, make phone calls to the newsroom and assignment s most broadcast outlets do not assign reporters and/or photographers until the morning of an event. A good rule of thumb is to call the assignment desk before 8 a.m., in advance of morning planning meetings.
What Makes an Event Newsworthy?
The truth of the matter is, not every event is going to be perceived as newsworthy. Events that are more inclined to gain media coverage need to be timely and of great significance. Having a specific angle such as, a public figure or celebrating a national observance can help draw the media's attention. Here are some other factors that media consider when determining if an event is worthy of press coverage:
Timing – Timing and how your event relates to current events is critical. During the war in Ukraine, we represented a circus whose performers fled the Ukraine to be reunited with their troupe and perform in the U.S. The circus itself was likely to be viewed as a fun, family-centric activity, but by combining our media outreach with the news of the acrobats who risked their lives to come to America, we infused the story with more meaning and relevance to today's news cycle. In addition, when tasked with promoting a local Farmer's Market on behalf of our client who is one of NJ's largest shopping malls, we needed a news hook that would allow us to stand out from all the other farmer's markets across the state. Leveraging National Farmer's Market Week which takes place in August gave the media a reason to cover it "now," vs. an evergreen angle which could have been put on hold indefinitely. As a result, we were able secure a photojournalist to attend our clients Farmers Market as it is a national observance with a local appeal.
Significance – The greater significance of an event, the higher chance of media coverage, as the magnitude on the community is larger. For instance, right now Hurricane Ian continues to pass through Florida. Organizations such as American Red Cross are partnering together to facilitate donation drop-offs, blood drives and other community events to help those in need. American Red Cross efforts have been circulating in major news outlets because the weight of Hurricane Ian impacts the entire nation. Media is inclined to spread the word of significant events because they effect a large portion of society.
Human Connection – One example of incorporating the human connection into an event is by supporting a non-profit organization through the facilitation of events. Each year, we support Eva's Village – a non-profit organization that offers social services and clinical programs that empower individuals suffering from hunger, poverty, homelessness and addiction to lead healthy, stable, financially secure lives. By doing good for others in need, it increases the likelihood for media coverage as the event is supporting a local and notable cause. Supporting organizations that have a philanthropical message gives media an incentive to attend as it makes for a heartwarming story of uniting a community together to raise funds for a local organization that supports a good cause.
Social Media Listening
Designating a staff member to coordinate and monitor social media activities for your event is a smart move. This individual can manage social media content and engagement before, during and after the event.
Creating a new or promoting an existing hashtag associated with the event or brand to be represented can help build increased awareness and visibility. Learn more about how to properly use hashtags on social media for events here.
Don't Stop When the Event Ends
Follow up with local media requests through email after your event with an organized "storytelling package" including details and photos that illustrate the success or goals achieved by your event and how it impacts the community. You are more likely to gain coverage if the media has all the content and details they need at their fingertips.
Social media is also a very effective post-event promotional tool to grow awareness with key audiences who could not attend.
If it is a recurring event, sending out a survey to attendees can secure feedback on their overall experience, opinions, and areas to improve upon for next time. Keep an archive of photos in case they can become newsworthy again in the future.
Hosting events is a challenging yet rewarding experience. There is a lot of behind-the-scenes planning and execution that goes into it, which is why having a team of individuals who are committed to or invested in the cause is imperative. With every event will come learnings and insights that can be applied to future events.
If you are planning an event and would like support in planning, execution or media coverage, please contact us here.