Emily Maupai Zinberg - 08/24/2020
The following social media case study illustrates how 3E Public Relations (3E PR) helped a client successfully launch a new product to a niche community online. Through careful planning and preparation, 3E PR created a social media strategy that not only effectively established the new brand's presence, but also helped our client exceed their projected business sales goals.
Nestlé Health Science enlisted the services of 3E PR to develop and implement a social media campaign to support the launch of Compleat® Organic Blends, the first and only organic, real food tube-feeding formulas that provide complete nutrition through a combination of a blenderized variety of fruits, vegetables and chicken feel, plus vitamins and minerals.
Product Launch Situation
Compleat® Organic Blends was developed by Nestlé Health Science to offer the enteral nutrition community, comprised of adults and children living with feeding tubes, an organic, non-GMO real food option as opposed to a conventional formula. This target audience was difficult to access, but even more difficult to build trust with, especially as a global life sciences organization. In addition, our client was facing strong competition from brands that had established relationships with the tube-feeding community through their activism and personal connections to tube feeding. Due to the smaller size of these competitors, they faced fewer regulations in how they could communicate with the tube-feeding community.
Social Media Objectives
Nestlé Health Science established a goal of 1.5 million in net sales by the end of the product launch year. 3E PR worked with their team to define the following objectives for this social media campaign:
Create presence and grow brand awareness on social media using key brand messaging points.
Reach and educate consumers, HCPs, registered dietitians, and nutritionists about Compleat® Organic Blends.
Drive product trial through the sampling program.
Establish Nestlé Health Science as caring, active member and educational resource within the tube-feeding community.
Strengthen Nestlé Health Science's brand image and relationship with its target market.
Find out why setting social media marketing objectives before launch is so important here. 
(Smarter) Social Media Strategy Development
We believe that research and data should be prioritized before launching any campaign, especially if it involves a media spend. This results in a smarter and more cost-efficient campaign strategy.
Using third-party social media listening software, 3E PR performed a comprehensive evaluation of the conversations taking place online within the tube-feeding community, specifically focusing on those related to real food options. This evaluation played a key role in determining the social media platforms to be employed and provided insight about how the audience prefers to be communicated with and approached.
The resulting recommendation was to create a branded Facebook page representing Nestlé Health Science's Compleat® Organic Blends and launch an influencer marketing program. An Instagram strategy would be introduced in a later phase when we would have a larger, and more visually appealing, library of content and imagery, as that is crucial to maintaining a presence on the platform.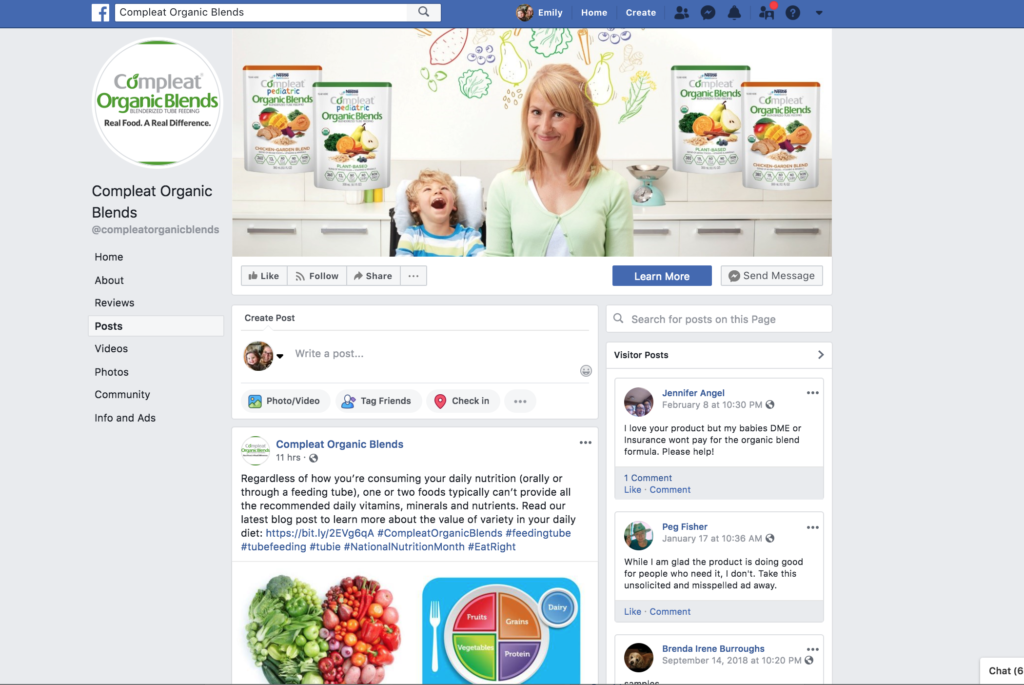 Preparing for the Social Media Launch
3E PR began content development six months prior to the launch of the Compleat® Organic Blends website and Compleat® Organic Blends Facebook Page to ensure we had a library of robust, regulatory-approved posts featuring:
Compleat® Organic Blends product education, including how to use the product safely and effectively.
Transparent messaging about why and how the product was created for the tube-feeding community.
Imagery and rich media, such as videos and GIFs.

To put faces behind the brand and establish a stronger connection with the tube-feeding community, videos of the Nestlé Health Science Associate Director of Innovation and Scientist behind the development of Compleat® Organic Blends were filmed.

Clear CTAs designed to drive website traffic, sampling and purchase.
Giveaways designed to spark engagement, user-generated content, and garner audience insight.
Find pro tips for creating engaging social media content here.
Simultaneously, a digital ad campaign was launched promoting Compleat® Organic Blends, primarily driving traffic to the website for the sampling program. 3E PR leveraged Facebook's Pixel tool to track all website traffic and data gathered from this campaign to be used for a Facebook advertising campaign that grew brand awareness and drove the sampling campaign. Once enough data was gathered, 3E PR refined and optimized the Facebook advertising campaign targeting by creating custom and Look-A-Like audiences based on:
Users who visited the website
Users who visited the sample form page
Users who requested samples
3E PR also implemented a Facebook Likes campaign targeting the custom audiences to quickly grow a page following. This strategy provided us with a qualified base of followers from our target audience to see and engage with our Compleat® Organic Blends Facebook posts.
To maintain the following accumulated through the Likes campaign and gain more exposure, organic content was Boosted regularly to obtain a wider reach and attract more engagement.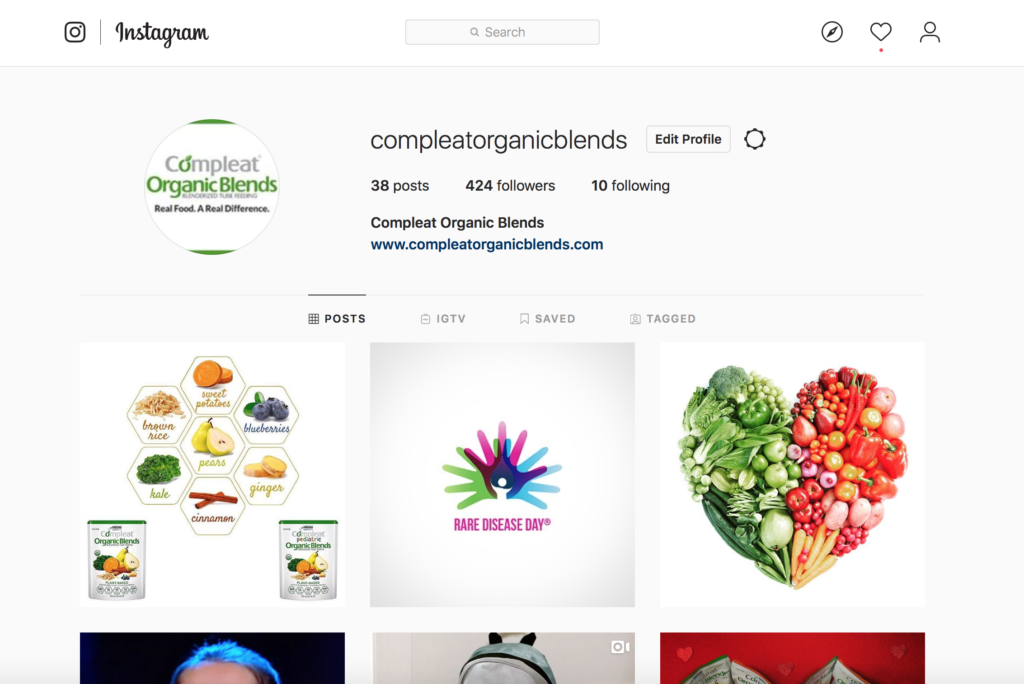 Expanding to Instagram
The branded Instagram page was created four months after the Facebook page and populated with platform-specific content, including more lifestyle imagery and shorter copy with trending community hashtags. Acknowledging prominent trends in user behavior, branded content was also shared via Instagram Stories.
An Instagram advertising campaign was launched to grow awareness on the platform and drive traffic to the website, supporting both the sampling program and sales goal. The custom and Look-A-Like audiences created with the Pixel data were also used here to find a qualified target audience.
Generating Influence & Gaining Trust
As we mentioned earlier, it was difficult to gain the trust of this community and understood that user-generated content and reviews would be vital to increasing product trial.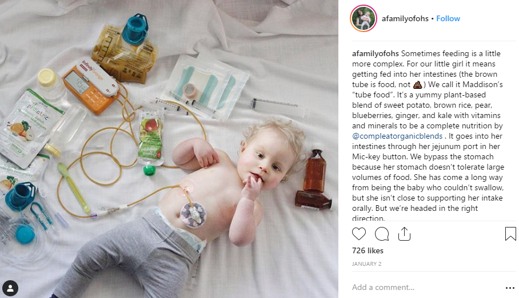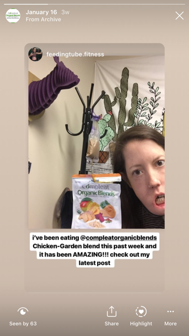 3E PR recommended and launched an influencer marketing program to generate third-party, testimonial content that would bring credibility and authenticity to the brand. Through a comprehensive search and vetting process, influencers were identified and invited to enter into an agreement with Nestlé Health Science and share content about Compleat® Organic Blends.
This content included blog posts, tweets, Facebook posts, Instagram posts and Instagram Stories.  This generated more brand content within the tube-feeding community and helped establish the quality of patient stories frequently shared by the competition.
Social Media Strategy Drives Sales
Over six months, the Compleat® Organic Blends Facebook page curated over 21,000 qualified followers, reached almost 800,000 users, and received over 43,000 engagements on its content.
Over two months, the Instagram page gained 424 qualified followers and received over 28,000 impressions and over 840 engagements.
The influencer campaign resulted in relationships with 8 influencers; some agreements were formal paid partnerships and others were in exchange for product. 3E PR also received feedback from some influencers that both consumers and HCPs reached out to them about the product after seeing their content.
The COB influencer marketing campaign produced:
20 Posts
18 Stories
2 Blogs
This content resulted in:
3,303 Impressions
1,798 Engagements
4,101 Reach
During the end-of-year evaluation of the Compleat® Organic Blends launch, it was determined that social media was the number one driver of sampling. Nestlé Health Science not only hit their sales goal, they exceeded it with 1.9 million in net sales.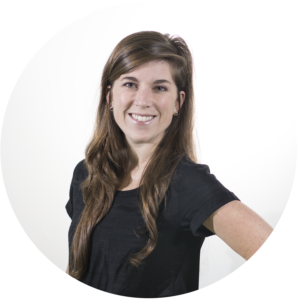 If you are looking to launch a new product or brand, feel free to reach out to us for a consultation so we can help you create a strategy that will achieve your business goals.