Patrick Brightman - 07/26/2022
As public relations, social media, and content producers, we here at 3E Public Relations fancy ourselves as storytellers. So, given how everyone is looking for that page-turner to help them relax during a summer vacation, we offer some of our favorite stories. Enjoy!
Lee: Yes Please by Amy Poehler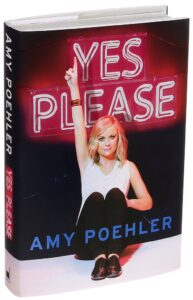 Yes please! That's what I said when the idea for this blog post was pitched to me, but it also happens to be the name of the book I'm currently reading, from the prolific, adorable, powerhouse comedian/actress, Amy Poehler. Honestly, I don't know how it's taken me so long to get to this one since:
A) I love her (who doesn't?)
B) I've read and loved so many memoirs in the comedic actress category—Tina Fey's Bossypants, Mindy Kaling's Is Everyone Hanging Out Without Me? (And Other Concerns), Jenny Slate's Little Weirds, etc.
So, despite the missing comma in the title, I was delighted to stumble upon Yes Please in my local library this weekend.
I've only just started it, but it's already different than what I was expecting. She treats readers to a behind-the-scenes look at her life before she hit the SNL stage, offering glimpses into what catapulted her into the spotlight, complete with old stories, old photos, old writings (spoiler alert: her handwriting was amazing, even at 13), old report cards, and I'm only a couple chapters in, so I know this is just the tip of the iceberg.
What I'm finding unexpected is that it's clearly not written to be funny; I mean, it's Amy Poehler, so of course it's funny, but the vibe is more honest and inspirational in a very intentional way. She shares a lot of lessons learned and great advice—particularly for women—but it doesn't feel self-righteous or pandering in any way.
It's a memoir but it's also a little bit self-help. I don't know what else to expect, but any time I'm asked if I want more Amy Poehler, my answer is always: Yes, please.
Amy: Going There by Katie Couric; Everybody's Got Something by Robin Roberts
While I didn't plan it, the last two books I read were biographies about morning TV personalities, first Katie Couric's Going There and then, Robin Robert's Everybody's Got Something. I don't know why it was so surprising to me that I selected these titles because in my role as a publicist, broadcast TV has always been my passion. I still remember the first time The Today Show said "yes" and agreed to have my client on national TV. It felt like winning the lottery.
For years, Katie Couric was the host of NBC's national morning show, Today, and Robin still anchors Good Morning America (GMA). While Katie's book was about her career and ascent to the number one morning show in the country, Robin's book was a memoir that chronicled her GMA (which eventually became #1 in the rankings eclipsing Today) career against the backdrop of surviving breast cancer and then a dramatic bone marrow transplant that had many, including herself, wondering if she'd ever return to the set of Good Morning America ever again.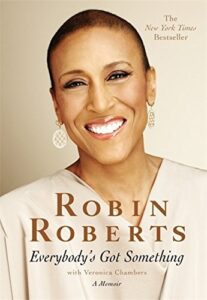 Having sat in the green room of the Today show on more than one occasion, I could relate to the rush and excitement of broadcast journalism. So much goes on behind the scenes to create an engaging interview and entertaining magazine format that is part of the everyday morning routine for millions of Americans.
One thing that was interesting after finishing Robin's biography was to see some of the parallels between the two women:
Each grew up in a close-knit family and had extremely significant relationships with their parents and their siblings
Both were extremely high achievers, something evident from early childhood. Katie a natural in terms of her leadership ability, winning school elections at an early age and always the life of the party. Robin was always very competitive, an outstanding scholar athlete for whom number two was just never good enough.
There were differences between the two, but with both life stories, it became evident early on, that as Robin says, "Everybody's got something." As highly-paid TV personalities at national media outlets, they had opportunities and paychecks that many only dream of, but when the lights go down, they also have had heartache and challenges that are not all that different from the rest of us. In the end, it was family and a good circle of friends, as well as faith that got them through the toughest of times. If there's a lesson that I gleaned, it's one of resilience and that we all have something. It's how we bounce back that determines if we'll have lemons or lemonade.
Patrick: The Greatest Beer Run Ever by John "Chick" Donohue & J.T. Molloy
As a big fan of historical fiction, I would recommend The Saxon Tales by Bernard Cornwell but alas it's a 13-book series and summer is only three months. You can always just watch the Last Kingdom on Netflix, though as is usually the case the books are much better (but the show is very good).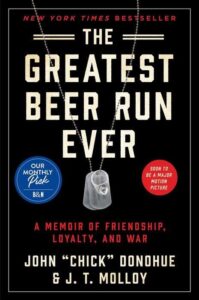 The Greatest Beer Run Ever is not historical fiction; rather it's a memoir. (Notice a theme, here?) It's the story of "Chick" Donohue, a Marine veteran and native New Yorker in the 1960s. A regular of a bar in the Inwood section of New York City, "Chick" volunteered to trek to Vietnam in 1967 to visit friends from the neighborhood fighting in the Vietnam War. He wanted them to know the neighborhood had not forgotten about them and to share a few cold American beers together.
It is an amazing story of friendship and patriotism, as well as breaking some rules. It's also a good history lesson of what really happened during the war through first-hand accounts of key battles. His odyssey took him from the DMZ in the northern part of Vietnam all the way down to Saigon (where he had to survive the Tet Offensive) and many stops in between. He didn't connect with all his buddies from Inwood but was able to crack open a few brews with four of them. They shared those moments, often while avoiding bombs and bullets, and eventually they all made it back to their neighborhood watering hole.
My takeaway is truly good friends will go to any length – literally and figuratively – to show how much they care about the people who matter most.
Emily: Dangerously Funny: The Uncensored Story of The Smothers Brothers Comedy Hour by David Bianculli
If you're the nostalgic type who doesn't mind a little non-fiction, check out one of my all-time favorites, Dangerously Funny: The Uncensored Story of "The Smothers Brothers Comedy Hour."
It's an engaging and easy read that tells the story of the hit 1960s comedy show hosted by Tom and Dick Smothers. The program, which aired on CBS for six years, helped launch the careers of comedy legends, including Steve Martin and Rob Reiner, and featured musical icons like the Beatles and the Who.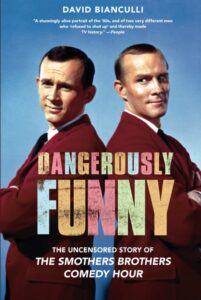 Reading the books is like going behind-the-scenes and reliving the performances, classic sketches and battles over network censorship that defined the show and its era.
We hope everyone is enjoying the summer and can sit back on the beach, Adirondack chair or wherever this vacation's escape take you.