Jennifer Garavaglia - 12/21/2016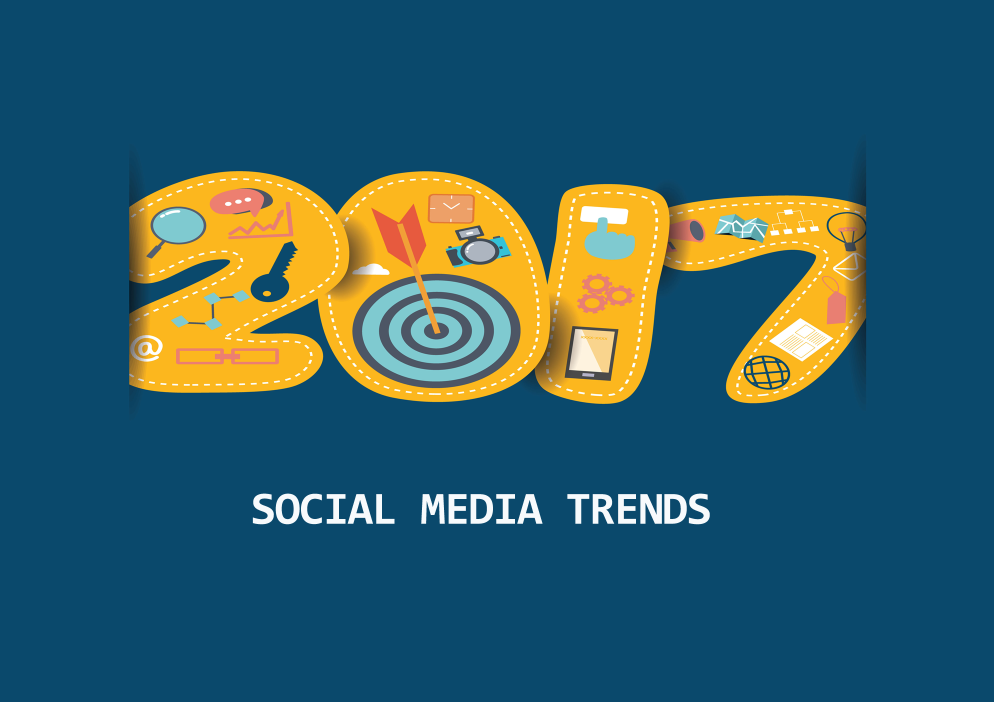 2016 has been quite the year. We saw the rise and fall of some social media platforms (goodbye, Vine; hello, Periscope and Facebook Live). We saw the dramatic growth of Snapchat and Instagram, including the introduction of Snapchat Spectacles. Facebook launched Marketplace, a tool that allows users to buy and sell items from/to other users in their real-life communities. The biggest change of all, however, can be summed up in one word: video. Over the last year, whether you were developing a strategy for Facebook, Twitter, Snapchat or YouTube, your social content was probably being molded creatively for video. If it wasn't, be sure it is marked down at the top of your 2017 "to-do" list.
We know this time of year is busy with holiday parties, client gifts, and some much-needed vacation time, so how are you expected to find the time to do research and discover what's in store for social media in 2017? We understand – that's why we've done it for you. Below, learn some of the key predictions for the New Year, and gain insight on how you should plan your business' social media marketing and content strategy for the next 365 days.
Video
No matter what your company or client does, in 2017 you must have video integrated into your social media strategy.
In 2016 we saw social platforms, such as Facebook, begin to challenge traditional media. What we used to view as big television events began being modified into easily digestible video clips. For example, during the election season, social media played a bigger role than ever before, directly affecting the way viewers gathered their information. The appeal? Social videos presented a better opportunity to create a more candid experience for fans and followers.
With the continued growing demand for video content, social platforms are expected to introduce easier ways for users to access them, as well as modify their tools for creators. It is projected that, in 2017, video will account for 69% of all internet traffic.  In other words, businesses of all sizes need to find creative ways to utilize this visual medium to reach their target audiences and to increase purchase intent.
To take this one step further, Augmented Reality (AR) and Virtual Reality (VR) are the latest buzzwords turning heads. It is expected that in the coming year marketers will be tasked with learning how to make sense of these new technologies as new advancements begin to surface.
Customer Service and BOTS
As expectations rise for available tools and capabilities across social media platforms, the need for effective, real-time customer support programs – to help through these advancements – rises, too. In a recent study from Search Engine Watch, 72% of Twitter users expected a response from brands that they follow within the hour. No pressure.
In 2017 your brand needs to fine tune its social media management and listening strategies. Provide your fans with solutions to their problems and answers to their questions as they happen by investing in a social media management dashboard. While we have found that one dashboard can't and won't do it all, and manual searching, for backup, is always strongly suggested, reporting features such as Nuvi, Sysomos, Hootsuite, and Radian 6 are a great starting point to kick off an effective support program. It's up to you to maintain it—or to hire experts who can do it for you.
For larger companies where there is a higher volume of interaction, conversation bots, a new paradigm for human-computer interaction, should be considered. This will help your company gain credibility, likability, and aid your staff in handling mass quantities of inquiries.
Influencer Marketing
 In 2016, we saw a huge surge in influencer marketing, which will, without a doubt, continue into the New Year. When you think of influencer marketing, it's understandable if your mind goes right to thinking of celebrities but, when it comes down to it, there are myriad influencer types, and one isn't necessarily better or more effective than the other. Micro-influencers, power middle influencers, and celebrity influencers can all play a role in a brand's success. It is the planning, the determined objective, the chosen platform strategy, and picking the right personality that makes the difference.
By integrating these influencers into your social strategy, you're increasing brand awareness, putting an emphasis on your brand identity, and taking steps to connect better with your audience. Some proven ways are product placements, account takeovers to help build a following, and hashtag campaigns to encourage conversations between friends, fans, and prospects.
With marketers becoming ever more accountable for ROI and sales numbers, 2017 is projected to be the year that data will show the true strength of influencer marketing.
The coming year will be a year of internal collaboration. With social media being a crucial tool in the marketing mix, together, we need to work to integrate new tools and strategies into existing digital programs.
Stay tuned for an update on this post, where I'll report on the progress of these predicted social trends. Until then, I wish you a very happy holiday season and a successful start to your 2017. For more information about our social media services, please contact our team at socialmedia@3epr.com.