Amy Stern - 10/18/2019
Public relations can establish trust in your brand, reflect thought leadership, and engage with existing and potential customers. Find out how.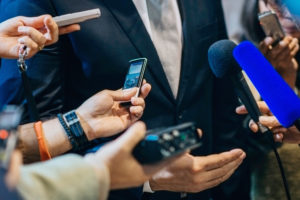 Have you recently read an industry article and seen a competitor quoted, knowing that your own executives are more knowledgeable or your brand's products and services better able to solve the particular problem? How did your competitor land that highly visible interview or broadcast segment?
Perhaps you have established yourself as key player in the industry but would love to increase the quality and quantity of your leads, expand your current consumer demographic or expand distribution to new markets. Here are 3 things public relations can do for you:
Establish Trust in Your Brand
Reflect Thought Leadership
Engage with Existing and Potential Customers
Each of the elements above can help you to achieve your marketing goals by delivering your message to the appropriate audiences across multiple touchpoints, but before we explore each of these elements, it's important to understand the tactics can be employed to achieve these goals:
Media Relations – media relations refers to press coverage secured on behalf of a brand, company or individual. Media outlets that are targeted can include print, digital or broadcast media. It's important to secure press coverage across a variety of channels in an effort to target key audiences at multiple touchpoints where they consume information. Long-standing relationships with members of the press are often cultivated over time and they are critical to achieving ongoing opportunities for brands to communicate to potential customers. A significant value of media relations is the third-party endorsement it delivers. For clarity about the difference between public relations and media relations, read our blog.
Social Media – The true value of social media is that it allows brands to connect directly to their target audiences and in real time. Social media platforms offer the opportunity for two-way communication between brands and constituents. As mentioned, content that results from media placements offer relevant content that can be shared across social platforms. In addition, a strong social media program delivers controlled spontaneity via consistent messaging that is relevant yet not too self-serving. Using best practices like links, hashtags and @mentions a valuable social media strategy will engage key target audiences and spur interaction. A skilled social media strategy also includes the ability to build target audiences and initiate boosting programs to grow followings and encourage sales. Part of the strategy should include connecting with relevant associations and advocacy groups and bloggers, a strategy that enhances third party relationships and buoys brand credibility.
Content Marketing – brands that provide valuable content are rewarded with increased awareness for their products and services, optimized SEO and improved lead generation. Content can be developed internally, but many times it's best to outsource content development as most organizations find that they have limited bandwidth and one that is better served by focusing on other aspects of the business. Content creation can consist of a consistent blogging strategy with valuable content that attracts visitors to your website. The frequency of posting, as well as the quality of the content will directly impact the results that content marketing can generate. In addition to blogs, the media coverage generated by one's media relations efforts will provide valuable content that can be repurposed and shared not only on the corporate website but across social media channels, as well. For more insight, read our benefits of content marketing blog.
How can Public Relations Help You Achieve Your Marketing Goals?
Establish Trust in Your Brand
Media relations offers the ability to secure third party brand endorsement. While advertising still has a place in the marketing mix, media relations delivers trusted messaging in that it is editorial in nature and provided by a third party – the media outlet serving up the content. Take for example, the case of our client, Saint Peter's University Hospital. Saint Peter's recently opened a state-of-the-art Birth Center, the first of its kind in the New York metro area.
While we promoted the new Center and the positive benefits of expanded birthing options for new moms, nothing was as impactful as the broadcast TV spot we secured in the New York City market on the local NBC affiliate. The segment was hosted by a veteran news reporter, who took the audience on a visual tour of the new facility, throughout the broadcast she gushed about the plushy surroundings and spa-like atmosphere while educating the audience about the uptick in women's interest to have more input and control in the birthing process. The value of the segment was further reinforced when the station's pregnant reporter exclaimed, "I can't wait to sign up!"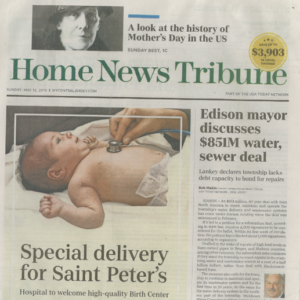 The Birth Center opening was also shared with Saint Peter's constituents across its social media platforms. Proving content in this way allowed existing patients as well as potential patients residing in the community to become aware of the Center and its offering so they might consider giving birth there themselves or offering such an option to friends and family members.
As part of its strategy to further educate the public on the nuances of what a Birth Center is and the significance of its location on the grounds of a hospital, while still operating as a separate entity, Saint Peter's also created content that lives on its website, could be shared across its social media channels and could be re-purposed for community-wide educational events. This content included a video tour of the Birth Center and its facilities. In addition, media secured as a result of its public relations efforts which included the NBC segment, as well as broadcast content from News 12 New Jersey and their digital and social team, further reinforced Saint Peter's as a trusted healthcare provider, one at the cutting edge of maternal health services.
Reflect Thought Leadership
One of the most distressing things an executive can experience is to see a competitor quoted in a news article, especially one on a topic that he/she knows they are more knowledgeable about. To eliminate this, you'll want to be sure your key thought leaders are well-positioned to secure key interview opportunities. From key trade publications to mainstream news outlets, each time an individual is interviewed, the audience is reminded of the individual's expertise and industry stature. It is assumed that because this person has been tapped for commentary on breaking news or asked to establish the foundation for industry trends, that he/she is an expert in the field.
Media interviews allow executives to articulate your competitive edge in a way that illuminates your point of difference. Once your position is established, media will be clamoring to interview your experts, time and time again.
How did a virtually unknown brand that was seeking to break into a very niche sector of the pharmaceutical industry establish itself as a significant industry player? There are several ways they went about it, but one thing that played a role was the way they used media relations to change the perception of the industry, from seeing them as a participant to that of a leader.
Media relations played a significant role in elevating brand awareness while establishing its top executive as a key opinion leader. Forging meaningful relationships with key trade editors piqued the curiosity of seasoned reporters as they sought to understand why a new company chose to enter this sector of pharma at a most challenging time for the industry as a whole.
The media wanted to know who this new company was, but also why its founder and CEO wanted to take on such a daunting challenge. Key messaging that was crafted for and delivered by the CEO, reinforced his industry expertise and the company's desire to turn the industry on its head, making it safer and more reliable in the midst of increased FDA scrutiny and oversight.
The company CEO was interviewed for his perspective on a breaking news story that impacted the industry and in the coming months was solicited multiple times for commentary on other industry news stories. Then, when it came time for several key trade shows, he was sought out directly for industry insight as well as a perspective on the company's new product introductions. With a carefully crafted media relations strategy, you too can land those coveted interviews that your competitors have previously secured.
Social media can also expand your leadership ranking. Following other key thought leaders, organizations and associations and engaging in conversation with them via social media can elevate your perceived knowledge within industry circles. In addition, it's important to establish a carefully crafted social media schedule that will allow your leadership to supply a continuous flow of information ongoing. This information can be self-generated or shared from other third-party sources.
Content marketing in this context can also include white papers and speaking opportunities. Each of these lends themselves to the creation of written content or the transcription of information that may be of interest to key constituents. Again, the more executives are amplifying their voice about issues and information in their respected field, the more their leadership ranking will rise.
Engage with Existing and Potential consumers
Nothing reinforces relationships with clients and customers like one-one-one engagement. Each of the tactics we previously discussed, media relations, social media and content marketing can take those opportunities for engagement to a new level.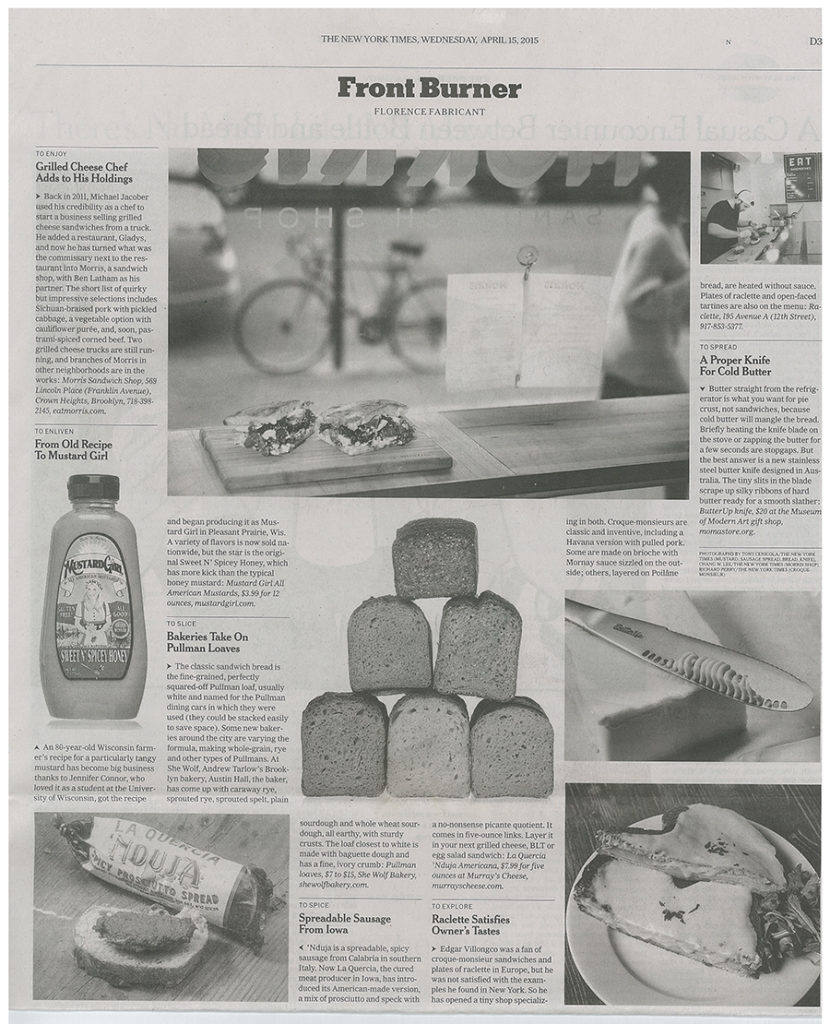 Each and every time an existing customer or potential customer sees your brand mentioned in the news, it's a reminder of what your brand represents, its ethos and what the benefits are for its consumers. Take the case of an emerging mustard brand from Wisconsin that was competing in a national marketplace against a brand that had been in existence for over 40 years is a household name.
Through media relations efforts, this emerging brand was able to communicate its romantic history, as well as key points of difference illustrating a rationale for consumer trial and ultimately purchase. This unknown brand in the virulently competitive condiment category was featured in a 12-page spread about craft sandwiches in The New York Times. It was not only the only mustard featured, but the only condiment that was mentioned by name and with a corresponding image of the packaging.
The story in The New York Times introduced the brand to the national public, but the reputation of the Times' food section as an authority showcasing newly discovered food products helped to propel this newcomer to the national stage. The New York Times is a media outlet with national reach, so had the power to disseminate the news of a new brand introduction to markets well beyond Wisconsin. For more details, read the case study about Mustard Girl All-American Mustard .
The article was featured in the print and digital version of the paper and this content was able to be shared on the mustard company's website as well as their social media channels. A blog on the brand's website helped to boost SEO and provided additional content about new flavor profiles, mustard plants and seed harvesting, as well as the history of mustard.
Through a variety of public relations tactics, media relations, social media and content marketing, you can achieve your marketing goals. If you have any public relations challenges you'd like to discuss with our experts, send me an email at Astern@3epr.com and I'd be happy to set up a call to explore potential solutions.