Amy Stern - 03/18/2020
In the age of coronavirus and social distancing, we still have tools for engagement. Here are 3 content tools to effectively engage customers now.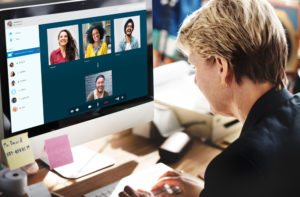 In this age of Coronavirus pandemonium, what's a brand to do? The world as we know it has been turned upside down. Many brands are asking, "How can I continue to stay top of mind with consumers?"  When it comes to media relations to promote brand awareness, introduce new products and establish category leadership, it may appear that conventional avenues for marketing are disappearing, but new opportunities await.
This is a time when creativity can deliver. We need to re-think the traditional ways and envision new methods to achieve similar results. There is still an opportunity to create content and connect during this time of social distancing. Here's how:
The current situation is a great opportunity to leverage your online content and post more. With more folks working from home and fewer opportunities to be out and about patronizing restaurants, bars and cafes, digital platforms will be more engaged than ever. So, if you're a company with goods and services, here are some ways you can captivate your target audience.
Educate with Webinars
Webinars offer tremendous value for companies and a great way to expand professional development for attendees. With folks quarantined and working from home, webinars have more value in these trying times.
Regardless of the industry you're in, you are sure to find a host of webinars on almost any subject. Webinars are valuable tools that can expand your marketing capabilities by providing the following:
Real-Time Conversations
Webinars offer the opportunity for brands to engage in quality two-way conversation in real time. The opportunity to request input from participants in the form of live Q & A leads to a robust and purposeful exchange to establish and/or build relationships.
Industry Leadership
Webinars can showcase key executives in a public forum. They bring industry leaders down from the ivory tower and make them accessible to potential partners, customers and colleagues. As a resource speaking on important industry issues, webinars can transform figure heads into key opinion leaders. It is a virtual method to become a thought leader, similar to a speaking engagement.
New Leads
Webinars are a great source of new business leads. Because the content is carefully curated, the audience often self-selects to include those that have some industry knowledge and brand familiarity. Many participants will have previously visited your website and researched your brand. Those who have already engaged with your brand are coming to the table with a certain amount of knowledge. This means they are further along in the sales funnel and more likely to be receptive to transacting with your brand.
Economic Benefit
Webinars also save money because they allow for a limitless number of participants from anywhere around the globe without the travel expenses. Given the current coronavirus situation, webinars allow businesses to conduct face-to-face meetings that would not be possible in the current climate without such a platform.
A good example of the power of a webinar is one I am participating in with The Food Institute, a leading resource for food industry executives. It's on Thursday, April 2nd, and is entitled "Taking Vertical Farming to New Heights, Discover Marketing Opportunities for Disruptor and Traditional Brands."
Engage with Social Media
We might not be able to socialize like we did before, but these digital tools will become even more valuable in the coming weeks. By human nature, we strive to maintain the connection that feeds our souls. We might not be able to interact in the traditional context – corporate board rooms, trade shows and sporting events – but thanks to social media we can continue to interact with new and old acquaintances. We may even expand those connections to create meaningful relationships during a time when we feel the need to connect more than ever.
Using technology to be social goes beyond Facebook, Instagram, Twitter, et al. In just three days, I've had two people that work in my industry reach out to connect virtually. One is a special events coordinator at Google who set up a Google Hangouts Meet so a bunch of us industry folks could swap ideas for ways we're continuing to host events during these challenging times. Another contact is a magazine editor who scheduled a Zoom meeting to connect other public relations and media executives challenged with isolation and daily uncertainty. The agenda has evolved from a meet-and-greet to a resource sharing network for ideas on how to generate publicity for our clients, when all the media want to do is talk about coronavirus.
Entertain with Video
Speaking of creative ways to remain engaged with your audience, why not produce video content for your website, social platforms and email campaigns? If you're a chef or restaurateur, offer step-by-step instructions for creating your prize-winning scampi recipe. As you become more comfortable with this format, you can produce a themed video series. How about "Quick and Easy Weeknight Meals," or "Vegetarian Recipes Even Your Kids Will Love"? Maybe your patrons can't come to your restaurant, but in the meantime, you'll want to be sure they keep your brand top of mind.
Video benefits all industries. There is educational content you can provide to your target audience. Here are some examples:
Healthcare systems can share instructional content on how to use teledoc services or offer exercise videos for those who can't get to the gym in this period of social distancing.
Are you a book author? Create a personal video to let your readers become more familiar with your personal side. What inspires your storytelling process? How to combat writer's block? What projects are you currently working on? You can even solicit interest in an online book club.
For those in finance, these are uncertain times. What is your area of expertise? Think about your customers and their most frequently asked questions. Provide new information, tips for surviving the stock market's downturn, safeguarding savings in this time of uncertainty, etc.
Are you concerned that a professional videographer will tax your already strained budget? Try creating your own. There are educational videos about how to use your iPhone to create quality videos.
Connect with a Newsletter
Another way to stay engaged with your customers and to engage new ones is by producing a weekly newsletter. Creating content is critical in this day and age and can deliver more visitors to your website if executed correctly. What are the key benefits of producing a newsletter?
Brand Awareness
Weekly newsletters are a great tool to reinforce your brand and connect with existing customers while wooing new audiences by writing interesting content. Even if your customers are facing restricted mobility during the coronavirus crisis, you can still engage with them and continue to build brand awareness. Weekly contact via email can convey brand updates, new product information, as well as other news, such as philanthropic partnerships and corporate social responsibility efforts.
News Source
If done right, your newsletter will educate audiences about more than your brand. Be sure to include valuable non-branded news, such as trend updates, industry survey results and third-party news. It's also appropriate and insightful to periodically ask your subscribers what kind of information they are most interested in.
Relationship Builder
Newsletters allow you to connect with your constituents regularly. They expand the relationship by offering two-way communication. It's important that the content you're providing offers an incentive and value to the reader. If you continue to see engagement, your newsletter will become a "go-to" resource for industry news and views. Additionally, the more an individual continues to open and consume your content, the more loyal they'll become to your brand.
Data Resource
One of the most important things a newsletter can do is to provide you with valuable information about your customers and potential customers, such as age, gender, location and interests. Performance data you receive can help you to see if your content is useful and educational or falling on deaf ears. Because it's digital, responsiveness to changing things can be nimble and timely, allowing you to retain valuable customers.
I'd love to hear how you're solving your business challenges in the age of coronavirus, email me at astern@3epr.com or join me on LinkedIn.