Jennifer Garavaglia - 08/07/2017
Blog Written By: Andrew Chirico, Senior at Washington College 
Today I'm going to take you through the average day of an intern at 3E Public Relations and SGW Integrated Marketing Communications, an affiliate marketing agency.
4:45 am: My alarm sounds off. I usually do a double take at the time, often surprised on how fast that night's sleep went, and think about hitting the snooze for another 5 minutes. But, I think about the day ahead and jump up. Almost as a zombie, I grab my clothes with my eyes half open and head out the door to either the gym or to go on a run.
5:15 am: I get to either the gym or my usual running path and get right to it. I run distance and am training for a few half marathons this fall so some workouts can go pretty long. Although today was a short distance day and I finished up with 5 miles and a lifting session.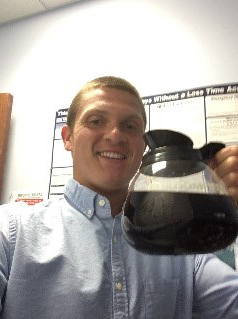 7:00 am: The humidity was no joke today. After the workout, I take a cold shower and get on my way home for breakfast.
7:30 am: First thing, coffee maker on. Caffeine is a must on any given day. As my coffee brews, I make an omelet and get a bowl of fruit out. After reading through my daily sports feed and eating, I get my lunch packed and get changed.
8:30 am: Time to head out the door begin the drive down Route 80 to Montville. Today traffic wasn't bad, which was nice because it can be hit or miss on any given day.
9:00 am: I arrive at the office and am usually greeted by someone different on any given day. Did I mention everyone here is so friendly?! During the first part of the day, I work with the Digital Department up until lunch. Every day is different, but today I made a couple of reports for one of our clients and a report card for a potential client. I'll save an entire rundown of work details for another post!
2:00 pm: Lunch is usually around 12:30, but today was a little different since I went out to lunch with two of my managers/mentors, Alex Lindroth and Lou Nosti. The chicken salad was so good I forgot to take a picture! We all got some good food, and talked marketing/business.
Side rant- I've met some great people to learn from while interning here. The list could go on and on with everyone at 3E and SGW.
3:00 pm: The second part of my day mostly consists of working with 3E, which makes my day split up well while I learn different departments in marketing. Today, I researched some monthly observances that we could leverage on some of our accounts.
4:45 pm: It's a wrap! I take the backroads home because, well, Route 80 traffic.
5:15 pm: Sat down and had dinner with the family. We always make sure we catch up on each other's day and anything else that is going on. This time is some of the most valuable time in the evening. Who knows where the future will bring me, so I make sure I don't take my time around family for granted.
6:00 pm: I picked up a freelance job for a local plumbing business. I set up a Facebook page and worked on the website a bit. After an hour or so, I put some time in on my blog 'TheCollegeFootballChat'. If you like sports, feel free to check it out!
8:00 pm: By now I'm exhausted, so I wind down and watch some T.V. before going to bed. As an avid College Football fan, television isn't too hot right now, but I end up watching some of the Yankees game before knocking out.
9:30 pm: Having a hard time keeping my eyes open, so it's time for bed. I'm out, good night!
Same thing tomorrow! ????