Patrick Brightman - 07/19/2018
Search engine optimization (SEO), while important for more than a decade, seems to have jumped to the top of the marketing mix for many companies – both B2B and consumer. In all that time, there have been countless algorithm changes but one thing has remained constant – the value of content. With an effective content creation program that incorporates pillar pages and blogs, companies can achieve the much sought-after goal of appearing high on organic search for relevant keywords.
A brand's rank on search engine results pages (SERPs) does not happen by chance. It takes a concerted and committed long-term plan that marries website design and content development. While factors such as url structure and tags (hint: include keywords); page loading (keep it under two seconds); and mobile friendliness (learn about Accelerated Mobile Pages Project, aka AMP), content is perhaps the most valuable currency on the SEO market. Like any currency, the more content you have, the better off you will be.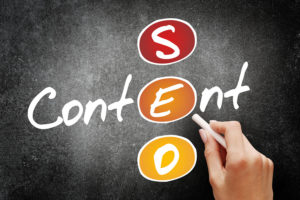 Search Comes in All Shapes/Sizes
High organic ranking on targeted keyword searches is evolving, so a brand's content creation program must take all those factors into consideration. For example, every brand wants to appear on page one when a person types in a keyword or term. After all, 35% of website traffic is generated from traditional SERPs. That tells us that a consistent blogging program can help increase qualified visitors to your owned pages.
Today, brands must think about voice search as well. That's because forecasts state half of all searches by 2020 will be done via the spoken word. As Alexa, Google Home, and Siiri become bigger parts of our lives, skills for voice search will become even more imperative for brands. The sooner the better, by the way, as skills are still operating on a first-come, first-serve basis.
Develop an SEO Content Plan
Here is a step-by-step process to help build a successful content creation program and achieve the SEO success you seek.
Think long term – This is perhaps the most important aspect. Ranking high on key terms is a marathon, not a sprint. It takes time to achieve results (minimum of 4-6 months depending on the keywords and their competitiveness) and you must keep up the momentum even after you win the race to the top of page one.
Build a solid keyword foundation – Keyword research is the basis of any successful content creation program. Do a thorough analysis of the terms most important to your brand. This research needs to include short-tail, long-tail and latent semantic index (LSI) terms.
Determine the most important words and phrases using criteria based upon the number of times it is searched, the competitiveness of the word/term, and how your website content aligns with those keywords and terms. Remember 50% of searches are now four words or longer, so long-tail is a very important part of your content library.
Create an editorial calendar – Because it is a long-term initiative, a content creation program needs to follow a schedule. Developing an editorial calendar will allow you to ensure consistency in posting fresh content, especially when it comes to blogging. It also will allow you to maintain relevancy, since you can use it to map out an effective keyword strategy that will help ensure on-going success.
Length is strength – The average blog length should really be about 1,500 words, a far cry from a few years ago when about 750 words could do the job. Don't take our word for it; trust Google. The average word count of the results that appear on page one of any Google search range from 1,140-1,280. That's because Google and the other search engines believe a person is more likely to find the answer they are seeking in a search from a page that has 1,500 words than one with 750.  
Relevancy matters – Now, don't just drop in a bunch of adjectives to achieve the goal. It has to be relevant content, meaning blog writers really need to understand the subject matter and incorporate the keywords that were researched. 
I can already hear people who read this saying, "No one is going to read a 1,500-word blog." That's why it's important to properly format your blogs for today's readers, who are "skimmers" that scan a webpage with the hope of finding the information they need. That's why blogs should have subheads and maybe even include a list, like this one.
Don't forget to link – Andrey Lipattsev, Search Quality Senior Strategist at Google, stated that link building, along with high-quality content, are the two most important signals used by Google to rank a website. Keep in mind that your anchor text must driver the reader to content relevant to the word or phrase.
It is very important to have back links to pages on your site, as well as credible third-party sites. The latter element is one reason public relations still has a valuable role in a company's marketing mix, as editorial coverage via PR generally creates links on media outlets, which traditionally have high page ranks.
Be friendly to visitors – Google and the other search engines consider dwell time as part of their criteria for ranking pages. The longer a person stays on your page, the higher organic rank it will achieve. Conversely, pages with high bounce rates will drop in organic rankings. That means content should be easy to read and relevant to the particular search, as well as simple site navigation/layout, and fast-loading pages.
Incorporate video – One way to increase dwell time is to utilize video. A study revealed that 80% of marketing professionals stated video increased website dwell time. The same best practices apply to video as they do to content – keep it interesting and relevant. In other words, make sure to educate, entertain, and engage with your video.
Don't forget to properly tag the videos and include keywords in the description. This is vital if you want people to find them online in areas other than your website and for them to appear on search results.
The end game of any content program is to drive qualified traffic to your website, so you can convert them to a customer. Using these seven steps as a foundation will help build and sustain a program that will have long-term positive effects on your organic search rankings.
If you want to learn more about how content can help improve your organic rankings, please don't hesitate to contact me at pbrightman@3epr.com.