Emily Maupai Zinberg - 02/22/2018
Exhibiting at a franchise opportunity trade show, such as the International Franchise Expo (IFE) taking place in New York May 31-June 2, takes a lot of preparation. It can be easy to focus only on the "must-dos" – booth display, suppliers, marketing collateral, samples, etc. and forego supporting your trade show presence with other marketing tactics. However, investing the time to integrate social media into your trade show plans can generate more qualified franchisor leads.
Did you know that social media can help drive more traffic to your trade show booth? While the ever-changing trends and platform updates you see in the news can seem daunting, social media remains an excellent landscape for effectively connecting with your target audience and generating fresh leads, online and on the trade show floor.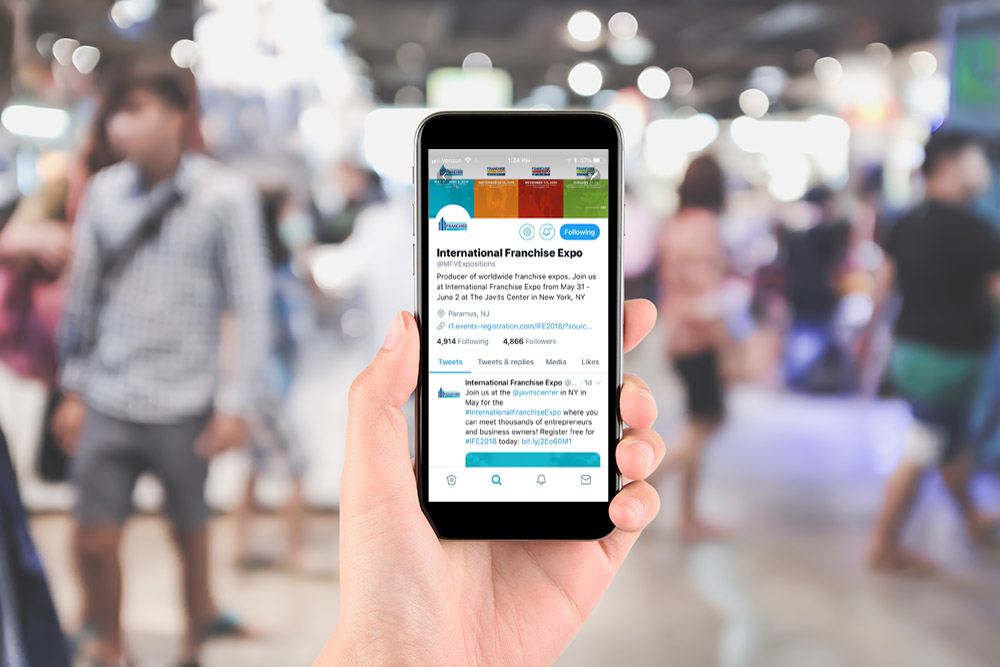 Trade show social media can help:
Increase brand awareness of your franchise and its involvement as an exhibitor.
Reinforce brand messaging.
Create sharable and quality content.
Drive more traffic to your booth.
Generate and engage prospective franchisees.
It is not only a great way to connect with your target audience at the show, but also to engage with potential franchisees who are unable to attend. You can bring the conversation from the show floor to your brand page by featuring exclusive or LIVE event content.
Make a Plan
Social media is cost-effective and efficient — you can primarily leverage the materials you have already created for your booth. Take stock of what you are planning to feature at the show and re-purpose it on social media. This can include:
Brand Messaging: What makes your franchise an attractive business opportunity? Write social media posts that emphasize your brand's selling points and incorporate strong calls-to-action that will drive leads to take the next step.
Graphics: You've already created eye-catching imagery for your booth – simply reformat it to accompany your brand message points on social media.
Take Home Collateral/ Education: Reformat any take home pieces or bag inserts to be shared online. In the event someone cannot make it to your booth (or loses it in the trade show shuffle), they can still access that valuable information.
Booth Incentives / Swag / Giveaways: There are many fish in the franchise sea – give attendees an enticing reason to make their way over to your booth.
Show Tools: Make sure you are familiar with the official show social media handles and hashtags (i.e. #IFE2018) – their inclusion in your content will be vital to your social media success. Also, ask the show organizers if they offer a list of contact information for attendees that can be used for pre- or post-show communication.
During your planning, imagine the trade show is both in-person and virtual…because it is. Large-scale events generate LIVE conversations off and online, and your brand needs to participate in both.
Pro Tip: Organic social media success is becoming difficult due to Facebook's algorithm changes. Set aside a budget to promote your show content on social media; it will help to cut through the clutter and ensure you are reaching your target audience.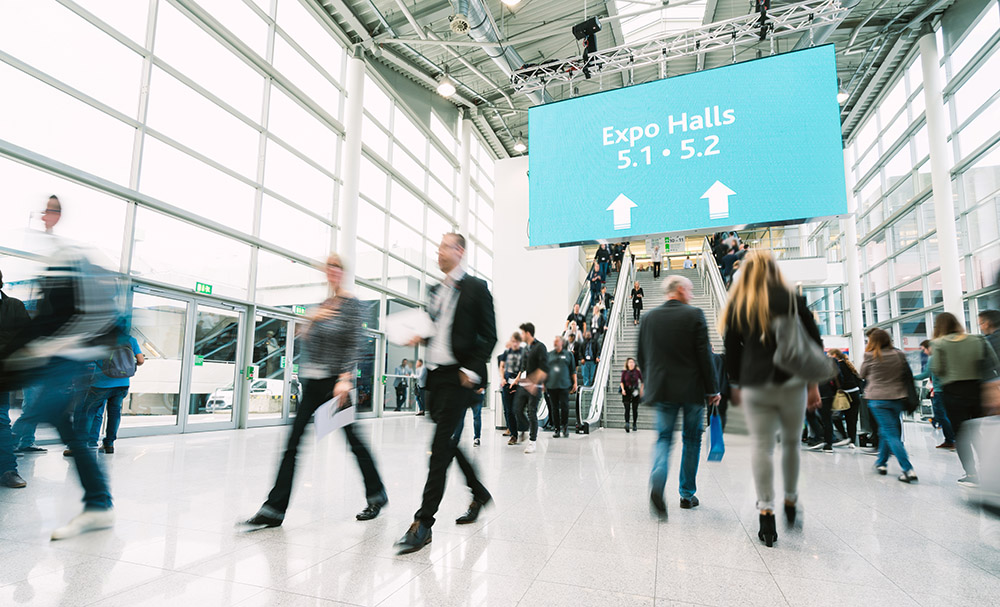 Implementation
Implementing a successful social media trade show plan revolves around careful preparation, scheduling, and recognizing a LIVE opportunity when you see it. When planning out your schedule of content or events, break everything out into three segments: Pre, LIVE, and Post-Show.
Pre-Show
If you were shopping for a large and important purchase, such as a car, wouldn't you do some research before you hit the showroom? Imagine if your purchase is a business! Potential franchisees will investigate who will be exhibiting at the show, what opportunities they offer, and what success their current franchisees have already seen. When they do that research online, you want to make sure that your franchise is found, and your brand messaging and selling points greet them.
Share social media posts leading up to the show, focusing on the most attractive features of your franchise and booth activities. Let attendees know why they need to follow your pages and visit your booth (always include your booth number).
If you already have an email list of leads, reach out to let them know you'll be at the show, and invite them to your booth or to have coffee with a marketing team member.
Engage the trade show social media pages to let them know you're here to participate and develop a relationship with them. If you share their content, they are much more likely to share yours.
NOTE: All your social media posts should tag the official trade show social media pages and hashtag. If space is limited, include the hashtag at least.
Review the trade show schedule for any events that may attract more LIVE conversations; you will want to participate in those to grow awareness for your brand.
Pro Tip: Designate a team member ahead of time to oversee taking photos and/or video during the show to avoid missing exclusive content or real-time opportunities that can be leveraged online.
LIVE
It's go time. Your booth is prepped, and your marketing team is ready and eager to greet the potential franchisees that are flocking the floor. Now is also the time to kick your social media into high-gear because attendees will be following the official show hashtag for real-time updates on what they should check out.
Continue sharing posts. Throughout exhibit days, it's important to remind attendees of who you are and the valuable information, opportunities, and incentives available in your booth. If you are hosting time-sensitive activities or events, let attendees know when they are taking place.
Take as many photos as possible. LIVE show photos are excellent assets to share on social media to entice visitors, showcase activity at your booth, and offer the online world a "behind-the-scenes" glimpse at what they are not experiencing in-person.
Consider shooting LIVE video. Broadcasting LIVE video has shown to attract more engagement from social media users. A recent Livestream and New York Magazine survey reports that, "87% [of audiences] would prefer to watch online if it meant more behind-the-scenes content than a standard TV broadcast." You can record your marketing team presenting franchise opportunities, general activity in your booth, keynote speakers, etc.
Monitor for LIVE conversation. You may not be able to control the show's conversation, but you won't even be a part of it if you do not seek opportunities to participate.
Post-Event
You have survived the trade show – but your job is not done. All of the social media activities you just implemented gained your franchise attention or provided you with engaged leads, and now is the time to keep them warm with post-show social media. Do not let your hard-earned potential franchisees walk away from the show and forget you. Remind them of why your offer is an opportunity they cannot pass up. And do not leave out the trade show handle and hashtags; those are still valuable for post-show content.
Be polite. Thank everyone who visited your booth and include a call-to-action that encourages them to reach out to your marketing team. This is important to continue the conversation with potential franchisees who visited the booth, and for those who were not able to make it there.
Recap. On or offline, you cannot assume everyone saw your social media posts or visited your booth. Share a few social media posts summarizing your franchise brand messaging points and what opportunities you're offering.
Photos! Share those exclusive photos you snapped during the show in your posts or in a photo album.
Give it a Boost. If you decided to broadcast LIVE video from the show, use some of your funds to promote it on social media, or send it to your email list to extend its lifespan.
Evaluation
Once you are finished with your post-show promotions, make note as to which social media posts received the most engagement. This will let you know which content resonated best with your audience, and what you should continue to feature moving forward in marketing strategy.
Interested in using social media to maximize your trade show exhibition? Contact us to find out how 3E Public Relations can manage and improve your franchise brand's social media presence.