Nancy Sergeant - 04/06/2018
The competition to get your hospital, primary care group, private practice or medical expert in the news is fierce, especially in the New York, New Jersey, Connecticut tri-state area. There are hundreds of hospitals in the region competing to get media coverage in just a handful New York City-based network television affiliates, news radio stations, and daily newspapers. There are over 70 New Jersey hospitals vying for the attention of 3 cable TV stations, a handful of local radio stations, 1 statewide newspaper, and a Gannett-owned group of local daily newspapers with skeleton crews. So how do you get impactful news coverage?
The key for a media relations pro is to be fast and nimble to remain ahead of the competition. Constantly,
Scour the headlines of your biggest daily newspaper and your news radio outlets
Be ready to promptly help a reporter with his or her story
Prepare your spokesperson to address the media's needs
Share your clips to generate brand awareness and be found by reporters, as well as your customers
You don't need a press release. An email with a compelling subject line, a brief intro, and a few bullet points can open the door. The essential ingredient is the follow-up phone calls and emails to the producer, editor, or reporter with valuable additional information. A press release, when available, can follow with more details or be linked in the correspondence.
In this blog post, we will help you overcome the challenge of securing news coverage for your healthcare organization head-on. We'll start by giving you examples of the newsworthy angles that led media to choose our clients as their expert sources. In future posts, we'll give you more details about the key ingredients that met their needs.
Here you go…
Disease Outbreaks – Have you noticed that it seems that each year common diseases get worse than the year before? The flu vaccine is heavily promoted as essential, yet it never covers one hundred percent of the strains. You can count on nearly all media outlets looking for medical experts who can offer medical prevention and treatment options. Most importantly, the experts need to respond promptly to meet same day news deadlines.
• Experts predict longer, tougher flu season this year | NJ TV News Media Clip
New Technology – New devices and new uses for existing devices are topics worth pitching, especially when the technology or its use is visually appealing, reduces medical trauma to the body, shortens recovery time, reduces medical costs, and improves outcomes. Having a patient success story makes this a home run but requires finding that sweet spot in the launch of new to market and having the proof of concept.
• New Jersey hospital digitizing newborn's footprints to keep babies safe and secure | WABC TV News Coverage
Putting medical care in the palm of your hand gives patients access to medical care when and where they need it. Teledocs became synonymous with a virtual doctor's appointment that appealed to millennials without a medical home physician, new moms, and other time-pressed individuals who want care on demand. A pain point to solve was that these appointments were never recorded in a patient's electronic medical records, and more importantly the doctor had no access to the patients' medical history. Zipnosis created a virtual visit platform whereby someone can be seen by a doctor in your provider's group who DOES have access to your records. Vanguard Medical Group was ahead of the pack in bringing this solution to its geographic target market, getting the news coverage, and becoming the one to follow.
• Virtual care for patients in need. More Medical groups embracing use of telemedicine | NJBiz Business Trade News Coverage Media
Community Health Screenings – Screenings can be tough to get covered as a stand-alone news item. They are rarely new or newsworthy. However, by monitoring news about the condition they help detect, you can provide commentary about that news before or at a public health screening. Another novel way to get your screenings covered is to create a side-by-side event that brings education and entertainment value to your target audience.
• Women 'Go Red' to promote heart health | NJ TV News Event Press Coverage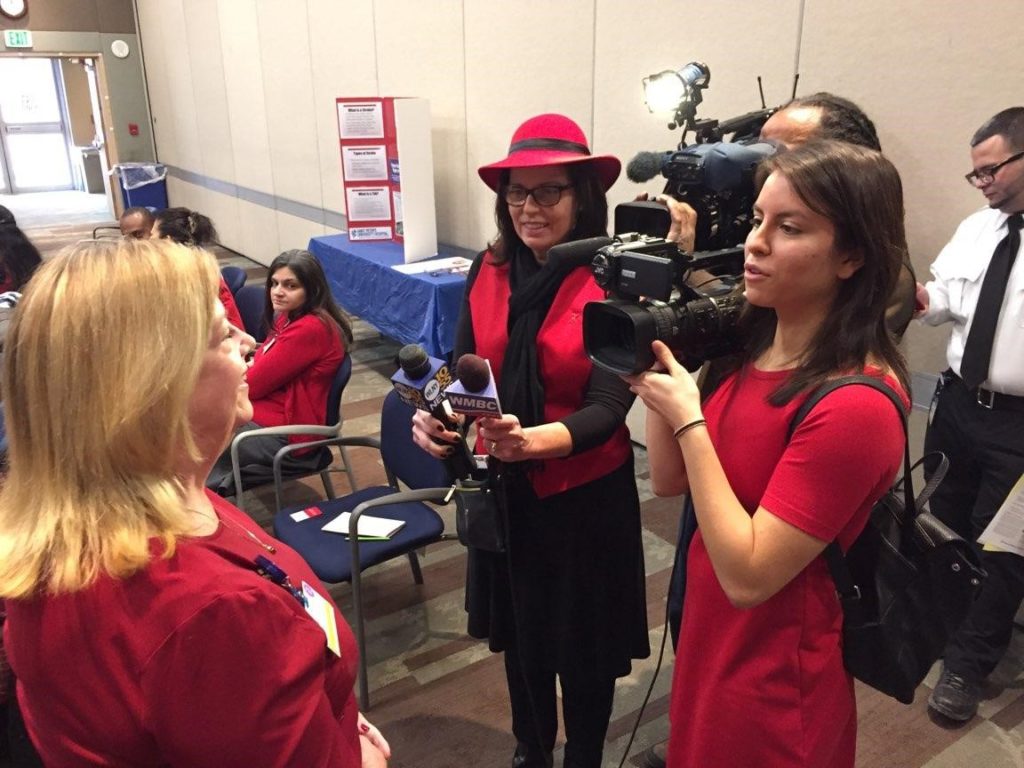 Public Education About Prevention – When an epidemic like the opioid crisis hits nearly every family in one way or another, creating a community wide partnership program that can provide tangible education, solutions and advocacy can exponentially increase the power beyond what anyone entity can do — and can garner news coverage.
• PIX11 honors New Jersey Opioid Task Force | TV Morning Show Feature Coverage
OpEds that Address Headline News – When the president declared that Opioids were a national epidemic, we suggested an adolescent medicine physician write an OpEd underscoring her message to her patients that awareness and prevention of substance abuse  is the first line of defense.  Her passion, experience, and conviction gave us the content to get it published in the Star Ledger, the nation's 15th largest daily newspaper and a key influential media outlet for Saint Peter's University Hospital. The OpEd then helped us secure additional radio and television interviews.
• Substance abuse rarely starts with opiate use on its own | Star Ledger Guest Column Opinion
Making Sense of Bad News – When horrific news hits and plays over and over with the 24-hour news cycle,  adults are faced with helping children understand what they are seeing  on the news, in their social media feeds, and at school. Responsive pediatric and adolescent medicine physicians, and well as behavioral health experts are often called upon for assistance.
• Talking to kids about school shootings, Advice from experts on how to approach the topic with your children | NJ TV News Media Clip
The Takeaway:
• Be a voracious newshound. Take 10 minutes every morning to scan the headlines at a minimum.
• Know your hot topics and how your sources can serve the public with commentary around the headlines.
• Work as a team with your internal or external media relations expert. Allow them to work with the media while you help get your spokesperson to be responsive.
• Deliver what you promise to the reporter so that you become the go to source.
• Monitor for the coverage and share it with key constituents…more on this in a future blog post.
Don't hesitate to contact me for more tips on how to get the media to choose you or your company as their source.