Michael Calia - 06/10/2019
Building authority and credibility through a blog helps establish a company as an industry thought leader. Consistent blog posts can fuel successful, engaging social media content. The advantages go on. Perhaps the most important benefit, however, is the potential to make a business' website appear higher in search results. Learn how to properly employ a blog content marketing strategy to improve search engine visibility, resulting in increased web traffic and more potential conversions.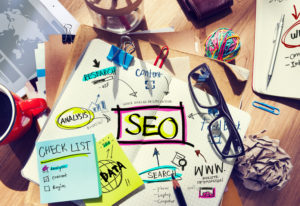 In today's age of limitless information at our fingertips, it's hard to ignore the marketing opportunity that is organic search. Capitalizing on people's tendencies to search for business solutions online should be a top priority for expanding your brand's reach. This is where blogs come in. It should come as no surprise that websites that have blogs notice 50% more views than those that don't. When executed the right way – using optimized keywords, supporting links, and properly tagged images – blogging can be one of the strongest ways to reach new potential customers via search engine optimization (SEO).
Identify Head Terms and Long-tail Keywords
Keywords in the most basic form consist of different terms and phrases that accurately summarize your content. From an SEO standpoint, using the right keywords will help content rank better in search results, leading to more qualified people finding your pages. Optimizing this strategy involves using the best keywords that target the specific audience you're trying to reach.
Researching your prospective audience will help connect their searches to the products or services you provide. Understand not only who you're looking for, but what they'd want from your business, as well as how they'd go about finding it. Conducting extensive keyword research should be a starting point for identifying the most valuable terms. This will help you better narrow down what people will be typing in search bars to find what they need. The next step involves identifying head terms and long-tail keywords. Head terms are more broad keywords that appear in large amounts of searches, drawing high volumes of people. Long-tail keywords are more specific phrases that would attract fewer people, but the ones included would be more qualified or relevant. For example, say someone is searching for the information discussed in this blog post. A head term used in their search would be "SEO," or "blogging." While this is definitely something they'd be searching for, there are other people typing this term into search bars who may not fit in the audience your business is trying to attract. Likewise, this term could apply to a wider variety of businesses, leading to more unnecessary competition in the search results. A long-tail keyword for this person conducting a search would be "improving search engine optimization with blog content." There's a stronger likelihood that someone typing that into a search bar, as opposed to the head terms listed above, would stumble upon this post. Chances are that someone looking for a specific piece of information would be searching with nearly complete sentences. In fact, 50% of search queries are four words or longer, so blog content should reflect this trend to appear higher and in more results.
Strategically Place Keywords
The first place to ensure keywords are seen is the blog headline. Accurately reflecting what the blog post is about, the headline serves as the first thing someone will see in search results. The more it resembles what someone is searching for, the more likely they are to click on it. Google tends to cut titles off after 60 characters, so making headlines adhere to this limit is ideal. However, this isn't always possible, so be sure to at least place the most important keywords within the first 60 characters.
While it's obvious that the keywords should appear in the content itself, what may not be so obvious is that there's a right way to do so. Remember that the reader of your content is (most likely) a human being, so making it as easy and natural as possible should be paramount. On top of giving people headaches and potentially ruining your brand's image, overloading your blog post with keywords runs the risk of being penalized by search engines. Thankfully, keyword stuffing as it's called would be counterproductive, as it hurts your SEO ranking, further emphasizing the importance of strategically placing keywords in blog content. This is also a good reason to utilize a thesaurus to incorporate synonyms of the most important keywords. By doing so, you'll appeal to a wider variety of search possibilities, potentially reaching a larger audience. Plus, using a more sophisticated vocabulary will make your content more interesting.
The post's URL and meta description should also be optimized. In an ideal situation, you can use the most accurate long-tail keyword in the URL. The meta description offers a brief summary of your content while browsing search results. You'll have about 300 characters, so it's important to use as much of it as you can. Take the same approach with the body of the blog post, and utilize the right keywords in a naturally flowing manner. It's also important to note that this will literally appear alongside potential competitors' posts if they fall in the same search results. Knowing this, make sure your descriptions accurately summarize your content and give someone a reason to click through and read the post, as they'll likely have a few options to choose from.
Incorporate Internal and External Links
Data adds credibility. Sure, you can be an expert in your field and be completely qualified to discuss a particular topic, but using supplemental information from trusted sources helps get points across. A common concern when doing this is that it will drive readers away from your pages, but that's not the case, as it only adds value to your content. Not that this is a high school research paper that requires a minimum amount of sources on a bibliography, but it's definitely a red flag to see a blog post diving deep into a topic with nothing cited.
Using external links, or links to pages outside of your own domain, helps further back up your messaging. You're likely researching the topic you're blogging about, so why not source that data? For etiquette's sake, if someone is taking specific information from somewhere else, they should credit the source of that data. Additionally, if the sites you link to possess high domain authority, it will help your site's rank. Conversely, linking to less authoritative sites can actually hurt your page ranking, so stay away from anything that looks too sketchy. Along with sticking to reputable sources, a good rule of thumb is to only use links from the past year or so. With old links, there's a greater risk of the information being outdated. Also, if the links are broken, it can negatively affect your ranking.
Internal links, or links to pages within your own website, can help to the same regard. Incorporating them into blog content will improve the website's authority, allowing for a better rank and more favorable positions in search results. As an added benefit, this will help direct readers toward other pieces of your company's content. Along with pointing interested people in the direction of more relevant content that could potentially make the difference between a casual browser and a long-term client, this approach also emphasizes the importance of maintaining a steady frequency of content. There's nothing worse than finding a decent blog post only to realize that it's the last one a company's posted in months. On top of making your business seem more active, engaged and knowledgeable in certain subjects, high post frequency is yet another factor of strong organic search ranking.
Building off this idea, conducting original research is a useful strategy for fueling more topics to include in your content marketing strategy, as Mantis Research found that 74% of marketers have noticed increased web traffic as a result of it. Ideally, doing so allows you to apply more recent data that closely fits with the messages you're trying to convey in your blog posts. It also establishes your business as a thought leader in the industry, adding more credibility. If prospective clients see that a business is conducting its own research as a way to improve their overall strategies, it can certainly be looked upon favorably. Original research can also be used as valuable CTAs for blog posts, driving more people to view the full materials and potentially generating more leads.
Optimize Images with Alt Tags
Quality blog content will typically feature a couple of images that help tell the story. Part of this is due to the fact that people retain information better when it's paired with relevant imagery. Ideally, these images will also be properly sized or oriented to appear well in social media posts, as well. We've previously addressed the importance of quality imagery for social media, and the same logic applies for blog content. While it's not likely that a featured image on a blog post will appear perfectly across every platform, it's best to ensure that nothing important will be cropped out due to the difference in ideal image dimensions.
Additionally, it's important to understand how images in blogs affect SEO. This is where alt text comes in. When evaluating visual content, search engines don't exactly see the pictures being used. Instead, they read the alt text to determine what's in the picture, contributing to the rank in image searches. In simple terms, alt text is a piece of HTML code that describes an image. Most blog platforms allow you to easily add image titles and alternative text. This can also help users who may not be able to see all images, such as those who use screen readers to account for poor vision or those with poor connection, who will only see the alt text and title. As for choosing the right descriptions, think back to the keyword logic described earlier. Jamming the alt text with keywords is another no-no, so be sure to use something similar to a long-tail keyword that explains what's in the picture. So instead of just "monkey," something like "chimpanzee eating banana" would help your image perform better (only if it does show a chimpanzee enjoying a nice banana). While this may not affect blog content SEO as much as the other tips above, it's a no-brainer considering how simple it is. Google also has a handy guide for best practices when using images in blogs.
While blogging may be a vital way to capitalize on potential customers' organic search habits, the full potential cannot be achieved if not executed properly. If you're taking the time to create valuable content, it would be a waste to publish it without optimizing. If you're looking for more help with advancing your business' blog content marketing strategy, feel free to email me. To learn about 3E Public Relations' 5-step process that integrates data and creativity for any type of content, visit our website.