Megan Redzia - 12/11/2017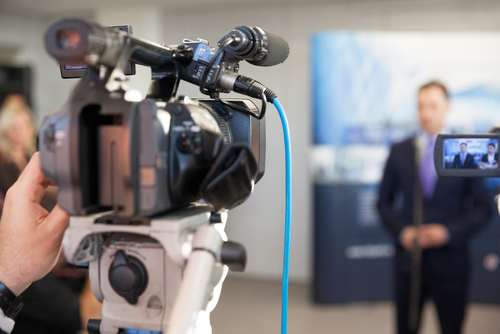 With new franchise concepts established virtually every day, how can you stay top of mind among your target audiences? There's simply no more cost-effective way to accomplish this goal than public relations. From our experience, this marketing tactic usually brings a return of between 2x-3x the investment. Whether you're a new fitness concept with only five locations or an established restaurant franchise with over 100 units, public relations can help you stand out from the crowd.
Why is public relations so valuable? It provides three key benefits that no other component of your centralized marketing plan can deliver.
Benefits of Franchise Public Relations
Provides Credibility and Exposure – Public relations delivers the priceless advantage of a third-party endorsement. Think about your own buying patterns. My guess is you're probably much more likely to shop at a store, dine at a restaurant, or buy a product if you read a raving review from an editor in a national newspaper or magazine. No matter how large your marketing budget is, credibility cannot be purchased. Consistent outreach to media outlets that influence your franchise's target audiences can result in a steady stream of editorial articles that effectively establishes credibility. The key is establishing a public relations program that accurately identifies who those outlets are, establishes relationships with them, and maintains regular contact to ensure frequent press coverage.
Develops Shareable Quality Content – You've heard it time and time again – content is king. Today's digital age demands relevant, timely and quality content that can help your customers and potential customers solve a problem or meet a need.In order to educate and raise awareness among these audiences, franchises need to be ready to provide a range of informative materials that will kick off and also augment the lead generation journey. And that can be achieved through a public relations program. Publishing quality content for both onsite and offsite purposes will also boost your SEO rankings and site traffic.
Delivers Mutually Beneficial Results – The main reason why public relations is a "must-do" in any franchise marketing strategy, is that it delivers value for both franchisees and franchisors. Let's take a look at what they are.
For a franchisor public relations will:
Drive system-wide brand awareness.
Sell the brand to quality franchisees and investors in desired markets.
Establish executive team members as industry thought leaders which in turn attracts more qualified franchisees.
Manage the reputation of the brand in the event of a crisis situation – which today could be as small as a bad user experience that goes viral on social media.
Secure well-recognized industry awards that establish the credibility of the brand.
For a franchisee public relations can:
Increase local market awareness of the franchise's presence to drive sales.
Create facetime opportunities for owners within the community.
Develop ongoing messages to create store traffic beyond the opening of their doors.
How to Get Meaningful Public Relations Results
I'm sure all of this sounds great, but what does your franchise need to do to achieve these benefits? In order to maximize public relations results for both the franchisor and franchisee, your program should include the following elements.
Elements of Franchisor Public Relations
Trade and Business Media Outreach – Ongoing media outreach should be conducted to trade, business and entrepreneurial outlets to gain editorial coverage and features that will reach potential franchisees and investors.
Media Training – All members of brand leadership should undergo a comprehensive media training program that includes everything from key message development to body language and on-screen interview mockups.
Speaking Engagements – Once corporate officers are media trained, your public relations agency can seek opportunities for them to participate in speaking engagements at industry events.
Industry Awards – Franchise brands can be eligible for a variety of industry as well as category awards. For example, there are certain awards applicable to only pizza concepts and others for bakery cafés. There are also awards for brand leadership such as the Entrepreneur of the Year awards. A public relations campaign should include annual submission of your franchise brand for all viable awards.
Elements of Franchisee Public Relations
Pre-Opening Media Outreach – Targeted media relations leading up to a franchise Grand opening should be implemented to increase community awareness. This outreach can begin the minute a franchise and lease deal is signed to develop a location.
Grand Opening Awareness – We all want that line out the door on opening day, so a public relations push should take place 2-4 weeks prior to a Grand Opening. Franchisees must be prepared to speak with media in the event your public relations team secures media attendance of the opening.
Ongoing Community Relations and Grassroots Efforts – Public relations support for each franchise location should never stop after the opening. To ensure the franchisee receives continual support to grow their business, your public relations agency can also publicize each location's ongoing promotions and participation in local events.
Learn more about how public relations and a centralized marketing plan can help your franchise thrive in the competitive marketplace.