Emily Maupai Zinberg - 03/29/2022
With the right video content, TikTok is an incredible tool for creating strong and authentic connections between consumers and brands. Read more about this social media heavy hitter to find out if it's a fit for your brand.
Social media trends come and go frequently, making it difficult for businesses to gauge which ones to "bet on." When the hottest thing takes off it's tempting to jump on it in the hope that it'll be a great win for your business, but with patience comes wisdom – and rewards. So many lessons were learned with Google+, sigh.
But today we're here to discuss the both loved and despised short-form video app that took the world by storm. TikTok was created in 2016 by China-based company Byte-Dance and quickly captured the attention and loyalty of younger social media users across the country.
What started as an "underground" playground for young people to share pranks, jokes, stunts, dances, etc. has morphed into a global phenomenon. Recent stats report that for the third year in a row, TikTok has secured the highest number of annual downloads, surpassing the runner up (Instagram) by over 100 million downloads. No biggie.
With TikTok in the headlines so frequently, many brands and businesses have considered the app for their social media marketing mix, and some have successfully leveraged it to reach consumers and grow sales. Browse a few of them here.
The question is not whether TikTok is a valuable marketing tool; that has been clearly demonstrated over the last six years. The question is whether it can be valuable for YOUR BRAND. Read on to find out if TikTok is a fit for your business' social media marketing strategy.
Who Uses TikTok?
For many years Generation Z (Gen Z) and those alike have looked for a social media world of their own, where their parents and family members won't see their posts, conversations and other shenanigans. Yes, I too have an aunt (two, actually) whose purpose in life appears to be leaving a "fun" comment on EVERY single one of my Facebooks posts. But, I digress.
Instagram proved to be a temporary respite for Gen Z until "the adults" quickly flooded the app, frightening off "the kids" once again. And Snapchat has its benefits, but let's be honest, it doesn't quite hit the mark when it comes to building and engaging as a community.
Then the pandemic hit, leaving young people who were accustomed to spending free time with their friends suddenly imprisoned in a house with their families. Thank the heavens for the internet.
Cue, TikTok. A video wonderland designed to keep users engaged and entertained with short, digestible, and diversified content, whether they're scrolling for an hour in bed or five minutes in the bathroom.
Recent user statistics show that TikTok touts the highest Gen Z penetration in America, with 47.4% of their active users aged between 10 and 29. This demographic has never lived any variation of an analog life and therefore digests content and communicates in a very different way.
Here are a few key things to know about this target audience:
They get their news from social media; entertainment and news are almost one in the same.
They will not stand for neutrality on social issues and call on brands to weigh in, too.
They have great buying potential; Forbes reports, "they account for $29 to $143 billion in direct spending."
These factors are particularly important for marketers, as they are critical influencers to Gen Z's purchasing behavior and general decision-making process.
Why Do They Enjoy TikTok?
Okay, so what makes TikTok so different from other platforms that feature videos, like YouTube, Instagram or Facebook? There are a couple of factors at play here.
Community
Beyond 24/7 access to video entertainment, TikTok users embrace the platform for its overwhelming sense of community and creative collaboration.
You might hear people say that this demographic is just looking for attention, but you could say that about every social media user across every platform, regardless of age. In the isolated world we've shared the last two years, young people are looking for connection, which TikTok provides on a global level.
Connections are formed through various TikTok attributes, but primarily through trends. A trend can be a sound, hashtag, dance or challenge that has gone "viral" through mass use across the app.
For example, last summer a hit country song spurred a dance trend across the app while also growing brand awareness for both the singer, Walker Hayes, and the fast-casual food chain mentioned in the song, Applebees. See a snippet of what the dance looked like here.
This trend became so popular that it forced Applebees to bring back the menu item mentioned in the song, they launched commercials featuring their employees doing the dance, and incorporated the song lyrics and videos into their dining experience. Applebees quickly became relevant to Gen Z and, yes, their sales went up.
In order to participate in a TikTok trend and attract thousands of views, you don't need to be a professional dancer or company representative or expert on anything. Anyone and everyone can be a "creator." And, you can just be you. These trends allow normal young people to engage with and inspire each other to have fun in a truly authentic way.
Pro Tip: I cannot reinforce the importance of music enough because it is such a potent cognitive and emotional trigger for this generation and those alike. You don't have to like them but keep yourself well-informed on the latest songs trending on TikTok.
Collaboration
Throughout TikTok trends that have gone viral, we've seen them enhanced through collaboration between, not only everyday users, but also brands, too.
Brands have the opportunity to engage consumers across all the social media platforms, but within the TikTok world the etiquette varies greatly.
Reminder, authenticity and transparency are greatly valued on social media, especially among the younger demographic. Through TikTok influencers and everyday users, consumer products and services are given their time to shine through undeniably impactful testimonial content.
This is demonstrated through the recent TikTok trend, #TikTokMadeMeBuyIt. The platform reports:
The impact of #TikTokMadeMeBuyIt, the hashtag with 7B+ views and the movement of clearing shelves across the nation, extends far beyond the platform – to bookstores, coffee shops, TV commercials, and everywhere else. When products became beloved by the community overnight, brands continued to show up to amplify these same #TikTokMadeMeBuyIt moments that had the entire community talking and shopping this year.
Imagine if you took the reviews section of websites like Amazon, Yelp or Target and transformed the written words into video content. TikTok users shared videos featuring live product trials to demo their effectiveness, unboxings, apparel "try-ons," and general product consumption and/or satisfaction.
If you're a visual person, you can investigate this hashtag trend yourself on TikTok here.
Some lucky brands that have been included in a hashtag trend like this are quick and nimble enough to respond in very powerful ways that, in some cases, connect the brands to users on an individual level.
Brands may respond with their own content to join and actively participate in TikTok conversations and trends, or they may create new products, services, or customizations in direct response to user feedback. This open line of communication between everyday users and brands creates an environment of collaboration between them.
Read about real brands, like GAP, who let users inspire or collaborate with them on TikTok to create new products and offerings for their target audiences here.
Does Your Brand Fit In?
Now having learned what makes the "Tok" tick, you can ask yourself whether or not these users fall into your target audience. If the answer is quickly "no," then it's time to investigate another social media platform to reach your customers, if you're not using one already.
Pro Tip: If you're not using ANY social media platforms for your brand marketing yet, please head over here to learn about social media audits. 
If the answer is "yes," that's great! It may seem overwhelming, but if this is your target audience, you have the chance to be a part of an incredible movement that, whether we like it or not, has greatly impacted how brands market and connect with consumers.
TikTok's 2021 round up properly summarized how to find marketing success across its platform: brands who were successful acted like creators. Now, what does this mean? It means put away your traditional marcom messaging and content because it's not going to make a dent here.
In TikTok's recent Culture Driver Study, they report that, "56% of users and 67% of creators feel closer to brands they see on TikTok – particularly when they publish human, unpolished content." This stat reinforces the platform's overarching message to brands and marketers, "Don't make ads, make TikToks."
We always recommend taking the time to plan a well-thought out strategy, but at the same time, don't over think it too much. And don't take your brand too seriously. Gen Z will not take kindly to stodginess or elitism.
Will this require more creativity? Yes. But with the right marketing team or savvy social media partner (ahem) and a time investment to create strategic videos that will have impact, TikTok success can be yours.
And honestly, there is no turning back from here. In order to connect with the young consumers of today and tomorrow, your brand needs to embrace them.
If you're a restaurant with customers who only want to eat their dinner on a square plate with Billie Eilish's music on in the background, would you still serve them meals on a round plate with a Bruce Springsteen soundtrack?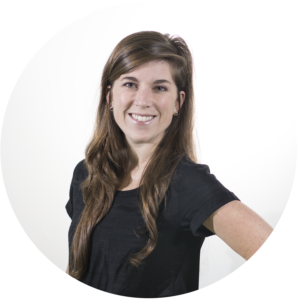 So, it's for you to decide – are you in or are you out? If you're in and you'd like some help in creating a TikTok strategy for your brand, give us a shout.