Megan Redzia - 11/13/2020
If your franchise allows franchisees to have their own profiles on social media, you need to set the foundation for a consistent brand presence online. There are two documents that can help to protect a franchisor and ensure customers have a seamless brand experience: a social media policy and social media guidelines. Find out what is included in each of these franchisor tools and why it's important to have both.
Franchise brands are accustomed to setting brand marketing standards, crafting style guides for franchisees, and approving local store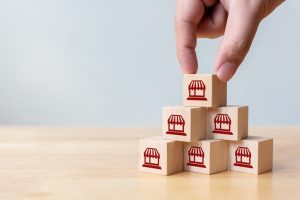 marketing materials. But the fast pace of social media and its ever-evolving nature makes it challenging for franchisors to maintain consistency online. Brands need to develop a franchise social media guidebook and policy that go beyond fonts and logos and provide their franchisees with the tools they need to develop content and manage their communities in a way that complies with the overarching marketing strategy.
Ensuring your audience has a cohesive brand experience on both the franchisor social media channels, as well as the franchisee channels is essential to preserving the identity of the system. It's a common mistake to think a social media policy will be enough to achieve this consistency. While a policy is certainly needed to protect a franchisor, it does not give the franchisee the guidance they need to succeed on social media. Let's look at the difference between a social media policy and guidebook to understand why you need both.
What is a Franchise Social Media Policy?
A franchise social media policy is a document that outlines how franchisees and employees should conduct themselves online. A franchise should include a social media policy in their operations manual that outlines the do's and don'ts when it comes to setting up and managing franchisee social media channels. An effective social media policy should address:
The Scope of Permissible Social Media Platforms – This will likely depend on your industry and overall marketing strategy. If your franchise has a B2B audience, you may allow your franchisees to have a presence on LinkedIn. If your franchise is consumer focused, however, you may want to limit LinkedIn use to only the brand.
Username Formats – To achieve optimal brand consistency, franchisors should adopt a policy around page usernames. It can be confusing to the consumer if they are searching on social media and franchisors are using multiple variations of a brand name. An effective username format is brand name followed by the city in which the franchisee is located.
Compliance with Laws, Regulations and Third-Party Terms – To protect a franchisor, a strong social-media policy will require franchisees to comply with all laws and regulations, not just those specific to social-media usage. It should also include a list of prohibited actions.
Approval Process – If you are going to require franchisees to seek approval on certain types of content such as contests and promotions then this should be outlined in the policy, along with specific instructions on how approval should be sought.
Frequency of Updates – A stale social media presence can do more damage for the franchise brand than no presence at all. Consider requiring your franchisees maintain a minimum posting frequency on each allowed platform.
Profile Imagery – Franchisees need to know where they can access image assets such as profile pictures and cover photos, and what their restrictions are for these types of imagery. Some franchisors may setup a dashboard where franchisees can download the images they are required to use on their social profiles to maintain a consistent look across all pages.
What Is a Franchise Social Media Guidebook?
The more successful your franchisees are on social media, the more your brand voice will be amplified online. However, franchisees are business owners who are managing a multitude of things daily so they may have limited time to dedicate to social media. In addition, social media is more competitive today than ever before, so it really takes an understanding of each platform and effective content and engagement tactics to move the needle.
This is where a franchise social media guidebook comes into play. A guidebook should be the encyclopedia of all-things social strategy for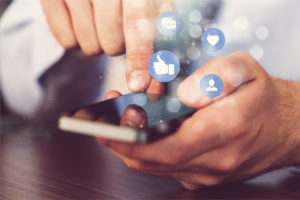 franchisees. A comprehensive guidebook will provide franchisees with tips on the following:
Platform Introductions – What's the difference between Facebook and Instagram? Or Twitter and LinkedIn? A WHOLE LOT! It's important to educate your franchisees about the nuances of each platform so they understand how to adjust their content, engagement and advertising strategies.
Optimizing Content for Engagement – Because engagement can take many forms, the proper strategies for optimization will depend on the specific objective of a given post. Two typical content goals are driving link clicks and encouraging social actions such as likes, comments and shares.
Managing Their Community – Social media is one of the only marketing tactics that allows two-way dialogue with your target audiences. In order to reap the benefits of this audience communication, franchisees need to be regularly monitoring their pages for activity and seeking opportunities to interact with users and address their comments and questions. Community management on any social media platform also extends beyond responding to negative or positive comments. This is your online AND offline community, and the best way to build relationships is to actively engage and participate. Franchisees should be investing time in engaging with other local businesses/organizations, showing support for local initiatives/events, and collaborating with influencers from their area.
Hashtag Use – Hashtags allow social media users to discover posts around certain topics. By including hashtags within post copy, your franchisees can participate in a wider conversation surrounding a given topic. However, it's important that franchisors guide franchisees on branded hashtags, hashtags to use for specific campaigns or promotions, and relevant industry hashtags your audience is likely to follow. Read my colleague's blog for more tips on properly using hashtags in social media marketing.
Advertising Strategies – Like it or not, organic reach is harder and harder to achieve. Advertising on social media is a great way to cost-effectively reach new users. There are a variety of advertising formats on each platform, so a franchise guidebook should give franchisees some tips on the types of ads most effective for your business and how-to setup campaigns.
Measuring Success – As a franchisor, you want to make sure your franchisees are being successful on their own local pages. A guidebook should include KPIs you want franchisees to measure on a monthly basis, such as reach, page following and engagement.
These are just some common subjects we include in franchise social media guidebooks for our clients. Ultimately, the components of a guidebook should be based on your franchise's operations and overarching marketing strategy. Whether you are a 5-location franchise just embarking on your expansion plans or a 200-unit franchise with locations across the country, it is never too late to set the right foundation for a solid social media strategy.
3E Public Relations specializes in writing social media policies and guidebooks for franchise brands that help establish brand consistency and build a more cost-effective presence. If you're interested in discussing how a policy and guidebook can help your franchise, email me at mredzia@3epr.com or learn more about our franchise approach to public relations and social media on our website.