Megan Redzia - 02/27/2018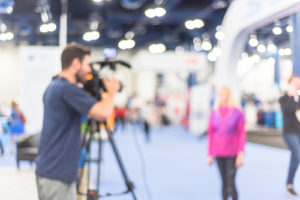 From May 31-June 2, over 200 franchises will take over the Javits Center for The International Franchise Expo (IFE). If your brand is exhibiting, you probably chose to participate for the chance to connect face-to-face with new franchisee and master licensee prospects. But have you thought about how your presence at IFE can generate press coverage and investor visibility?
Media and press in attendance at IFE will include outlets such as Entrepreneur, Franchising World, The Wall Street Journal, Franchise Times, Global Franchise Magazine, Franchising USA, Fox News, NBC and WOR 970. In this blog, we'll show you how you can utilize your IFE exhibition to expand brand awareness through media outreach.
Pre-Show Preparation
Content Development – Understand that the reporters and editors attending IFE will have a lot of ground to cover in one or two days. Help make their research job easier by preparing a rich library of content. Create electronic press kits on USB flash drives with your franchise logo to pass out at editorial meetings during the show. These kits should include a company backgrounder, press release worthy of publishing, executive and franchisee bios, and article abstracts your brand can byline.
Leverage Show Opportunities – IFE hosts an E-Press Room on their website that features electronic press kits submitted by exhibitors. This is a "no brainer" since you'll already have your kit prepared for press appointments. IFE also emails exhibitors with information about completing a brief "Press Information Submission." The submission form includes about 10 questions that 3E Public Relations, as the agency handling local PR for the show, uses to identify unique newsworthy exhibitor stories it can share with media. Make sure to take a few minutes to fill out this form. We'll be reading the responses to see how we can help maximize your presence!
Schedule Meetings – Again, it's critical to be mindful of the time press has at the show. Contact the show organizer to ask for a copy of the pre-registered press list and reach out to relevant media outlets in advance to schedule individual editorial meetings. Investigate editorial calendars to find out what features publications have planned and personalize your outreach with the topics and trends your expert can discuss.
Prepare Spokespeople – Develop 3-5 talking points for your spokespeople to learn and practice for their press meetings. This is one component of media training, which any spokesperson should attend at least once.
It's Show Time
Keep Experts Close – If you have an internal or agency partner handling your public relations, they should be with you at the show to provide "content and quote security" during interviews, product demos or interactions in which you may be quoted. It's also imperative for effective follow-up after the show.
Editorial Meetings – Make sure your spokespeople have a schedule of press appointments and that they stick to it. Although press conferences, speaking engagements, and events taking place around the show can be supportive tactics for major announcements, editors often appreciate the quotes and personal attention received during one-on-ones.
Look for Press – Show badges will usually indicate if someone is a member of the media. Keep your eye out for press you may not have an appointment with and politely invite them to learn about what makes your franchise brand newsworthy. Are you announcing something at the show? Did you just sign a multi-unit deal to develop a new area? Do you have a successful franchisee with you?
Take Photos – Not all media representatives will have photographers with them, but they may be looking for visuals to support their post-show coverage. By taking your own hi-res photos, you'll have a great reason to follow-up with media after the show to provide valuable imagery they can use. Maximize resources by sharing these photos with your social media team to post on your brand pages.
Post-Show Follow-Up
Connect with Media – When IFE comes to an end, you should follow-up with any press you met with at the show. Thank them for their valuable time, repeat your talking points, and address any action items generated from your meeting. Also, remind them of the additional areas in which you're a thought leader to be considered for future opportunities.
Report the Value – Monitor for editorial coverage resulting from your public relations efforts surrounding the show and create a report for your management team showing the impact in the form of relationships built, key message pick-up, audience reach, electronic press kit clicks, etc.
Don't Lose Momentum – Once you've built editorial equity, don't let it fade. Strategize quality content with your PR team and develop a schedule to continue your outreach.
If you want to find out how an ongoing public relations program can help your franchise thrive in the competitive marketplace, contact us today.