Michael Calia - 11/26/2019
White papers and e-guides are valuable assets in any content marketing strategy. However, knowing when and how to use them, as well as their unique benefits and differences is paramount for creating quality content to drive new customer leads.
It should come as no surprise that you can't have a strong content marketing strategy without a variety of quality content. With more than half of marketers claiming that their most important asset is original written content, it's important to make sure you're making the most out of the content you're developing. White papers and e-guides are two vital types of content that present significant marketing benefits. Both can offer useful information to interested audiences, bolstering your brand's credibility while generating potential leads if offered via landing pages. In fact, it's often best to think of white papers and e-guides as juiced-up blogs, going far more in-depth and presenting more information than a quickly skimmable post. But without knowing exactly how and when to use each, these rich pieces of content will not reach their full marketing potential. Before you start creating such valuable content assets, you'll need some tips to steer you in the right direction.
Developing E-guides That Provide Your Audience with a Solution
As I'd mentioned in my previous blog post, e-guides are easily digestible with a "how-to" focus, presenting a goal, as well as a step-by-step process for achieving it. But just one solution wouldn't be enough. Presenting multiple alternatives and weighing the effectiveness, difficulties, and advantages of each solution can demonstrate your business' knowledge on a given subject. Almost every problem has a list of potential solutions rather than just one right answer. When you're able to discuss multiple strategies, as well as why your business decides to use a specific one, it further establishes your brand as an expert. This approach also helps to make the content appeal to a more diverse group of people.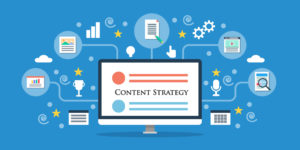 In order to choose the best e-guide topic, you need to understand what your target audience wants. Research common problems and issues faced in your target audience's industry and narrow the list down to those relevant to your business. When choosing a topic, consider the SEO aspect of the e-guide, as you'll want to make sure your content appears in organic search results as much as possible. Read our guide for help adding SEO value to your content marketing assets. 
The ideal audience for an e-guide should be broader, consisting of people who likely aren't yet on your customer list. This type of content should ideally put your business on their radar. The language used and readability should reflect this. The reader will likely be someone with at least a foundation of knowledge on the topic, but they may not be extremely well-versed. Keep things simple and avoid using jargon that could be deemed technical. It can be helpful to quickly break down certain terms or concepts on first reference to help readers follow along and pick out useful pieces of information. Another easy way to bolster this more relaxed tone is to use bulleted lists when applicable. Along with making the content read more smoothly, it may seem less intimidating on first glance to see a list with a few bullets rather than just a huge wall of text.
A key benefit to e-guides is that they are more interactive and engaging. Whereas white papers are typically text-focused documents that don't offer anything beyond information and maybe a few charts and diagrams, e-guides can include more graphic elements to make the entire piece of content more engaging. With this in mind, creating a visually appealing cover can be hugely beneficial for attracting interested readers.
It's important to immediately convey that a business knows what it's doing, and that the information provided in the e-guide is valuable. A combination of eye-catching imagery and direct titles can do just that. If your e-guide is placed on a dedicated landing page, potential readers may want to know it's worth adding their personal information to obtain access to it. The cover image and title present a unique opportunity for brands to immediately express this value. Another common practice for encouraging more interaction is to include buttons that allow readers to quickly share the e-guide via social media. On top of encouraging conversation about the content, this expands your brand's reach among a relevant audience by being shown off to readers' friends and followers. This further adds to the potential to significantly increase website traffic.
Driving Prospects to Make a Decision with White Papers
White papers are often a strong component in a content marketing program. In fact, 60% of B2B markers see white papers as their most successful forms of content. Whereas an e-guide is closer to a 101-level college class, the white paper is something you wouldn't be able to register for without meeting a few prerequisites. In this type of content, brands should take a much deeper dive into a specific area of a given topic to demonstrate a strong authority on the subject matter. The target audience for white papers likely includes people who are beyond the consideration stage of the sales funnel shown in HubSpot's below image of the buyer's journey and are already potential leads in the decision stage. Ideally, they're familiar with your business and what it offers, as white papers can take a greater focus on products or services that you specifically provide.
One of the main differences between an e-guide and a white paper lies in the substance and tone of the writing. Given the more technical nature, white papers generally consist of more statistics and data. Obviously, this means that significant research will be required. The claims and facts presented in a white paper should be backed up with serious supporting data, and properly sourced. The key when using information like this is to apply it clearly to the material in a way that supports or demonstrates a point being made. Because the target audience is likely more familiar with the concepts being raised, you may have the liberty to use more technical jargon without having to do much spelling out. Now, this is where the writing becomes more of an art form. Technical and informative tone doesn't have to be boring. Overdoing the practical or scientific language can risk boring readers or even confusing them. Underdoing it may limit your brand's credibility. Finding the balance ensures that readers will fully digest the information and come back for more. Attracting more readers this way will yield increased traffic to your website, as they'll ideally want to learn more about your business. This is also true when choosing the title of your white paper. Whereas being direct can quickly convey the messages readers will gain from the white paper, it often doesn't entice them to actually read it.
Like other pieces of similar content, white papers should come with brief abstracts that demonstrate what the reader will learn from the piece, and why that information is important. With the main goal likely being to generate leads, make sure your target audience sees that they NEED to fill out an information form to receive the white paper. While these forms are common in any industry, you still can't assume people are willing to give up their contact information for something not informative. By properly demonstrating the value of the content in a clear and concise way, you'll increase the likelihood of turning a page visit into a lead.
When it comes to content marketing, defining a clear plan is vital to achieving your lead generation goals. In fact, 65% of the best marketers create and use a documented content marketing strategy. Establishing written plans allows team members to better collaborate to create content that achieves common goals. Furthermore, putting together a schedule or content calendar can make the creation process more streamlined by identifying key goals and assessing which types of content need to be developed to achieve them. The right plans include multiple forms of content. However, each type of content comes with its own unique challenges and best practices. It's crucial to understand them before embarking on your content marketing journey.
If you'd like to learn more about how to make the most out of your strategy head to our website or feel free to send me an email at mcalia@3epr.com.