Amy Stern - 05/01/2019
As a restaurant chef with a distinct brand and culinary offering, do you often find yourself wondering why your competitors have been featured in press that continually seems to elude you? How is it that a restaurant that lacks any sense of hospitality or ambience has been profiled on TV? Why is a local white tablecloth establishment booked even on weekdays when their food is not only lacking visually, but is far inferior to yours when it comes to palate-pleasing attributes?
The answer is most likely: public relations (PR). But what is public relations for Restaurant Chefs and how is it achieved? Perhaps the best way to answer the question is with a case study.
Restaurant Chef Public Relations Case Study
In the heart of BBQ joints and establishments serving hot chicken and biscuits in Louisville, Kentucky, At The Italian Table is a true gem of authentic, Tuscan cuisine. With such a point of difference, you'd think it might be easy to get noticed by media, but that was not the case for proprietor and executive chef, Gina Stipo, until she engaged a seasoned food public relations agency.
3E Public Relations took a four-step process to secure media coverage for At The Italian Table. Here is our recommended recipe for success to build your restaurant chef brand through public relations.
Step #1:  Identify Your Chef's Culinary Point of View
While many restaurateurs have tried to pursue the media on their own, most have found that to create real "buzz" as a dining destination requires the skills of a qualified public relations professional. I first met Gina Stipo at the International Association of Culinary Professionals (IACP) Annual Conference in her hometown of Louisville. It was there that Gina described how her local newspaper, the Courier-Journal, and Louisville Magazine, had profiled a lot of her competitors, but she seemed to be continually overlooked. This was perplexing to Stipo, who knew she delivered a superior product: authentic Tuscan cuisine, created with both locally sourced ingredients and items imported directly from Italy from suppliers with whom she had a personal relationship.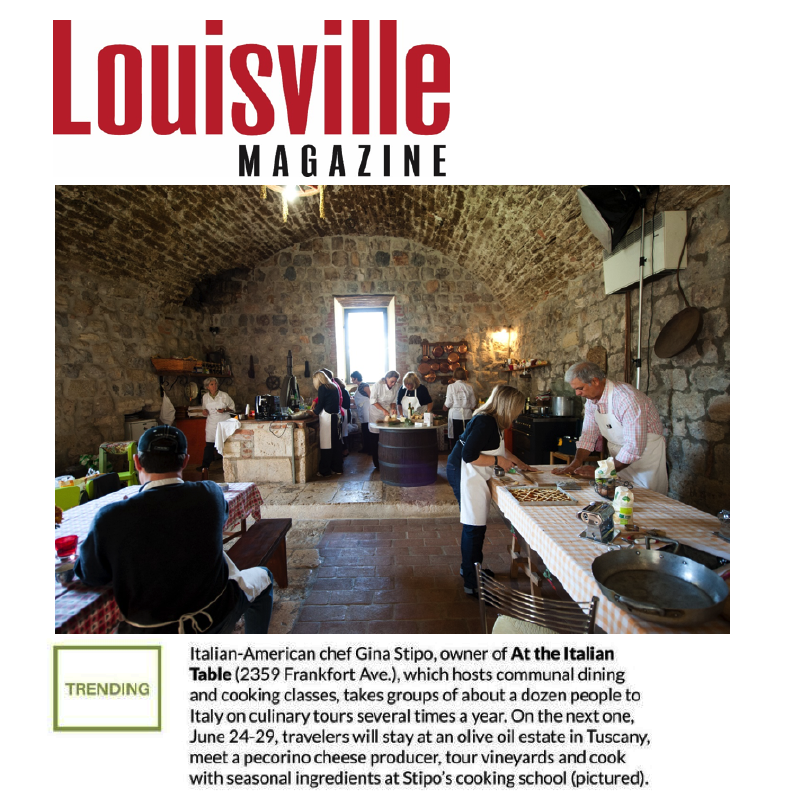 What sets you apart?
It was while dining at Gina's restaurant with several colleagues that I experienced her culinary point of view first-hand? What is the definition of "culinary point of view?" It's what makes you unique, what set's you apart from other restaurant chefs. It's the cumulative elements that define your brand. For Stipo, that meant loyalty to her authentic Tuscan cuisine. From the Italian antiques that surround you while your dining at her table to the select ingredients and time-honored techniques she employs to create every dish, it's as if you are savoring every bite while transported to Tuscany itself.
Beyond culinary training in Italy, one of Stipo's other distinct selling points is that she hosts culinary tours to Italy several times a year, where she not only teaches cooking classes, but also escorts her students to local purveyors like cheese makers and olive growers, as well as vintners and truffle hunters.  Stipo's goal was to elevate the profile of her restaurant and have it sought out by locals and the throngs of tourists who visit Louisville year-round, but also to garner increased attention and bookings for her culinary tour company.
See the description our 3E Public Relations team crafted to clearly communicate her culinary point of view:
Culinary Point of View
Gino Stipo is an Italian-American chef who lived and worked in Italy for over 13 years, cooking, teaching and immersing herself in Italian cuisine and wine. Upon her return to the states in 2013, she opened a restaurant, At the Italian Table, a culinary gem filled with authentic antiques and décor imported from Tuscany. Located in Louisville, an unlikely destination for some of the most authentic Italian cuisine outside of Italy, the restaurant delivers a unique dining experience that offers communal tables evoking the experience of dining in a private home. Visitors to the restaurant sip wonderful Italian wines and savor dishes from a variety of regions in Italy, all prepared in Gina's open kitchen.
During her time in Italy, Gina's cooking school was the focal point for international visitors interested in learning about the gastronomy of Tuscany. She continued to hone her culinary skills with her own instruction culled from Italy's top talent, both professional chefs, as well as home cooks. In addition to operating At the Italian Table with weekends booked several months in advance, she also leads week-long culinary tours to Italy that immerse participants in the food, wine and culture of specific regions.
Step #2:  Start with Local Media
Many chefs start by saying "I want to be on the Today Show or Food Network." Those are great goals to have, but remember the saying, "Don't run before you walk?" That premise holds true here, as well. National media outlets, whether that be broadcast, print or digital media, want to see some evidence of local press before national consideration. Think about it, if the Today Show is intrigued by your concept or your ability to portray a distinctive type of cuisine, that might get them to read your pitch, but how do they really know you can connect with a national audience? How do they know if you can talk and cook at the same time? In some cases, you'll not only be cooking and talking, but also answering questions from the on-air host while doing both. In other cases, you might be tasked with fielding call-in questions from the audience at home or responding to incoming queries posted via Twitter. "Can you talk and chew gum," because you'll need to.
Once you have a portfolio of clips, say multiple video segments from local TV and press clippings from the local newspaper, digital or print, you are more likely to be successful pitching regional TV. By the time your publicist attempts to pitch national outlets, you should have several examples of local and regional coverage because "Why would a national outlet take a gamble by putting a relative unknown on air without credible proof that you've got what it takes to educate, entertain and engage the audience?"
Once we secured several local TV segments for Stipo, such as Great Day Live on WHAS11, the ABC affiliate in Louisville, we were able to grab the attention of FOX nationally where she was quoted as a thought leader in an article on "Bad Boy Chefs" and later sought after for a nationally televised segment.
Step #3: There's No Substitute for an Actual Dining Experience
Instead of wondering why the local newspaper or regional lifestyle publication hasn't called your restaurant, reach out or have your publicist invite the reporter to dinner. If your concept or cuisine is truly distinct, the seasoned food reporter or dining critic is sure to notice. The Courier-Journal, Louisville's daily newspaper, was familiar with At The Italian Table as a restaurant with a chef that was trained in Italy and who lived there during a portion of her childhood, but what they didn't know was that Chef Gina hosts culinary tours throughout Tuscany several times a year. This was the angle that we were able to communicate and it's what lead to feature story with the headline, "Louisville Restaurateur Leads Guests On Life-Changing Trip Trough Italy."
Step #4: Don't Overlook Resources in Your Own Backyard
As a major tourist destination and convention site, Louisville is visited by thousands every year. At the time we were working with Stipo, the International Association of Culinary Professionals (IAPCP) had just hosted its annual conference there. While the organization is comprised of chefs and restaurateurs, it also boasts among its many members, both local and nationally-recognized food writers and reporters who use the annual conference as an opportunity to sample the local restaurant scene in the host city. Stipo was curious why she wasn't on the docket.
This is another case where hiring a reputable PR agency can make the difference: they could have created and executed a campaign to bring awareness to Stipo's point of difference among Louisville's crowded restaurant offerings. Post-event, as her agency of record, we made sure to connect with the Greater Louisville Convention and Visitors Bureau (GLCVB), navigating the protocols and process that put Gina on their radar. The result of our outreach to GLCVB:
250 word listing on com including the restaurant's logo, link to their website and social media tabs plus unlimited photos.
30 word listing in the Official Louisville Visitors Guide (over 275,000 in distribution in area visitors' centers, hotels, etc.).
30 word listing in the Planners Resource Guide distributed to event planners hosted by the GLCV at multiple times a year to promote the city's venues and services.
Opportunity to host private dinners for select event planners when they visit Louisville for consideration for future events.
Getting Your Restaurant Chef Brand in the Media
If you're hoping to build your restaurant chef brand and want to see how public relations  can work for you, I'll be at the 41st annual International Association of Culinary Professionals (IACP) conference in Santa Fe, New Mexico from May 16-19. Email me now to schedule a time at the show or a call when I get back at Astern@3epr.com.
For related information, visit my blogs:
Value of Strategic Partnerships in Food Marketing:  Where to Look for Likely Partners https://www.3epr.com/value-strategic-partnerships-food-marketing-look-likely-partners/