Julianna Lepore - 08/11/2023
Securing onsite media coverage is just the beginning; find out how the right PR team can help prepare your spokespeople, manage media relationships and ensure your business is shown in the best light.
Great! After rounds of pitching and phone calls (plus some persistence) by your public relations team, the media has expressed interest in attending one of your organization's events. You can read more about the process of planning an event that will generate media coverage in my previous blog. The good news is the media is coming, but your PR agency's work isn't done yet. It is the role of a public relations representative to make sure your business is displayed in the best possible light. Here are the three necessary steps to take to ensure you make the most of onsite media coverage.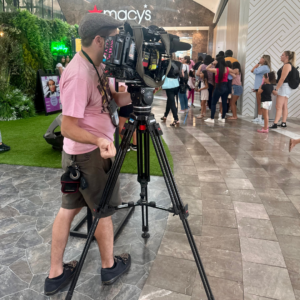 Media Train Your Spokespeople 
If you are planning on offering your company representatives for interviews at an event or for any other initiative, make sure they are properly media trained. Media training is a crucial element for all spokespeople, as these individuals can influence a company's reputation. Media training can be completed by a public relations agency in a half-day session or a few one-hour sessions. During the training, your agency will cover key topics such as, dressing for success, delivering key messages and responding to tough questions. To learn more about media training, read our blog on 5 Reasons Your Spokespeople Need Media Training. 
Give Media What They Need
Once you and your PR agency have identified who will be available for interviews, the next step is to make sure the reporter, photographer or videographer who is covering the event has a designated onsite contact and access to what they need at the event. Typically, your PR agency will include their contact information in the press materials they sent out to secure interest and/or will provide that information via phone. By having your PR representative at the event, the media outlet will know who to call to find out where they should set up and who they should speak to.
Make sure you work with your PR agency to determine if there are any roadblocks for the reporters that they will need to navigate. For example, if there is a specific wing of a building that is under construction, guide them to stay on the other side of the venue. You should also identify if the reporter needs specific access to things like outlets for live interviews so you can have an area for shooting already in mind to take them to.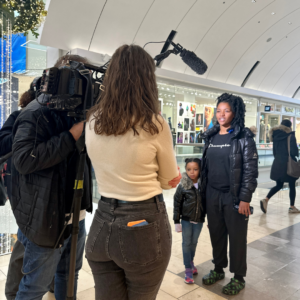 Monitor and Moderate Interviews
While the reporter is filming B-Roll footage (i.e shots of the crowd, venue, food, etc) for their use, your PR representative will stay close by, but will also be respectful of their space. However, once the interviews begin, it is crucial that your PR team tunes into the conversations. 
While reporters tend to share a few questions ahead of time, a PR representative will keep a helpful ear out to make sure the spokesperson pronounces names appropriately, and stays on track with key messaging. Additionally, they can interject if any questions are not a fit for your spokesperson to answer or if they are about  an unrelated, sensitive topic. 
At events, it's also common for broadcast reporters to conduct "Man on the Street" interviews, meaning they will find attendees who are willing to answer some questions or provide soundbites. This gets a little tricky because you have little control over what attendees will stay. However, by listening to the interviews, your PR representative can interject if something inappropriate is said and can kindly ask for that footage to not be used. 
Show Appreciation and Track Coverage
Once the reporter finishes, your PR agency will thank them for coming out to cover your event. Reporters have packed days and a lot of options in terms of what they decide to visit. The fact that they made time for your event deserves recognition and appreciation! In these closing conversations, your team can try to gauge when the segment might air or the article will run. By getting an estimated timeframe, they will better be able to monitor for the coverage or use a monitoring platform, such as Cision or Muck Rack. These monitoring platforms allow PR professionals to create alerts, see analytics, and measure success. 
After the coverage runs, your PR team can share the article or broadcast clip with you to share with your organization as well as repurpose for other marketing channels such as social media and your website.

Securing onsite media can be a challenge, but by using a PR agency who has the right strategy, relationships and attention to detail, the end result can elevate your profile and help drive attendance at future events. Feel free to reach out to me at jlepore@3epr.com for more tips!