Michael Calia - 11/24/2021
Changes in consumer preferences have made podcasts, voice search, video and brand-owned channels key components of your content marketing strategy.
Successful content marketing relies on understanding where your clients and customers want to receive information and engage with your brand. Changes in consumer preferences have made podcasts, voice search, video and brand-owned channels key components of your content marketing strategy.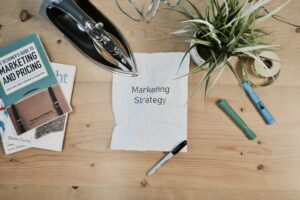 Staying on top of evolving trends can mean the difference between successful marketing campaigns and wasted budget dollars. In a previous post, I discussed several content marketing formats, as well as the advantages of each, but there's more to know when adapting to today's landscape. Getting the most ROI involves not only creating quality content, but also making it easily searchable, accessible and digestible.
In this blog, we'll examine four trends that will impact your 2022 content marketing strategy, whether you're a B2B or B2C brand.
The Growth of Podcasts
Though podcasts are by no means a new medium, they have grown significantly over the past few years to present valuable marketing opportunities. This is evidenced by people listening to 15 billion hours of podcasts in 2021, setting a new record and surpassing 2019's total by 3 billion. Beyond the growth, podcasts present an opportunity for brands to reach consumers at times when traditional forms of content aren't possible. For example, people can't read blogs or white papers when they're driving or going for a run. So, if your brand doesn't have any form of content besides something written or visual, you're essentially missing out on entire chunks of time that consumers are still looking for quality content. Plus, with more people likely resuming their commutes after the prolonged period of working from home, the podcast industry is likely to notice sustained growth next year. For marketers, this means that the audience is already established, and is likely to continue growing.
Similar to written content, podcasting allows brands to position themselves as thought leaders in a given industry. Selecting quality topics, collaborating with relevant guests within the business, discussing the latest trends, and even utilizing listener feedback can help you craft informative content that keeps your audience engaged. With podcasts, directories present yet another outlet to get your business in front of an audience specifically looking for content related to a certain topic. Properly branding and promoting your podcasts will help reach more of these listeners and expand your business.
Podcasts can complement almost any aspect of your content marketing strategy. If you have a library of white papers, case studies and other similar materials, consider picking out certain pieces of content and "converting" them into an easily digestible audio form. If your podcast touches on multiple different topics and trends, expand on some of what you discuss in timely blog posts so interested listeners can stay engaged with your brand. Because many podcasts involve interviewing guests, these people can contribute blogs to your website for some valuable cross promotion. Making the most use out of these podcasts enhances their value by fueling future initiatives.
Evolution of Voice Search
Voice assistants have come a long way since they were introduced. Most smartphones now feature a way for people to easily search for information via spoken commands. At this point, more than half of online users utilize voice search on their devices, and more than nine in 10 of them report positive experiences doing so. Plus, more than one-third of U.S. adults own a smart speaker, and the amount has been increasing significantly over the past few years. This presents yet another trend for marketers to keep track of to better achieve business goals with content marketing.
The evolution of voice recognition technology has made searching by speaking a more accurate process. People can search using terms and phrases that are longer or more detailed than the ones they'd type into a search bar. The idea remains the same, in that you want to recognize what your ideal customers are searching for. However, expanding your strategy to cater to voice search means adding more long-tail keywords. This will help your content appear higher in search engine result pages (SERPs), thus making customers more likely to stumble upon your business. Expanding on this tactic, consider the exact questions and phrases people will be using to search for businesses or services like yours. Technically, brands and marketers should already be doing this, but it's important to consider text and speech when applying keywords to content. Better yet, create more content in Q&A form, as that will help match some of the exact questions potential customers will be reciting into their phones and smart speakers. Asking the question within your content will further bolster your search engine optimization (SEO) ranking, and providing quick answers will give potential customers the immediate gratification, further enhancing your credibility. Similarly, writing list-style blog posts using long-tail keywords as subheads to easily divide content can appeal to this tactic while also making your content easy to skim. For more information on the benefit of keyword placement and other factors for SEO, check out my previous blog post.
With the growth in voice search also comes an increased importance on mobile-friendly content. Again, this isn't exactly a new strategy, but all your efforts toward catering to voice search can be wasted if your website isn't built for mobile viewing. This means making sure that pages load quickly on mobile devices and images and text appear as intended. If this isn't the case, your audience could easily leave your pages and look to competitors in the search results.
Preference for Video Content
The increased demand for video is something marketers have been emphasizing for the past few years, as it's quickly becoming the most preferred and effective form of content among consumers. A Cisco study estimated that online videos will make up more than 82% of all consumer internet traffic in 2022, which would be 15 times more than in 2017. This growth in video is a significant reason that video is expected to be the biggest area of investment for B2B content marketing in 2022, beating out digital, in-person and hybrid events.
Video content is also especially useful for social media marketing. Compared to other types of content, videos drives more engagement on Instagram, and tweets with videos see up to 10 times more engagement. As people scroll through their news feeds, they're often drawn to things that stand out. So, if you're competing for consumers' attention in the crowded world that is social media, video gives you a greater chance of being noticed, which increases the likelihood that people digest and interact with content. Along with enhancing your brand's social media presence, this helps create stronger relationships with potential customers, which can contribute to increased sales and more brand recognition.
Younger consumers are also more attracted to video content than older generations. According to YouTube, half of Millennials and Gen Z said they "couldn't live" without video in their lives. And this isn't limited to entertainment. Consumers of these generations also look to videos for educational purposes. So, providing information about your brand, products or services via quality videos can be a more successful way to reach consumers in younger demos than written content.
Social Media Platform Changes
There's no denying that social media has been one of the most influential marketing tools in recent history. Giving businesses the ability to easily reach large amounts of followers and potential customers will always be useful, so it should be included in a detailed content marketing strategy. But what we've seen over the past two years has proven that social media can also be quite volatile. Along with Facebook, Instagram and WhatsApp being completely offline multiple times, platforms have also been taking more efforts to clean up feeds. This includes implementing filters that flag posts if they meet certain criteria or are deemed controversial. While a successful content marketing strategy should avoid anything unsafe or inaccurate, certain brands will have more difficulties surpassing these checks.
For example, with the growth of misinformation during the COVID-19 pandemic, content from healthcare-related businesses may be flagged more often than unrelated businesses, even if the content is safe. Though manual reviews often clear up any sort of confusion, having to perform them whenever you publish or sponsor social media posts can become inconvenient, and repeated flags could have a negative effect on your pages. Additionally, as platforms look to improve privacy measures, tracking becomes more difficult, which could make your social media strategy less effective if not adjusted properly.
While there's no reason to abandon social media, it would be wise for brands to house materials on their own websites as a backup. Certain content should already be placed on your website as a means of driving traffic and form fills to generate leads, but consider adding things like videos and images to this list. Publishing these materials on your website and social media channels will help you reach followers and maximize engagement on key platforms without completely crippling your strategy if something were to happen to any of the platforms. This also makes all your materials easily searchable for someone who's already on the website.
Staying on top of consumer preferences is critical to a cost-effective and successful content marketing strategy. Knowing what your audience is looking for is key to getting the most out of your budget. As businesses enter the post-pandemic world, having an effective content marketing plan is crucial.
Interested in learning more about content marketing and how it can help your business? Head to our website or send me an email.