Michelle Michaels - 11/15/2019
An effective public relations strategy can help to launch your new product by telling your brand's story to generate buzz and trial. In this post, we explore some of the powerful public relations tactics you can leverage to ensure your next product launch is a huge success.
Are you ready to launch a new product or business? Then you need an effective public relations strategy to help you shout your story and product value from the rooftops. With the evolution of the public relations field, there are many different strategies you can employ to support your product launch goals, from traditional media relations to influencer marketing, the options are endless. Let's look at some of the most effective public relations tactics you can employ to successfully launch your new product or business!
Media Relations
When in doubt, always go back to the basics, especially if they are proven to work. A strong media relations plan can generate editorial coverage about your new product that increases awareness and builds credibility. An earned media placement can have a powerful impact on your new brand. If a publication, news site or TV station you view as a credible source talks about a product, you are likely to take this as an endorsement from the media outlet – and in some ways it is.
In order to generate media coverage about your new product, your public relations agency or internal PR team will likely employ the following tactics:
Press releases: A press release is a public relations content tool that should be used to share important information about the product launch (the who, what, where and when) with media. We use press releases to begin a dialogue with a reporter, blogger, editor or producer and to ensure they have the most critical details about a product.
Depending on the product and target media outlets, your public relations team may choose to send an embargoed press release to one or two top-tier media outlets. This means the release will be sent in advance of the launch with clear instructions to not publish until a certain date and time. This allows brands to determine the timing of the product launch and have control over the narrative. Additionally, the embargoed media outlets get the opportunity to break the product news.
Pitches: In addition to press releases, your public relations team will write email pitches for media that provide the details about the product launch. Pitches may include a product image and an offer to receive a product for review. If you don't have a physical product to send, you can provide a discount code or offer that they can use digitally to test out your company's service. There's a lot that goes into crafting a successful media pitch. Read our blog to learn some tricks of the trade. Your public relations team will also invest a lot of time vetting through media outlets to make sure pitches are sent to those whose audience is a best fit for your product. Pitching media outlets that are not appropriate for your company can actually be detrimental towards your product launch.
PR mailers: One of the best ways to get media to cover your product is to send a sample so they can touch, taste or try it out for themselves. This public relations tactic helps to grab the attention of editors, bloggers or producers and can often result in stronger media coverage. By giving media the chance to experience your product first-hand, they can write about it in a more authentic way. If you are launching a new company rather than product, you can send media a free service card or invite them to come to your place of business to see what it's all about. Your public relations agency can help your product really stand out from all the other mail media receives by connecting it to something eye-catching. For example, if you were launching a new beverage to the market that's perfect for hot summer days, your PR mailer could be a beach bag filled with warm weather essentials including samples of your beverage.
If your product is difficult to ship to media, your public relations team can secure deskside visits with key outlets. A deskside visit requires  someone from your brand and/or public relations agency to physically visit a media representative with the product in order to explain it, relay some background information about the company/product, and talk to the editor on the spot if they have any questions. This is a great way for your team to get honest and quick feedback from media.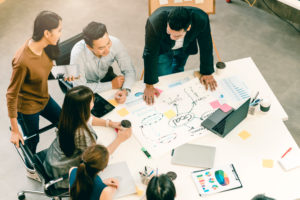 Giveaways
A fun and enticing way to create some buzz about your product launch is to host a giveaway. The giveaway would vary depending on if you  are debuting a physical product, a service, or a digital product. Giveaways can be executed through mailers, social media or email marketing, depending on your goals and target audience. If you have a very local customer base and an email database, then email marketing might be best so you can target only your current clients. However, if you are launching a nationwide product, a social media campaign giveaway would be a better option. There are media contacts who specifically write about giveaways and similar events, so this just provides another way to get your product in front of more consumers.
If you wanted to reach even more potential customers, you could partner with another company and host a co-branded giveaway. For example, Spotify recently teamed up with Google to give away their new Google home minis. Anyone who subscribed to Spotify's premium service within a certain amount of time received a free Google home mini. This was a synergistic partnership as Google home mini offers a good sound system that can easily be hooked up to any Spotify account. Media and consumers alike were talking about it for days, creating major buzz around both companies. If you do choose to do something similar, it's important to make sure that you partner with a company that makes the most sense for your product launch and aligns with your brand's messaging. That's where your public relations team can help.
Events
A fun way to really get media's attention is to host a product launch party to celebrate! This public relations tactic takes much more planning than the others outlined in this blog post, but if you are looking to make a big splash, then this is a great way to do it. A product launch event requires a location, theme and entertainment, but if you can pull it off guests are sure to be posting and talking about it for days to come. Your public relations agency will make a guest list of target media contacts, editors, broadcast media and social influencers to invite to make sure the most appropriate and impactful people attend.
Media Alert: This piece of content will be written to invite broadcast media to come on-site and cover your product launch event. Media alerts provide the visual and interview opportunities of an event, date, time and onsite contacts. Media alerts are often distributed a couple of weeks before an event and then used as follow-up in the days leading up to the event and on the actual event day.
Influencer Campaign
If it is within your budget, I would highly recommend implementing an influencer marketing campaign to support your product launch. Influencer marketing can be big or small depending on how big your launch is and the scope of influencers you have the ability to target. Influencers provide their authentic feedback about your product or business to their social media followers, while also staying true to your brand's message. Every influencer is different, some want compensation for this type of content, which might be beneficial if you are looking to stay in control of the messaging, while others are willing to just receive the free product/service in exchange for their review.
An experienced PR team will be able to create a list of appropriate influencers for your brand, taking into consideration your messaging and what kind of content you want to be aligned with. To learn more about influencers and their influence on consumers check out our Influencer E-guide.
Launching a product or company is exciting and a strong public relations plan can help you drive business results, not just buzz. Whether you just want traditional media or a big launch party, we can help! If you are interested in learning more about how 3E Public Relations can make your next product launch a success, email me at Mmichaels@3epr.com.