Amy Stern - 07/18/2019
The ability to convert brand-centric content to newsworthy copy is the secret to media relations success. Learn how your brand can achieve the publicity you've been seeking.
Are you looking for a media relations strategy that will promote your new product launch, establish your senior executive as a key thought leader or announce a recent acquisition? The secret to successfully garnering top-level media coverage is going beyond the face value of your branded news announcement and re-packaging the story in a way that serves your target audience without being self-serving.
Editors and reporters are deluged daily with pitches from brands seeking to make a name for themselves, but the story pitches that resonate and result in a front page story or a national TV spot are the ones that seamlessly convert brand-centric content to mainstream news. Here are two media relations case studies that illustrate what success can look like.
Case Study I – Addiction Recovery Support Tool:  Freedom 365 Virtual Recovery System 
3E Public Relations was hired by Freedom 365 to promote its technology-based platform that delivers 24-7/365 days of support to those in recovery from drug or alcohol addiction. While the client was looking to achieve brand awareness, they also wanted to communicate the benefits of the product as an asset for inclusion in employee benefits packages.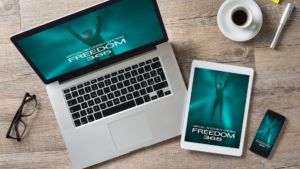 We knew that a quality business publication could deliver the target audience the client was looking for, but were also tuned into the fact that our pitch would resonate more if we offered something beyond another new product announcement. In the course of working with the client, we had introduced them to a highly regarded entrepreneurial resource, New Jersey Institute of Technology's New Jersey Innovation Institute (NJII) HealthIT Connections Program. The Program provides priceless (it's free) education to New Jersey start-ups, with admission to the program vetted through a competitive application process and final selection determined by a team of NJIT administrators.
The story we pitched to the editor at a prominent business outlet was what Freedom 365 learned by participating in the 6-week program and how they would be incorporating that knowledge into growing their business. The difference was a story that not only elevated Freedom's brand awareness while communicating its product attributes, but offered additional editorial value by exposing readers to NJIT's valuable program that they might also be interested in.
The final editorial content that resulted was a two-page spread with multiple product visuals featuring our client, including headshots of the CEO and CTO. The published story showcased lessons learned by Freedom 365 including how they honed their launch-phase strategy, narrowing their focus to provide a workplace solution for employers who are increasingly faced with managing employees struggling with addiction recovery. This editorial opportunity also gave our client a platform to convey its interest in reaching insurance and wellness benefits brokers, several who were already likely subscribers to the publication.
The value to the publication was our ability to offer multiple industry experts for interviews, including addiction recovery expert Brian McAlister and Judith Sheft, Associate Vice President Strategic Relationships and External Affairs at NJIT. She articulated the details of the 6-week cohort and benefits afforded participants who not only interacted with fellow start-ups, but were mentored by industry insiders and investors during a critical phase of development.
Case Study II – Kosher Food Brand Introduces New Products
Manischewitz, America's number one producer of kosher food products, was seeking to introduce three new kid-friendly products for Passover. While the primary audience was Jewish consumers celebrating the holiday, the client's ultimate goal was to secure national media coverage. Our challenge as publicists was to find the news angle that would resonate beyond Jewish constituents to make this a reality.
Each new product had as a common shared element, matzo, the unleavened bread traditionally eaten during the holiday. To attract media interest, we looked beyond the news of a standard product launch and crafted a strategy based on the tagline, "Breaking with Tradition." The concept allowed us to shift the story's focus, from a new product launch aimed at a niche audience to a story based on the theme of innovation –in packaging, in product concept and with regards to the commercial baking process traditionally employed when manufacturing matzo. The verbiage, "Breaking with Tradition," further piqued the curiosity of the media because it begged the question, "What was different from a company and brand known for its traditional, conservative product portfolio?"
"Breaking with Tradition" allowed us to share the story of Manischewitz's rich history as a company that pioneered the mass production of matzo when it introduced a commercially produced square-shaped product to newly-arrived immigrants who previously baked a round-shaped product at home. The news-making headline that we created, and which catapulted the story to national headlines was: "Manischewitz Debuts First New Redesign of Matzo in Over 130 Years," referring to the triangular-shaped matzo that debuted in the company's Matzo Pizza Kit. This led to coverage in numerous national media outlets including the Today Show, USA Today and an Associated Press story that ran in daily newspapers nationwide.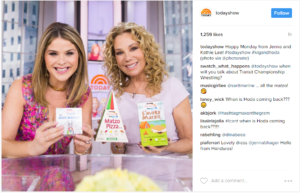 The lesson is that had we focused solely on news at face value, "Manischewitz Launches Three New Passover Products," we would have severely limited the media appeal with the story likely to resonate only with Jewish publications. Editors who might have initially passed on the story became fascinated by the narrative of a brand evolution from one perceived as "your grandmother's favorite" to one embracing innovation. Multiple angles were spun from the original with USA Today focusing on the impact of foodie trends in the kosher market to the AP story which examined manufacturing challenges inherent in altering a baking process that had remained unchanged for over one hundred years.
Do you have a brand centric story that could benefit from a refresh and take it from face value to news value? If so, give us a call today at (973) 263-5192 and we'll let you know how we can help enhance your media relations strategy.