admin - 09/06/2019
In today's competitive marketplace, media relations can deliver benefits unmatched by any other marketing communications activity. Learn how media relations can help a company succeed by building brand awareness, increasing credibility, establishing strong media relationships, and controlling a crisis.
Now that we covered what media relations is in my last blog post, let's dive into some of the many benefits media relations can bring to your company or brand. When done correctly, media relations can deliver advantages that no other marketing tactic can achieve. Although the nature of media relations has evolved over the past few years, public relations professionals have adapted to these changes, allowing them to cost-effectively continue to reach a large audience.
Here are 4 key benefits of incorporating media relations into your public relations strategy.
Build Brand Awareness
A strong media relations campaign can help your brand grow its visibility among target audiences. By incorporating media relations into your overarching marketing communications plan, you can build brand awareness by securing positive coverage in trusted media outlets. Your public relations agency will develop a custom media database of outlets to target for coverage based on a variety of factors, including your location, geographic reach, industry, and target audiences. Likely, they will look to garner stories about your brand in a variety of outlet types, including newspapers, websites, blogs, podcasts, television stations, radio shows, etc. The media coverage that results from their outreach can come in many forms. Here's some of the most popular types:
Product Round-Up: Many types of media share product roundups on a regular basis, and this can be a great way to put the spotlight on your brand to grow awareness. Depending on the type and price tag of your company's product, an editor, reporter or blogger, might want to receive the product before writing or talking about it. Review and unboxing videos have grown in popularity over the past couple of years, so if your product lends itself to this type of coverage, your public relations agency will put together a targeted list of reviewers and sample sends.
Thought Leader Spotlight: If your company has a spokesperson that is an expert in his or her field, your public relations agency can pitch your spokesperson to talk about industry-related news. Trending stories or observances often present opportunities for this type of media coverage. For example, we work with many banks in the tristate area who often have financial advisors and experts we leverage to secure media coverage when there is a financial crisis or breaking news about bankruptcy, increase in debt rates, etc. You can learn more about seeking these opportunistic media moments in my blog HERE. Having your spokesperson serve as an expert on a timely topic is a great way to grow awareness about your company and team members. Having someone from the brand contribute to these type of high-profile media stories can be very beneficial in growing brand awareness.
Byline/Contributed Article: A bylined article or contributed piece is written by a company or spokesperson for a media outlet and features the author's name and title in the "byline" of the article. Having your CEO or someone from your company write a byline/contributed article is a great way to spread brand awareness and to reach an audience who is specifically invested in your industry's news. Articles like this can help establish credibility in your brand's industry and allow your company to make a deeper connection with your target audience by highlighting something your company is passionate about. Once you decide on the topic of your article, your public relations team will be able to vet through different publications to find the best fit. Outlets are always looking for fresh content, new ideas and perspectives for their audiences, once your company creates some enticing pieces like this, it will allow for a strong relationship with those specific outlets. We also often ghost write byline articles for our clients, allowing them to focus on their business while we develop the content.
Company/News Feature: Depending on what is happening at your company, there may be an opportunity for your public relations team to secure a special story, article or segment about your organization. In this case, your company news would be the spotlight of a piece. For example, our client Saint Peter's University Hospital is in the process of opening the first birth center in the state that is on a hospital campus. This newsworthy event led us to reach out to the daily newspaper covering the hospital's geographic area which resulted in a news feature. You can check it out here. It's important to remember that securing a company or news feature requires your organization to have a story to tell that a media outlet's audience will be interested in.
No matter which form of media your company is being mentioned in, your brand will benefit from the increased awareness. Not only can media relations help your brand grow, it also provides invaluable authenticity and credibility.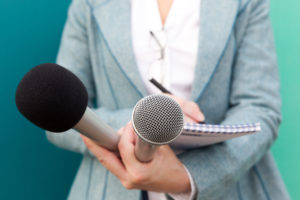 2. Increase Credibility
Whether you are a start-up or a company who is celebrating its 50th anniversary, gaining the trust of your target audience is essential. Consumers tend to be loyal to brands and products they have confidence in. In fact, most people use the same product, company, organization, etc. for years because they develop a brand bond and it can be hard to convert them over to something new. Looking to be the brand a consumer sticks with for such a long time? Media coverage can help achieve this by promoting authenticity, trust, transparency and credibility. Consumers are not only loyal to brands or organizations, but also to media outlets. Think about it, everyone has their 2-3 go-to media sources for news consumption, which is why it's important to have a media relations team that understands the media world and which outlets to target to ensure your content is being seen by the right audience.
When it comes to credibility, it's important to understand what your target consumer is looking for in a brand. According to a recent study by Forbes, 33% of millennials rely on blogs before making a purchase and 43% of millennials value authenticity over content when consuming news. The reason why blogs and influencers are so popular nowadays is because they are both known for their authenticity. Especially in a day and age where it can be hard to differentiate between sponsored media and organic media, consumers want to know what they are consuming is authentic and real. Therefore, it's essential to align your brand with trusted media outlets who can portray the transparency of your brand to audiences.
Once your brand is established and growing in the media world, those media relationships can be ever-growing and evolving.
Establish Media Relationships
We always tell our clients that we don't just go to media, they come to us. This is a result of years of dedication to building mutually beneficial relationships with media outlets. Media and PR professionals need each other to create stories and engage audiences. The 3E Public Relations team prides itself on having these key relationships with the media and consistently creating new ones.
If a certain outlet or reporter knows your company can provide timely and valuable information about the topic their audience is interested in, they are more likely to come to your company as a source than to go somewhere else. Especially, if they have a positive experience interviewing the company's CEO or spokesperson who contributed to their story. Once you get into that back and forth communication, a beautiful relationship blossoms that benefits both parties in the future.
Control a Crisis
Once your brand has an active and evolving media relations program, the relationships built with the media can become vital in times of a crisis.  When a crisis happens, it's important to be transparent and send out a statement to the media as soon as possible. Tumors and misunderstandings  spread very quickly in the event of a crisis, and they can be detrimental to your brand. However, when your brand/company has an existing relationship with the media, you have a better chance at controlling the message that is being relayed.
Media relations can be a strong factor in building brand awareness, increasing credibility and authenticity, establishing relationships with the media, and crisis control. If you are looking to elevate your brand with media relations and are interested in how the professionals at 3E PR can help, contact us.